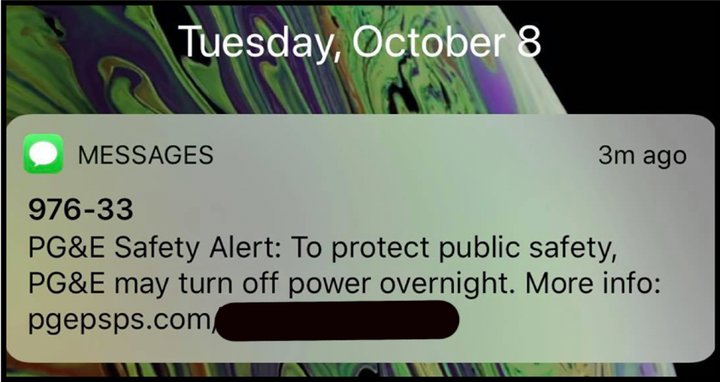 UPDATE, 2:40 p.m.: County Emergency Services Issue Statement on Potential Days-Long Power Shutoff; Says PG&E Working on Plan to Backfill Power at King Salmon Plant
###
UPDATE, 1:29 p.m.: PG&E just issued a release saying that "portions" of Humboldt County "have been added to the potential scope of this Public Safety Power Shutoff." Customers are directed to this link for a list of impacted communities separated by county. Below is a screenshot of Humboldt's current listings.

# # #
UPDATE, 12:30 p.m.: It's hard to overstate what a complete clusterfuck of a situation this is. Here's the state of play at the moment:
Yesterday, PG&E put out a press release saying that Humboldt County was not among the counties that would be affected by a potential public safety power shutoff that may start tonight at midnight.
Then, at some point this morning, someone at PG&E apparently remembered that there are transmission lines coming into Humboldt County from the Central Valley, and that those might be shut off, and so we might be affected after all. And so they called the Humboldt County Office of Emergency Services and told them about it.
But the Humboldt County Office of Emergency Services apparently has no idea what will happen if one or both of those lines are shut down, or how locally produced power might fill up at least part of the grid.
Reached this morning, PG&E's media hotline read the Outpost back the outdated information included in yesterday's press release — that Humboldt would not be affected at all by any potential power-down — but promised updated information later today.
If Facebook chatter is any indication, no one has any idea what to believe or what to prepare for. And they're not really to blame. This was handled poorly at every level.
###
ORIGINAL POST: Yesterday, PG&E announced a possible huge, preemptive power shutdown beginning tonight at midnight and spreading across much of the North State — but not Humboldt, the company said at the time.
But this morning, apparently, the company called up the Humboldt County Office of Emergency Services to tell them that we could be affected after all, due to the need to deenergize one or more of the transmission lines that pass through neighboring counties and connect us to the grid.
No one on the ground seems to know exactly how we might be affected or when, but they're scrambling to prepare for the worst.
Office of Emergency Services manager Dorie Lanni sent the following information out to the agency's "operational partners" this morning:
Humboldt Operational Area partners:

PG&E notified Sheriff's OES this morning that Humboldt County is once again within the potential scope of a Public Safety Power Shutoff. While our own weather conditions do not constitute the severe fire weather hazard that is triggering PSPS in many other California counties, we could lose power to the entire county if the transmission lines coming into Humboldt along Hwy 299 and Hwy 36 are de-energized. The shutdown could begin as early as midnight tonight, and we have been advised that restoration may take as long as five days.

PG&E is currently mapping out possible scenarios in an attempt to avoid a secondary de-energization. The County EOC is now partially activated and we are notifying partners awaiting additional information so we can set up a conference call. If your agency has a direct response role, please call the EOC at 268-2500 and provide a single point of contact name and number. Additional updates will also be sent to this OA list. Please call the EOC main line with any immediate needs, rather than emailing me or calling my cell.

Thank you, Dorie Lanni
Reached by phone this morning, OES spokesperson Meriah Miracle said that personnel are desperately scrambling to prepare for this potential several-day outage. Miracle said that the Department of Health and Human Services, working under the OES umbrella, is trying to reach all "medical baseline" people — people who need electricity, in one form or another, to maintain their health — and contacting partner agencies to tell them to prepare for a power shutdown.
Miracle confirmed that OES doesn't quite know what will happen if one or both of the incoming power lines is deenergized, or what role the Humboldt Bay Power Plant at King Salmon might play in keeping the lights on in at least some part of the county
"It's accurate that there's no map that clearly defines what each transmission line might affect," Miracle told the Outpost this morning.
More information should be available later this afternoon.