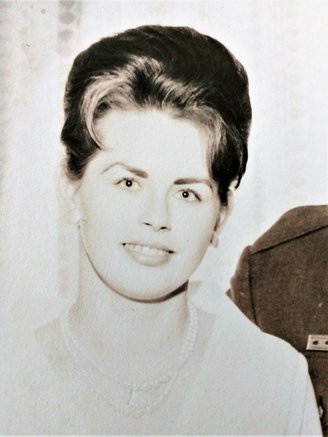 In the early morning hours of July 5, 2019, at her home in McKinleyville, Ella Jean "Jeanie" Antonsen left us to rejoin her husband, Robert "Bob" Antonsen, who passed away in August of 2018. They had been married 55 years.

Jeanie was born to Mamie and Charles "Charlie" Sniggs on January 23rd, 1942, in Delta, Colorado. Her family traveled to the California coast when she was young and settled in Arcata and McKinleyville, respectively, where she grew up, met her husband Bob, and raised her children Kevin and Tracy Antonsen.
Jeanie grew up on a farm and throughout her life owned many animals. She instilled in her children and grandchildren a fondness for horsemanship and spent a great many years of her life trail riding, attending horseback campouts, gymkhanas, and rodeos. Her closest companions were her quarter horse Scatt and her Australian cattle dog Matey, both whom she loved dearly.
She spent her childhood outdoors with her family fishing and camping and going to the beach. She had many amazing stories of ocean fishing adventures with her mother, father, and siblings. When she was not outdoors she was an avid reader. She was a bibliophile who read thousands of books over the course of her life. She shared that love as well with her children, grandchildren and great-grandchildren.
Jeanie leaves behind so many loved ones who will miss her greatly. Her son Kevin Antonsen, daughter Tracy Antonsen and daughter-in-law Susan Anderson, as well as grandchildren and their spouses Tucker Antonsen, Brittany and Brian Bauserman, William Bond and Amber Goldsberry, and Courtney and Jacob Train. Great grandchildren Mason and Cameron Bauserman, Leeam Bond and Jesse McGowan, and Max Train. Her sister Hazel Perini, niece Carrie Hurt and husband Kim, as well as her great niece Stephanie Martin and Bradley Hurt. She was a wonderful mother, grandmother and great-grandmother.
Jeanie also had many close friends throughout her life who are grieved by her loss, namely Ida June Wagnon, Carolyn Maehren, Shiera Wilson and Meredith Brumfiel.
She is preceded in death by her husband Robert Antonsen, her mother and father, her sisters Betty Jo Christian and Anne Marie Smither, her brother Homer Punch, and many cousins.
Please join us to celebrate the lives of both Bob and Jeanie. A joint funeral will be held at the Ocean View Cemetery on Friday, September 20, 2019 at 2 p.m. Details for the Celebration of Life will be given at the funeral service.
###
The obituary above was submitted on behalf of Jeanie's family. The Lost Coast Outpost runs obituaries of Humboldt County residents at no charge. See guidelines here.