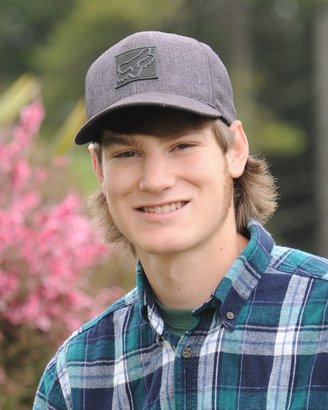 Justin Davis Seaman
August 3rd, 1999 - September 6, 2019
We never thought that we would be writing our son's obituary, but here we are, trying to find the words to honor our beloved son. It is with heavy hearts and great sadness, we announce the passing of our youngest son, Justin Davis Seaman, on Friday, September 6th, 2019 at the young age of 20.
Justin was born on August 3, 1999 in Eureka weighing in at 9 lbs., 3 oz. He completed our family. He will be remembered for his goofy smile, contagious laugh, and love for his family and friends. He had a love of life that was rarely exhibited in someone so young. He worked hard and played hard, enjoying his many hobbies. He loved snowboarding, riding his quad and motorcycle. His newest hobby was fishing, where he was the captain of his boat. Justin found the perfect profession, construction. He was quite talented and had a bright future doing what he loved.
Justin attended local schools and graduated from Zoe Barnum High School in 2017. We would like to acknowledge Omar Khattab, who took the time to get to know Justin, understand him, and show him how to believe in himself. Many educators could learn a lot from Omar, by showing a non-traditional student that they are loved and cared about.
Justin had many amazing friends. He was the friend you could count on. If your car was broke down or needed to be towed, Justin was the guy to call. "No" was not in his vocabulary when a friend needed help. He leaves behind his best friends, Connor Mullan, Hunter Stapp, and Jack Rice, the "4 amigos" as Patrick Daly would call them, Owen Fite, Isaac Hancock, Trevyn Mullins, Tony Moreno, Riley Fox, Riley and Michela Kirk, Bryan Hernandez, and Travis Curtis to name a few. If we have forgotten anyone, we apologize.
Justin is survived by his loving and supportive parents, Jim and Amber, his two older brothers, Jordan and Jason, Jason's girlfriend Kieanna Ferguson and their son Jesse James, as well as a new niece or nephew due in March 2020; the love of his life Katie Conley, who would have been his wife, mother of his children and our most welcomed daughter-in-law; grandparents Allen and Jackie Adams (aka Nonnie and Papa), Pam Newby, Jim and Sandy Seaman; his aunts and uncles Rick and Gretchen Barnick, cousin Meghann & Cameron Erickson, Tylene and Mike Johnson, cousins Sarah, Jackie, and Ethan Lott, Deuce Adams, Mike Grossi and his fiance Melissa Ahlgren, cousins Jordyn & Stuart Weis and Isabella Grossi, Kristi and Michael Landry, cousins Michael, Jordan, Gina and Bo Landry, Jennifer and Curt Tillman, Cousins Taryn and Devyn Cusick; many great aunts, uncles and cousins, too many to name, but he loved you all.
Our baby boy, we will miss you every minute of everyday. You have no idea how loved you are. Our lives will never be the same. We love you and miss you so much. Fly like the wind and fish on, sweetheart. We love you to the moon and back a million times.
A celebration of life for Justin will be held Saturday, September 14th at 12 p.m., at the Arkley Center: 412 G St, Eureka. A reception will follow at The Wharfinger Building: 1 Marina Way, Eureka 1 p.m.-4 p.m. Please come to the reception and share your favorite story.
There will be a viewing Friday, September 13th at Sanders Funeral Home: 1835 E St, Eureka 5:30 p.m.-7:30 p.m.
###
The obituary above was submitted on behalf of Justin Seaman's family. The Lost Coast Outpost runs obituaries of Humboldt County residents at no charge. See guidelines here.