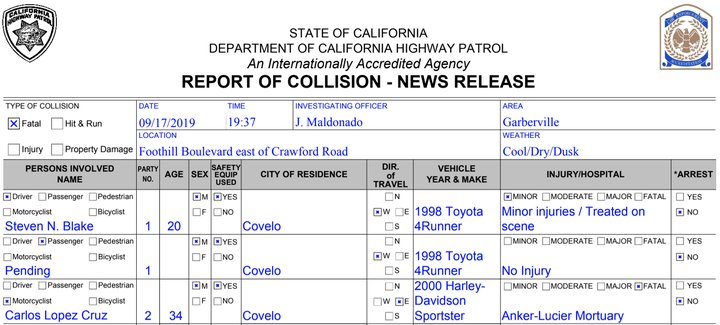 California Highway Patrol press release:

On September 17, 2019, at approximately 1937 hours, Steven Blake, with a passenger in the front passenger seat, was driving a 1998 Toyota 4Runner westbound on Foothill Boulevard, east of Crawford Road. Carlos Lopez Cruz was riding a 2000 Harley-Davidson Sportster eastbound on Foothill Boulevard, west of Crawford Road. As Blake was approaching the intersection with Crawford Road, he attempted to pass a stopped vehicle that was preparing to make a right turn. Blake drove the Toyota into the opposing lane directly in front of the Harley-Davidson causing a head-on collision. Cruz was pronounced dead on scene from injuries sustained in the collision. Blake sustained minor injuries and his passenger was uninjured. Foothill Blvd. was closed for several hours for the investigation and vehicle storage.

This collision remains under investigation by the California Highway Patrol. Neither alcohol nor drugs appear to be a factor in this collision.

The California Highway Patrol responded and assumed incident command. Personnel from Cal-Fire, Covelo Fire, and Round Valley Tribal Police assisted with the scene. Mendocino County Coroner's Office responded to the scene.