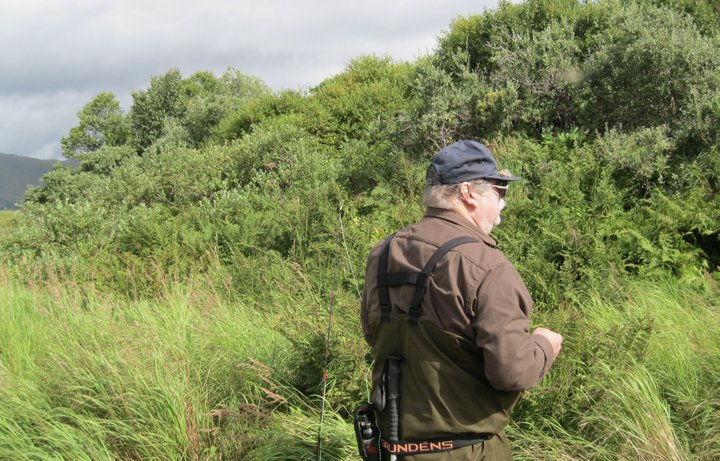 In the evening of Wednesday, August 21, 2019, Wes Linser suddenly collapsed and died beside the shore of Akalura Lake on Kodiak Island in Alaska. Surrounded by sculpted green hills, he was beginning another Alaskan fishing adventure with his close friend and brother-in-law Ken Fawcett. They were to be joined later in the week by brother-in-law Jeff Hackney, nephew Andy Hackney, plus two other friends.

Wes' very close family and friends were stunned by this shocking loss. Their only comfort was that Wes died in a place that he loved, doing something that he loved, beside one of the people that he loved.
Born in Scotia Hospital, Wes was a lifelong resident of Arcata. He was the descendent of pioneer ranching and mercantile families in Southern Humboldt County. Wes' grandfather, Ernest Linser, purchased the Roberts' Ranch in what is now called the Benbow Valley. Ernest later sold this ranch to the Benbow family from England, who built the historic Benbow Inn. Part of the land became Benbow State Park, south of Garberville. In 1917 Ernest married Mattie Hamilton, niece of John Hamilton, a pioneer who established the Garberville Mercantile Co. Ernest and Mattie had three children: Hamilton, Vera (later Vera Benbow) and Les Linser (Wes' dad).
Growing up in Arcata, Wes and his siblings spent many adventurous summers swimming, fishing, golfing, riding horses, and tracking animals in Benbow at his grandfather's retirement years home.
Upon graduating from Arcata High School in 1967, Wes proceeded to earn an AA degree from College of the Redwoods. He continued on to Humboldt State College, where his studies were interrupted by two years in the Army during the Vietnam War. Returning to Humboldt State, Wes resumed work on his degree in business and marketing.
Wes later joined his brother-in-law, Jeff, with whom he enjoyed constructing and repairing houses for several years. He then worked in the logging industry for Rounds Logging and Steve Wills Trucking and Logging.
Wes began assisting his dad, Les Linser, in operating the Manila Market during his late elementary school and high school years. He continued his store involvement while in college and during the winters when logging stopped. He operated the market with his sister LeAnn when his father, and then his mother became ill. The Manila Market closed in 2006, after 56 years of continuous ownership by the Linser family.
Wes will be remembered for his hearty sense of humor; his caring support for family and friends; his curiosity and interest in learning about everything; plus his deep connections to Linser family and Humboldt County history. He closely followed the adventures, careers, and travels of nieces Allyson and Amy, nephew Andy, and close friend Roger Williams' son R.J..
Wes is survived by five loving sisters and brothers-in-law: Lana (Ken) Fawcett of Ashland, Oregon; Laurie (Jeff) Hackney of Blue Lake, California; and LeAnn Schuetzle of Eureka. He will always be loved and missed by his nieces and nephew: Allyson Schuetzle of Redmond, Oregon; Amy Hackney of Los Angeles; and Andrew Hackney of Redding. He will also be remembered by R.J. Williams who considered him his "second dad", and many, many good friends (Roger, Gary, Al, Hong, Steve…).
Wes' family welcomes his extended family and friends to join them at the Red Lion Inn in Eureka on Saturday, September 28th beginning at 1 p.m. and continuing until 3 p.m. for a sharing of stories and a celebration of his life.
In lieu of flowers, donations to the Humboldt County Historical Society (703 8th St. Eureka, 95501) in Wes' name would be appreciated.
###
The obituary above was submitted on behalf of Wes' family. The Lost Coast Outpost runs obituaries of Humboldt County residents at no charge. See guidelines here.