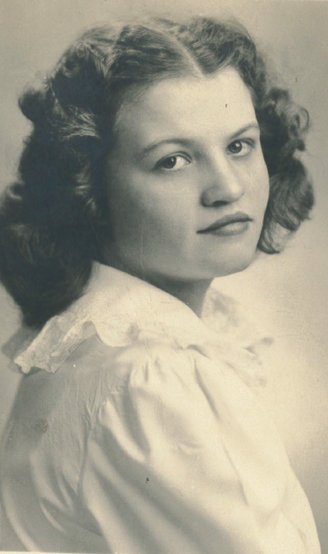 Phyllis Jean Hoffie was born on August 2, 1934 in Bonesteel, South Dakota to Delbert and Clarice Hoffie. She spent the early years of her life in South Dakota and around age 11 her family moved to Eureka California for work on the dry docks.

The Hoffie family moved back to South Dakota and shortly after Phyllis met Pete Modine. After a quick courtship, they were married on September 29, 1949 and welcomed their first son the following year. During the early years of their marriage the family moved back to Eureka and their family grew to 7.
As the children grew and left the house, Pete and Phyllis bought a plot of land in Myers Flat with Pete's brother Leroy. Every Summer you could drive down and find Phyllis and Pete sitting in their chairs on the deck in front of their trailer, tending their garden, watering the lawn, lighting up the fire pit. Phyllis always had plenty of food for her growing grandkids.
Phyllis was a housewife, and in the hospital near her final days when asked what occupation she retired from, she proudly announced this. As the children got older and grandchildren came along, she worked at the Bayview Motel helping to paint and wallpaper the guest rooms. She also helped her nephew at his gift shop The Rose of Cathay in the beautiful Pink Lady in Old Town. She once met Danny Devito and Rhea Pearlman while working there. She said they were short.
Phyllis Modine was preceded in death by her siblings Janet Prince, Jack Hoffie, and Judy Mahoney, her daughter Barbara Torgersen and her husband of 68 years Robert "Pete" Modine.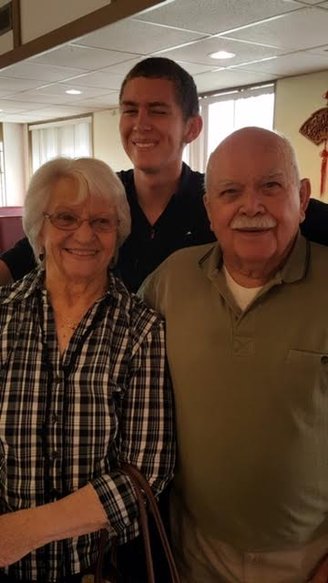 Phyllis is survived by her sons Ronald Modine (Becky), Steven Modine, son in law Tom Torgersen and her daughters Lori Edwards and Jeannie Ohm. Also left behind are her nine grandchildren: Jennifer England (Richard), Patricia Modine, Melissa Applegarth (James), Evangela Torgersen, Robert Torgersen (Sidney), Tiffany Hess, Andrew Ohm (Angel), Ryan Ohm, Chloe Edwards. She also leaves behind 20 great grandchildren and 2 great-great grandchildren. Phyllis' family meant everything to her and visits with her family were cherished. She is also survived by lifelong friends she had made in her beautiful lifetime and many extended family members in California, South Dakota and beyond.
Going through their things this past week, I came upon a Valentine's Day Card, "To My Wonderful Husband" and lovely prewritten words. It was signed "All My Love, Forever and Ever, Phyllis." I found this before she had passed, and was so glad I did. I made sure it went with her on her final journey, Forever and Ever with Pete.
She leaves behind many tears, sadness because we miss her, joy because we knew her. Phyllis put everyone before her in her life. She downplayed her own troubles and attended to others. She was a great wife, mother, grandmother, aunt and friend.
A service will be held on October 4, 2019, 2pm at the Immanuel Lutheran Church 3230 Harrison Avenue, Eureka.
In lieu of flowers or cards, donations may be made to: Alzheimer's Association 255 N. Michigan Avenue Fl. 17 Chicago IL 60601, or online here.
###
The obituary above was submitted on behalf of Phyllis' family. The Lost Coast Outpost runs obituaries of Humboldt County residents at no charge. See guidelines here.