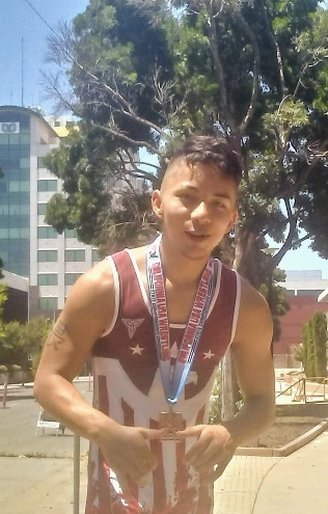 Dominic Leon Obie was taken from us at the early age of 17, on the early morning of September 7, 2019 at 12:24 a.m. Also known as Gilbert R. Marshall, or "baby Dom," he is the son of Dominic Leon Obie and Felicia Randall. Born April 10, 2002 at Mad River Hospital. This Yurok boy was working in the YES Program for his Tribe and was a junior at Captain John High School. He was a bright, family, and friend oriented young man and a talented athlete. He lived both in Hoopa and Winston, Oregon with his father, grandma and grandpa. His accomplishments include; basketball, track and field, wrestling with Down River Wrestling club, he graduated 8th grade in 2016, and had planned to graduate from Hoopa High School next year. As a young boy Dominic participated in ceremonial dances, and several community events; including men's group, youth groups, suicide prevention walk, and was a salmon runner. His family and close friends have stated that he was very motivated and had matured in the recent years. He was very determined to accomplish all his goals and take care of his responsibilities including graduating.

"Baby Dom" was blessed with an extremely large family. He is survived by his Father Dominic Leon Obie, and mother Felicia Randall. Nelson Thom and Thunder Thom. Sisters Autum Porter, and Sair Obie, Carmen Chavez, Summerlily Marshall, brothers, Eddie Nickloson, Fabio Chaves, Ishaha Thom, Jimmy Thom, and Bishop Lopez. Grandpa Fred Timmons. Aunts Sharon Obie, Roxanne obie, Judith Gabriel. Uncles Tony Obie, Greg brown, Michael Gabriel. Cousins Rainey McCovey, Teresina Obie, Winterhawk Obie, Taylor Obie, Lindsey Obie, Ernie Obie, Jamaya Obie-Brown, Marcus Obie-Brown, Alisa McCovey, Leona McCovey, Skye McCovey, Gary Stewart, Milton Stewart, Hiyou Sylvia, Dellavin McCovey, Sregon Gabriel, Kit-sos Gabriel, Michael Gabriel jr., Tishawnik Gabriel, Farron Gabriel, Naschewen Gabriel, Angel Gabriel, Jackson Gabriel, Johnny Gabriel, Mekhia Gabriel, Rachel Gabriel, Kooshonika Gabriel, Sicangu Gabriel, Tillie McCovey, Annai Battle, Chase Offield, Lennox James, Kameron McCovey, Julian Thompson, Brooklyn McCovey, Roman McCovey, Keira McCovey, John Logan, and Billy logan jr.
Aunty Celinda Gonzales, uncle Two Bears Gonzales, Aunty Monica Moreno, cousins Kipoon Hayden, Ivory Hayden Silk, Harlee silk Woodawoo Vader, Anderw Salinas, Ryan Adam Harrington, ner-mery vader. And cousin/uncle Raymond Vader, Shane Anderson, James O'niel, and Melvin "Junior" Farmer.
Grandparents Elouise Marshall and Johnny Randall Sr., Viola Marshall, Victor Randall, Loretta Davis. Aunts; Marilyn Marshall, Angela Randall, Barbera Randall, Michelle Randall, Nisha Casteneda, Viola Marshall, Elouise Cossey, Monda Doolittle, Kathleen Scott, Tiffany Scott, Malinda Scott. Uncles; Jason Marshall, Eric Casteneda, Arlen Doolittle, Bobby Pete Erickson, Clyde Trimble, Monte Davis, Terry Davis, Johnny Randall Jr. Numerous cousins; Jason Marshall jr., Louise Marshall, Malerie Marshall, Amari Marshall, Percy Branham, Luke Reece, Daisy Reece, Eric Titus Marshall, Michael Titus, Patricia Chavez, Alex Chavez, Iris Moon, David Moon, Wayne McCovey, Talina Branham, Julian Randall Kelley, Layla Randall, Johnny Randall, Janine Randall, Steven Randall, Nayla Randall, Tyler Randall Colegrove, Loretta Casteneda, David Blake, Johnathan Blake, Timothy Blake, Pamela Houston, Kimberly Houston, and Auhna Castaneda.
He is predeceased by Cicelly Obie, Kimberly Obie, John Obie, Denise Obie-Timmons, Matilda Obie, Milton Obie, Florena Smoker, James Randall, Viola Marshall, Gilbert Marshall, Dolores Montoya, Filmore Charles Harvey Sr., and Leah Lynette Blake.
Pallbears- Sregon Gabriel, Kitsos Gabriel, Dellavin McCovey, Robert Kelsey, Calvin McConnell, Joe Lewis, Marcus Offield, Allen Ferris, Emmett Huddleton Randazzo, Andrew Salinas Jr., Jason Marshall Sr., Jason Marshall jr., Freddie Doolittle, Richard Myers II, Richard Blake, Faron Pole, Oscar Pole, and Spencer Lewis, .
Honorary Pallbears- Paul Aubrey Sr., Michael Gabriel Sr., Two Bears Gonzales, Johnny Randall, Tony Obie, Shane Anderson, Duston Offins, Willie Simms, Jimmy Thom, Wally Obie, David O'neil, Greg Brown, John Bravehawk, Eric Castenada, Daniel Aubrey, David Blake, Timothy Blake, Jonothan Blake, Fabio Chavez, Ishaha Thom, Julian Kelley, Alex Chavez, Eric Marshall, Mikey Titus, Bishup Lopez, Luke Reece, Nathaniel Huntzinger.
The wake was held at Dominic's residence — Wilson Rd. Weitchpec, 7 a.m. to 7 p.m. Friday September 13, 2019. The service followed Saturday, September 14, 2019 at 11 a.m., at the Morek Won building on McKinnon Hill between Weitchpec and Pecwan, Hwy. 169 mile marker 21.41.
###
The obituary above was submitted on behalf of Dominic Obie's family. The Lost Coast Outpost runs obituaries of Humboldt County residents at no charge. See guidelines here.