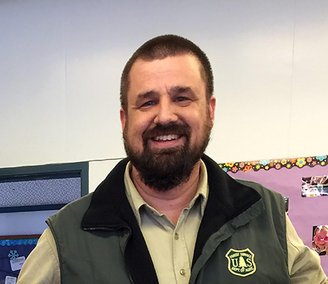 Daniel Robert Dill, beloved son, devoted father, brother, husband, leader, and friend passed away following a brief illness September 17th. He was Forty-Eight Years old.

He is and will continue to be greatly missed.
A big man, impossibly larger than life, Dan was local to Humboldt County. He was born June 11, 1971 to Danny and Grace Dill. Throughout his childhood and into his time at Fortuna High School he was popular and a friend to all. Dan loved sports, the outdoors and wilderness, loves that were fostered by his family and passed on to his children. His passion for wildlife and the outdoors led him to choose an education at Humboldt State in Wildlife Management with a minor in Natural Resources in 1995. Dan began his career of stewardship and caretaking of our natural world with a position in the Pacific Lumber Company while still in school and then as a Senior Wildlife Biologist in 1995. He shifted to a federal career with the United States Forest Service on the Six Rivers National Forest as a wildlife biologist in 2008. He was selected as the Deputy District ranger for the Orleans/Ukonom Ranger District in 2012 and was promoted to the Ranger of the Mad River Ranger District in 2015.
In truth, Dan was much more than the brief biography listed above. His incredible humor, compassionate leadership, common sense decision making and ability to partner with everyone made permanent impressions on everyone he came in contact with. Dan was always able to make groups let down their guard and cooperate together as a team. His leadership during the chaotic and massive wildfires on his district in 2015 set a standard for safe effective firefighting that continues till today. He was a member of the Scotia Volunteer Fire Department, the Fortuna Volunteer Fire Department, as well as several professional organizations. His work to eliminate barriers and obstacles to get work performed on the landscape he was entrusted with resulted in numerous restoration projects and efforts to prevent those types of fires from returning.
Dan was so much more than his work, his friends and family universally agreed that he never met anyone who didn't quickly become a friend. He was a devoted father who loved nothing more than his girls, Emily and Ava. Whether sitting as a board member for the Scotia School Board or simply enjoying his time off with them scouting his family hunting grounds for deer, he was passionately committed to his kids. Teaching them to drive out in those hills, he created lifetime memories that they cherish. He fostered a sense of wonder for the outdoors, a passion for our natural world, and an overall ability to see the good in everything.
Dan is survived by his wife Dawn, his daughters Emily and Ava Dill, his parents, Danny and Grace Dill, his brother Brett Dill, his nephews Morgan and Grant Dill and his niece Liza Dill. He will be welcomed into the eternal afterlife and was preceeded in death by his grandparents Paul and Catherine Snell, Emmert E. Lonzo and Lena Fay Dill.
###
The obituary above was submitted by Dan's loved ones. The Lost Coast Outpost runs obituaries of Humboldt County residents at no charge. See guidelines here.