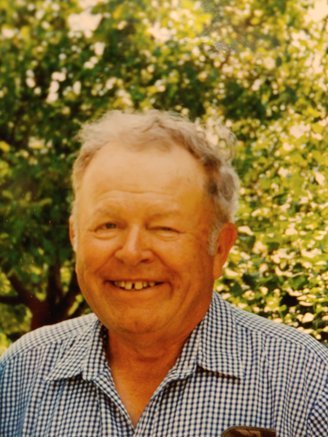 FRANK ALBERT WOODMAN
5/30/1929 – 4/9/2020
Born in Berkeley to Albert and Eugenie Woodman. His mother was a schoolteacher, so during the depression the family moved to where she could find work. One of her assignments was teaching in a one-room school at Irving Creek along the Klamath River by Ti Bar. She had taught in Orleans previously, and this was where she met Frank's dad who had a sister that lived there. Frank often talked about how there was no work for his dad during this time, so he would stay home with the boys and teach them to hunt and fish. We would return 25 years later to the place he loved and purchase a 20-acre ranch from Wilfred and Zona Ferris on Red Cap Road in Orleans.
Frank was raised primarily in Los Banos, where he graduated high school, worked on a chicken farm and in a hardware store prior to joining the United States Air Force for four years. He was stationed in Alaska at Elmendorf Air Force Base. Furloughs were spent hunting and fishing often being flown into remote locations by a bush pilot, to be picked up a week later. He embraced Alaska and loved everything about it vowing to return some day. After being honorably discharged Frank returned to Los Banos and met his future wife, Mariann Silva. They were married in 1956 and a Son (Stanley) was born in 1957. A year later a second Son (Lloyd) was born.
In 1961 the family moved to Orleans, where Frank worked at the Orleans Veneer Mill pulling green chain and eventually working his way up to Big Lathe Operator. During this time a third son (John) was born. In 1970 Frank began a career with the Division of Highways and worked in Orleans as an Equipment Operator for 8 years. He was promoted to leadworker in Weitchpec and then foreman in Manchester on the Mendocino Coast. He retired in 1992 and moved back to the ranch in Orleans with his wife and mother-in-law, Mary Silva. Frank wrote a weekly article for the Kourier, a local newspaper. His articles were genuine, intuitive, insightful and filled with observations of everyday life. Everyone looked forward to Frank's observations and scoops — he had a fan club that stretched as far as New York, and several readers from faraway places became friends with him over his writing ability.
He was an avid outdoorsman, and besides hunting and fishing he loved to mushroom and pick abalone.
Frank was also very community-minded, and was on every local committee. He loved to garden and had planted a large walnut orchard in 1961, along with numerous fruit trees. He reaped the fruits of his labor and loved to distribute the bounty from our ranch amongst his many friends.
Frank lost his wife, Mariann, after 59 years of marriage. They had recently moved to Eureka to be closer to medical facilities.
He made friends easily and would often say if you want good neighbors you need to be a good neighbor … and he was. Everyone loved him, from his caregivers to store clerks and long-time friends from Los Banos and other places he had lived. He made acquaintances easily. His neighbors were special to him.
A special thanks to KT (Katie Travers), who was his primary caregiver. Also, his physicians Pat Fischer and Dr. Darwin at Humboldt Medical Specialist (formerly Eureka Internal Medicine).
Frank is survived by his three sons and their wives: Stan and Debbie, Lloyd and Becky, and John and Deborah. He is also survived by his brother Jim (and wife Giselle), numerous grandchildren and great-grandchildren, a niece and nephew.
Per Pop's wishes, no services will be held and his ashes will be mixed with mom's and spread over their ranch property in Orleans.
###
The obituary above was submitted on behalf of Frank Woodman's loved ones. The Lost Coast Outpost runs obituaries of Humboldt County residents at no charge. See guidelines here.