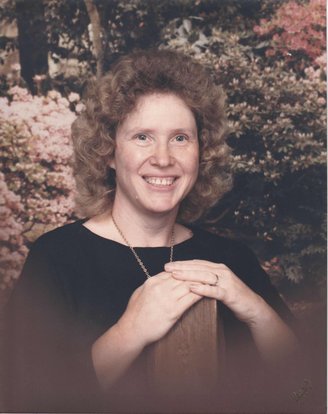 Sue Macias passed away peacefully in her home in McKinleyville on April 3, 2020.

Born Olivia Sue Dane, November 7, 1939 in Muleshoe, Texas to Wilma Reed and Oliver Washington Dane, Her youth was shaped by history. The lingering effects of the Great Depression and the Dust Bowl along with the start of the second World War sent young Sue and her family (mother, father, and older sister Loretta) on a westward journey to California: a land of dreams. There they settled and welcomed Sue's younger sister Sonja. Eventually Sue followed her heart to God and met the father of her children, Milburn "Mike" Day.
A woman of strong conviction, Sue was an intensely loving mother and grandmother. She spent her life devoted to her six children: George Daniel, Colleen, Jeffrey (who preceded her in death), William. Sean and Sheila. Settled in the Sacramento Valley, she raised them to value honesty, hard work, and God. Gardening and handicrafts were essential to everyday life.
As an avid believer in justice, Sue took up a career as a paralegal. Devotedly putting in long hours to support her family, while working a job seeking truth and fairness for all.
After her divorce, Sue removed her family to Idaho for a short while. Upon her return to the great state of California, Sue happened upon one Manuel P. Macias (a fellow Native Texan, and longtime believer in her faith), at a church function. Love followed her thereafter, and although her beloved husband of thirty-one years preceded her in death, the memory of their union lives on.
She embodied the ultimate modern hostess. Competitive to a fault, Sue would challenge anyone to a card game or a political debate, while providing refreshments to keep spirits high.
As a hard working deaconess in her church, Sue tried to retain the self sufficiency skills taught to her by her mother. Sewing, canning, gardening, and art were among her strongest loves, but she cooked and threw together a strong cocktail with the best of them. Whether for fun or intellectual growth, her keen mind was always on point for truth, knowledge and grace. Even after a hospitalization for a broken back, and crippled with debilitating pain, she could be found lovingly and painstakingly crafting homemade goods for her grandchildren and great-grandchildren.
Manny and Sue chose to relocate their lives to be closer to family in the fall of 2005. Fortuna was an easy choice for them with plentiful sunshine for gardening and friendly neighbors to brighten their days. Their remaining years were lived out in the peace of their home, surrounded by loved ones and adored by those who knew them. After Manny's death Sue moved closer to her daughter and grandchildren in McKinleyville and continued a peaceful existence to the end.
Sue believed in a resurrection after this physical life and found comfort in the following passage of her Bible:Isaiah 57:
1 The righteous perish,
and no one takes it to heart;
the devout are taken away,
and no one understands
that the righteous are taken away
to be spared from evil.
2 Those who walk uprightly
enter into peace;
they find rest as they lie in death.
Sue is survived by her beloved sisters Loretta Olinger and Sonja Marcou, as well as five of her six children, fifteen grandchildren, and fifteen great-grandchildren.
Due to COVID-19 concerns, no memorial is planned at present. A memorial will be held at a later date. A cremation will be facilitated by Humboldt Cremation and Funeral Service, and in the spirit of Manny and Sue, all are asked to raise a glass and drink in her memory. A lifelong wish to visit Ireland will be fulfilled by her able, surviving grandchildren and her remains will be scattered there.
The family would like to thank the caring staff at Mad River Community Hospital and the caring staff at Hospice of Humboldt who both helped to make her final days comfortable.
###
The obituary above was submitted on behalf of Sue Macias' loved ones. The Lost Coast Outpost runs obituaries of Humboldt County residents at no charge. See guidelines here.