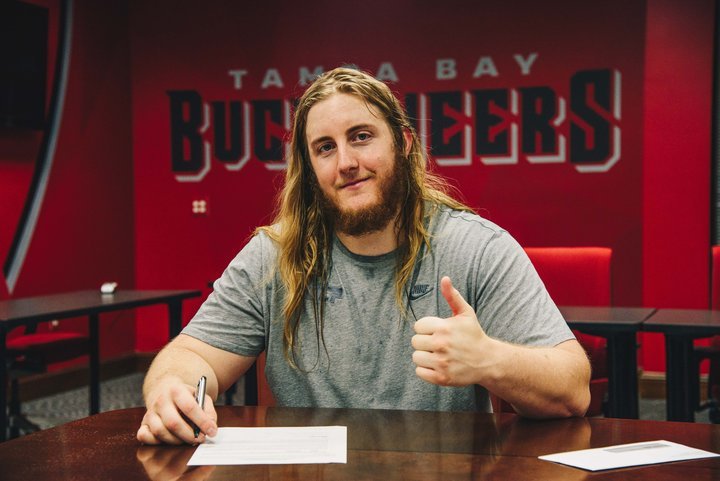 ###
Alex Cappa was known for serving up pancakes as a lineman at Humboldt State University. Now, the Tampa Bay Buccaneers Guard is giving back to his community by delivering real meals to those in need during the COVID-19 epidemic.
In order to support Tampa Bay business owners and his overall community, Cappa recently purchased pizzas from one of his favorite local chains and donated them to Metropolitan Ministries, a nonprofit that cares for the homeless and at-risk people in the Tampa Bay area.
"I wanted to help support local business with local owners, while at the same time getting food to people who need it," Cappa told the Buccaneers organization. "I would encourage other people who can afford it to do the same, at any scale."
Cappa's generosity has since spread through the Buccaneers locker room. The Tampa Bay Times reports that teammates Ali Marpet, Donovan Smith, Ryan Jensen, Cameron Brate, Lavonte David and O.J. Howard have all agreed to make similar donations, rotating turns every week.
Buccaneers General Manager Jason Licht and Head Coach Bruce Arians were also inspired by Cappa's idea, and donated 500 meals each to healthcare workers in the Tampa Bay area.
It'll be interesting to see how the typically soft-spoken and reserved NFL starter will handle being part of a major storyline this upcoming season, as he'll be blocking for new Bucs quarterback and future Hall-of-Famer Tom Brady.