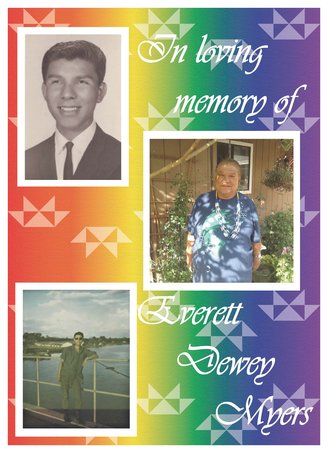 Everett Dewey Myers was born near Owl Creek, California on November 12, 1947 to Charley Everett Myers and Ida Mae Lewis. He passed away at his home in McKinleyville on April 17, 2020. While his first name was Everett most people knew him by his middle name, Dewey. He was known for his infectious laughter, his jovial teasing and daily calls to his friends and loved ones. Dewey was a Yurok Tribal member and Proud Veteran of the Vietnam War, where he earned a Purple Heart. He dutifully served in the Army for two years from 1967-1969.

As a young man, Dewey was entrusted with caring for regalia and was instrumental in the revitalization of Yurok ceremonial dances in the late 1970s and 1980s. He continued to fulfill this commitment through his years of service on the Yurok Native American Graves and Protection Act (NAGPRA) committee and the Culture Committee. In these spaces Dewey advocated for the return and proper care for sacred objects and land. In addition to these committees he served over 6 years on the United Indian Health Services Board of Directors where he worked to ensure access to health care for all Indians on the northwest coast.
Above all Dewey loved to talk on the phone and made daily calls to just about everyone he knew would pick up that phone and talk to him. His most remembered phrase after one had answered the phone was, "Hello, what you doing?" Among many things, Dewey was a loving and proud Uncle. He helped raise many nieces and nephews.
He is preceded in death by his grandparents Melissa & Charles Myers, Rose & Andrew Lewis; his parents, Charley Everett Myers & Ida Mae Lewis; his siblings Sharon Myers, Sam Young, Eugene Young, Frankie Erickson, Joseph Henderson & Andrea Lavato; his aunts & uncles Georgiana & John Troll, Queen James, Arveda Lewis, Andrew Lewis, Jr., Rose Wilder and Marilyn Latham.
He is survived by his partner Doug Paulis; his brother & sisters, Richard "Dickie" Myers, Everetta Myers, Sylvester Myers, Gilbert Myers, Larry Silloway and Barbara Rakestraw; and his many nieces and nephews.
Pallbearers are Nin Myers, Gilly Myers, Frankie Jo Myers, Richard Myers, Charlie Myers, Dustin Latham, Laurance Myers, Richard De Los Santos, Dewey and Louie Myers.
Honorary pallbearers are Richard "Dickie" Myers, Sylvester Myers, Gilbert Myers, Larry Silloway, Harold Myers and Anthony Lavato.
A wake will be held from 12-3 p.m. on Thursday, April 23, 2020 at Paul's Chapel in Arcata. The burial will be held at 2 p.m. on Friday, April 24, 2020 at Greenwood Cemetery in Arcata. Due to the shelter-in-place order, we will have a celebration of life at a later date and time.
###
The obituary above was submitted on behalf of Dewey Myers' loved ones. The Lost Coast Outpost runs obituaries of Humboldt County residents at no charge. See guidelines here.