After the success of Oklahoma in 1943, Richard Rodgers and Oscar Hammerstein II looked for a grittier theme beyond that of their first show together. For wartime audiences, the sunny, optimistic theme of Oklahoma — young love in a young country (if you pretended not to know about broken treaties and the Trail of Tears) — was just what Broadway audiences needed. The show's upbeat musical numbers that advanced the cheesy plot (still something of an innovation at the time) made it an instant hit, running for three years and 2,212 performances.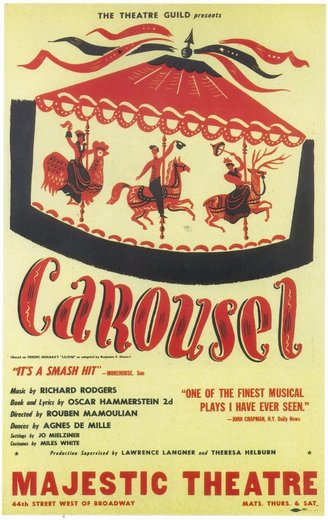 Still, composer Rodgers and writer Hammerstein wanted to work with a more challenging and substantive plot, and they found it in Liliom, a play set in Budapest in the early 1900s. Other than the ending — Hammerstein's protagonist is redeemed in heaven while the nogoodnik Liliom is condemned to hell — the plot of the Hungarian play and the American musical are pretty much the same. In the musical, relocated to the coast of Maine, carousel barker Billy Bigelow and millworker Julie Jordan fall in love and marry, but the frowned-upon romance results in both of them losing their jobs. When Julie becomes pregnant, Billy takes part in a robbery to obtain money to raise the baby. It goes badly, and rather than spend time in prison, he kills himself. Fortunately, heaven's "Starkeeper" gives him a chance to make things right by returning to Earth 15 years later to help his daughter, Louise, who has grown up lonely and ostracized by her peers because her father was a murderer.

In the show, Billy succeeds in redeeming himself, but modern audiences — including my wife and I — are left with a sour taste due to the show's apparent condoning of domestic violence. Early on, Julie confides to her best friend that her husband hits her. Later, he explains to the Starkeeper, I wouldn't beat a little thing like that — I hit her. While that's pretty jarring to hear in the middle of a show featuring some of the most gorgeous music ever written for stage, the kicker comes later. Billy's ghost, visible to his teenage daughter Louise, slaps her hand when she refuses his gift, a star from heaven. She runs to her mother, with the original dialog reading:
Louise: Has it ever happened to you? Has anyone ever hit you without hurtin'?
Julie: It is possible, dear, fer someone to hit you — hit you hard — and not hurt at all.
Physical abuse presumably being a form of love, if you love your man enough? WTF???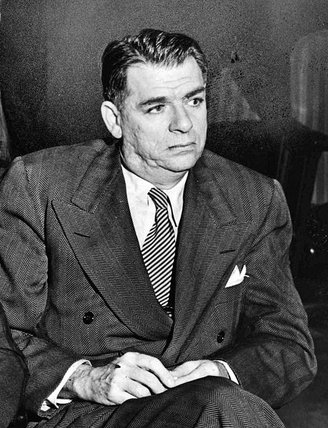 By all accounts, Oscar Hammerstein II wasn't a cruel man. In fact, he was a progressive who probably did more than anyone to open up Broadway to controversial themes and to non-white actors with such musicals as The Flower Drum Song, The King and I, Carmen Jones and Show Boat. And look at his "You've Got to be Carefully Taught" from South Pacific, perhaps the most anti-racist show song ever written: You've got to be taught/To be/Afraid/Of people/Whose eyes are oddly made/And people whose skin is a different shade…
So what's with the domestic violence in Carousel, which parallels that found in Liliom? I suspect the theme Hammerstein was really going for was that of female self-sacrifice, stand by your man no matter what. It's found in many of his lyrics. For instance:
Carousel: "What's the Use of Wonderin'?": …what's the use of wondrin'/If he's good or if he's bad?/He's your fella and you love him…

Show Boat: "Can't Help Lovin' that Man": Tell me he's lazy, tell me he's slow/Tell me I'm crazy, (maybe I know)/Can't help lovin' dat man of mine.

The King and I: "Something Wonderful": You'll always go along/Defend him where he's wrong…
I don't get it. It's not as if #MeToo suddenly made us all woke, so that now we're outraged by the Carousel's casual acceptance of domestic violence. Why weren't audiences in the forties and fifties similarly offended — leading Hammerstein to do a rewrite? He died in 1960, so I guess we'll never know.
Aside from this huge discordant note, Carousel really is a wonderful show. Voted Time's "Best Musical of the 20th Century," it overflows with terrific melodies: June is Bustin' Out All Over, Mr. Snow, the Carousel Waltz, Billy's Soliloquy, If I Loved You. And Louise's dance sequence is out of this world.
See for yourself. Right now, a fabulous "Live from the Lincoln Center" version of Carousel, with an all-star cast, is free on YouTube:
And since a few regular readers are fans of Liverpool Football Club, I'd be remiss in not including this version of the show's closing number, You'll Never Walk Alone.