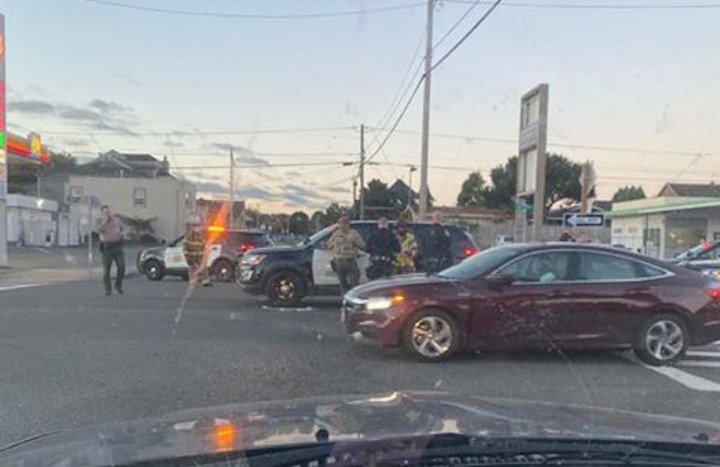 UPDATE, 12:10 p.m.: Press release from the Eureka Police Department:
On August 21, 2020, at about 6:07 a.m., officers of the Eureka Police Department responded to an injury traffic collision at the intersection of 5th and "N" Streets in Eureka. It was reported that the collision involved a Humboldt County Sheriff's Office (HCSO) patrol unit and a pedestrian.

Upon the officers arrival, the pedestrian (a 44 year old Eureka resident) was located in the roadway and he had sustained moderate injuries. Medical personnel were summoned to the scene and the pedestrian was transported to St. Joseph ER for treatment. He is currently in stable condition.

The preliminary information indicates that the HCSO unit was traveling eastbound on 5th Street, when it struck the pedestrian who was in the roadway.

There was no indication of drug or alcohol use by the Deputy, however the pedestrian's state of intoxication/influence is still under investigation.


This is an active investigation and any witnesses to the collision are urged to contact Officer Mullen at 707-441-4060. Further information will be released as available.
###
At about 6 a.m. this morning, a sheriff's office patrol vehicle struck a pedestrian near the intersection of Fifth and N streets in downtown Eureka, sending him to the hospital in an ambulance.
Eureka Police Chief Steve Watson tells the Outpost that the pedestrian was in stable condition, last he heard.
Watson said that he didn't have much more information to share at this point, as the investigation is ongoing. Eureka Police impounded the vehicle, and are scheduled to interview the driver at length in the coming days.
The Sheriff's Office's on-duty spokesperson could not be reached for comment. We'll update when he hear more.