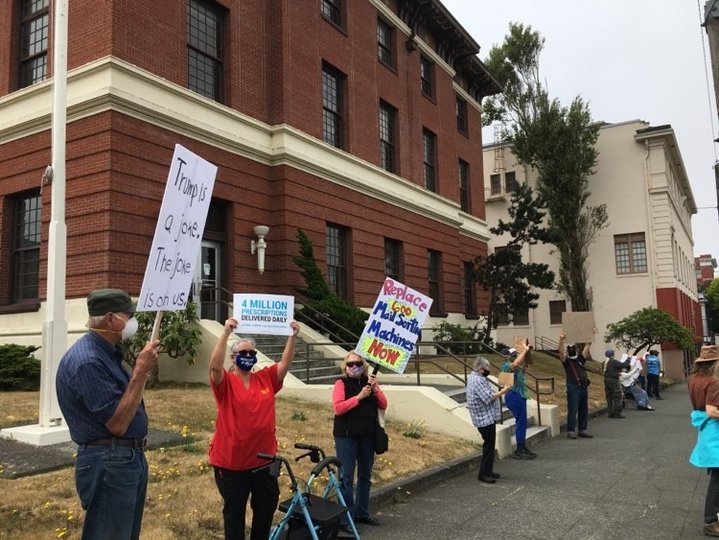 ###
CORRECTION: We misheard a word in Michele Walford's speech. In the third paragraph, below, Walford actually said that people need the Postal Service for medical supplies. We've corrected it, and we regret the error.
###
Dozens of masked activists gathered in front of the post office building on Fifth and H Streets in Eureka this afternoon, joining nationwide rallies supporting the United States Postal Service and calling for the resignation of Postmaster General Louis DeJoy.

The protests come in response to DeJoy's changes to U.S postal services and President Donald Trump's overt efforts to prevent funding to the USPS, in order to make it more difficult to process mail-in ballots for the November election.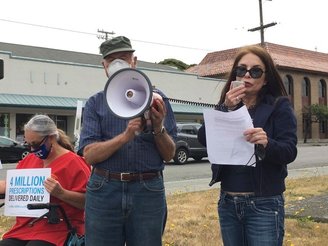 "As you know we are here to support our beloved postal service," Michele Walford — a retired 30 year employee of the postal service, and one of the local organizers of Eureka's event — said to the crowd today. "America relies on this service across the country, especially in rural areas. We need this for our medical supplies. We need this for letters to our grandmothers. We need it for everything."
The group cheered and waved signs with messages including "Save the USPS" and "Stamp out DeJoy" and passing cars honked in support of the gathering. Following Walford, Mike Hetticher, local president of the American Postal Workers Union, also addressed the crowd.

"This is the people's post office," Hetticher said. "This doesn't belong to any president. It doesn't belong to a postmaster general. It is very important that we contact our congressman, our senators and that we support every aspect of it because of the fact that our voting rights are in jeopardy, we're facing delays across the country and it's just one of those institutions that everyone benefits from."

The American Postal Workers Union is spearheading another "Save the Post Office" day on Tuesday, August 22 and it looks like folks are planning to gather in front of the Eureka Fifth Street post office starting at 5:00 p.m.
Scroll down for more pictures of today's rally.