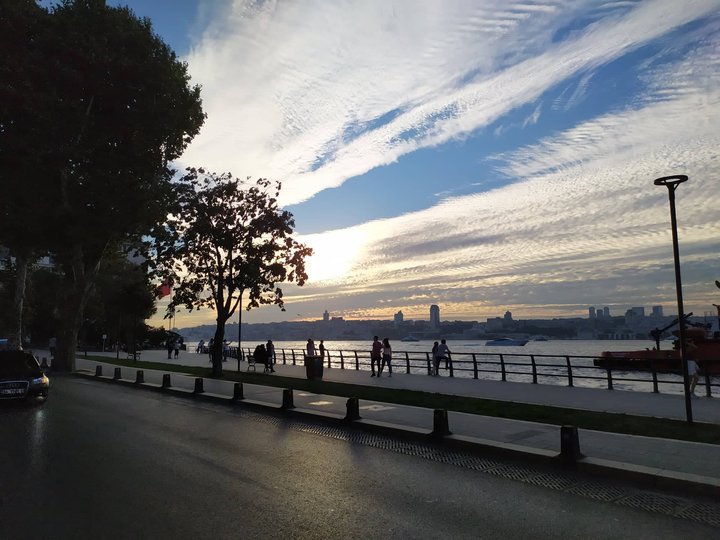 ###
"Why don't you take Leo out for a little while?" my wife's voice carried languidly from the living room.
I was lying on the sofa on the balcony, drowsily viewing "Suddenly Last Summer," a film I revisit every few years or so. The sultry, black-and-white violence of that film, the fate of poor Sebastian, the lovely Liz Taylor, Katherine Hepburn descending regally from the home elevator like some deus ex machina, the horrible secret, it all just fits these long summer afternoons.
Anyway, Ozge came out to the balcony holding our son, who is a few days shy of his eighth month. He picked a hell of a year to be born, we always say. He looks out at us with his deer-like brown eyes, moist, dewy.
"Why don't you take him out?" she says again. "He won't sleep. A few minutes even"
It was supposed to be time for his afternoon nap. Well, a walk might do the trick. Ozge and I were both feeling that existential boredom that we've often felt these past few months, the feeling that it's the same day over and over again.
I put on the kangaroo pack, took Leo and held him while Ozge made sure the pack was secure. When we put on his yellow hat, he understands that we're going outside, which always makes him curious.
When the lockdowns were finally lifted in May, and Ozge's mother was free to travel back to her home in South Turkey, went along for a few weeks, taking Leo with her so that the boy could get some much-needed fresh air, and see something of this world he'd found himself living besides the inside of our apartment. Fearing infections on the planes, they'd driven overland to the coastal town where Ozge's parents live, a 12-hour journey. Then after staying some six weeks, Ozge's sister and brother-in-law had driven them back to Istanbul. So you could say he's already a seasoned traveler.
###
" … A white afternoon, walking hot empty streets, streets that seem to lead nowhere …" The atmosphere of the movie seems to have drifted out of my consciousness into the neighborhood. The dry, sun-parched green trees rustle and stir with stiff breezes from the Bosphorus. You reflect that it's only Monday, and the afternoon stretches out endlessly, the kind of long, sensual late summer afternoons that make you pine for the fall. A Tennessee Williams afternoon …
Leo was quiet, expectant. His face changes when we go outside, losing some of that cherubic innocence and taking on a sanguine, scrutinizing air. He surveys his surroundings: the delivery guy who speeds by on his motorcycle, kicking up a small trail of dust; the street cats prowling near the trash bin or else lounging in the shade of the parked cars baking in the sun; the sea birds streaking past over the whispering trees.
It hasn't been an ordinary summer, nor ordinary year, of course. But people determinedly flocked to their usual holiday places. In the southern coastal Med towns of Bodrum, Antalya, Kas, the hot beaches and turquoise-colored seas were full of the tourists, Turks and foreigners both, like every summer. Even the Russians returned in force. Perhaps even the ghost of old Sebastian was there too, hunting material for his summer poem.
Here in Istanbul, the city has been quiet, stultified, as it always is in the late summer. Between the lazy torpor of the afternoons and the fragrant cool evenings, one lies in anticipation – anticipation for what? The anticipation that things will change, that as they say, life will start over again in the fall.
###
Carrying Leo, I walked down the quiet street to the corner. We live at the top of a steep hill called Sultantepe ("Sultan's Hill), just off the main neighborhood arterial street, which is called Yeni Dunya Sokagi, or "New World Street." It's a quiet, conservative neighborhood, even quieter still in the late summer, except for the sounds of the construction workers who are putting up a new apartment building on our street.
We turn onto New World Street, heading down the hill to where the road bends. From there you have a panoramic view of the city. The Bosphorus, ink-blue colored, passes swiftly under the first span bridge. A massive container ship passes under the bridge on its way North to the Black Sea, bound for perhaps Russia or China. The Bosphorus has been unusually quiet this year. Normally the waterway is abuzz, almost a sea traffic jam, of tankers, container ships, the gun-metal grey war vessels, and of course the ferry boats that carry citygoers back and forth across the two continents throughout the day and evening.
With Leo secure in the kangaroo, I just stand and enjoy the panoramic view. Leo looks out at the majestic view, and I wonder what it is he sees. Feeling fatherly, I try to point out things to him ("Look, son! – "), and he follows whereever I am pointing, peers into the distance momentarily, then looks back at me expectantly, before turning his head back to regard the vast surroundings.
###
We've taken Leo on the ferry once or twice, but only when we were running necessary errands. We're still worried about the congestion, the crowds in the popular places like Besiktas and Kadikoy – places we always used to go for dinner and drinks. In the old days, we say. Places that we haven't seen for months now.
In the evenings, we always take Leo out in the stroller. Sometimes we have to do some grocery shopping, so one of us will stay outside with Leo while the other runs in and buys the provisions needed at the house. But usually we like to take Leo down the hill to the coastal road. We walk him along the busy boulevard, past the seaside parks where nowadays mostly young Istanbullus can sit under the trees with their friends, take off their masks and enjoy the fine evening air.
The new thing this year seems to be those green-colored scooters that you can rent with your phone scan, and park it anywhere on the street when you finish. Everywhere along the coastal road you see young couples riding those things, the girls putting their arms around the waist of their heroic boyfriends as they cruise along looking very young and carefree.
My wife and I walk along, pushing Leo in the stroller, and as the young couples pass on the scooters, we can't help but feel a bit envious, feel a bit old and responsibility-bound. But then we remember how youth is usually wasted on the young, and make faces at Leo, who is looking intently at the cars passing by. Eventually we stop at a roadside cafe for coffee and dessert (the one time of day we really get to relax), and we just watch the people pass by, and feeling like new parents in the year of the pandemic suddenly doesn't feel so bad.
###
I was thinking of these things, standing there looking out at the Bosphorus with Leo, who meanwhile was resting in the kangaroo. I checked to see if he had fallen asleep, but no, he was just laying there, a faraway, peaceful look on his face. Well, he would probably be ready for a nap by the time I got home.
But first I wanted to get a shot for the story. The sun had disappeared behind a cloud for a moment, so the light was OK. Holding Leo with one hand, I reached in my pocket for the mobile. It was not easy to get a steady shot with hand, but eventually I got something reasonable – a panormanic, standard Bosphorus, with the first bridge and the skyscrapers of Levent in the background. A large ship, a tug boat in tow, considerately chugged by, helping the shot a little. But none of the shots were satisfactory. Some places just steadfastly refuse to be photographed, like a stubborn child who refuses to smile for the camera and just stands there looking static and bored. Perhaps it was the light.
By then my freelance assistant Leo was getting understandably restless. So at his insistence, I put away the mobile and started back up the hill.
About halfway up, I suddenly realized I'd forgotten to wear my mask. For a moment, I looked around wildly. After all, in the news it had been announced that local authorities would be sending out teams to inspect neighborhoods and see if people were following the regulations. All I needed was to run in to one of these guys from the belediye, possibly being asked to pay a stiff fine. I hadn't even brought my wallet.
Fortunately, it was only a short way back, and I only passed a taxi driver, who was sitting outside one of the buildings waiting to pick up one of our neighbors.
New World Street. I had never noticed the name before, or never thought about the meaning of the sign. Well, we were living in a new world all right, one where people wear masks and seldom venture far from their homes. But then I suppose for Leo, it's a new world any way you look at it. I would try to show him that it was a much wider and better world than he got on first impression. I'd seen some of it. Someday inshallah he would see these things, and many others, too.
"You'll see," I said.
By then Leo was nearly asleep, so he probably wasn't listening. Or maybe he was.
###
A couple of evenings later, my wife and I were walking back from having coffee in Kuzguncuk, a lovely, tree-shaded neighborhood just down the road from Sultantepe. Ozge was carrying Leo, who was fast asleep, in the kangaroo pack, while I pushed the empty stroller. The evening was cool, with those first brushstrokes of fall in the air, just tiny, cool impulses in your nose. I thought about the coming months. Last year at this time, my wife and I were expecting a child, I was starting a new job at the university – and little did we know how much our lives would change, with a pandemic thrown in. Surely things wouldn't always be that way; perhaps it was best to just wait and see what the future brings.
"Look at the sky!" my wife said. We regarded the impressive array of thin clouds shooting out past the sunset city. I snapped a photo. Finally, a decent photo. I'll be damned. Well, it wasn't New World Street, but it was close enough. As usual, my wife has the better eye for beauty.
###
James Tressler, a former Lost Coast resident, is a writer and journalist living in Istanbul.