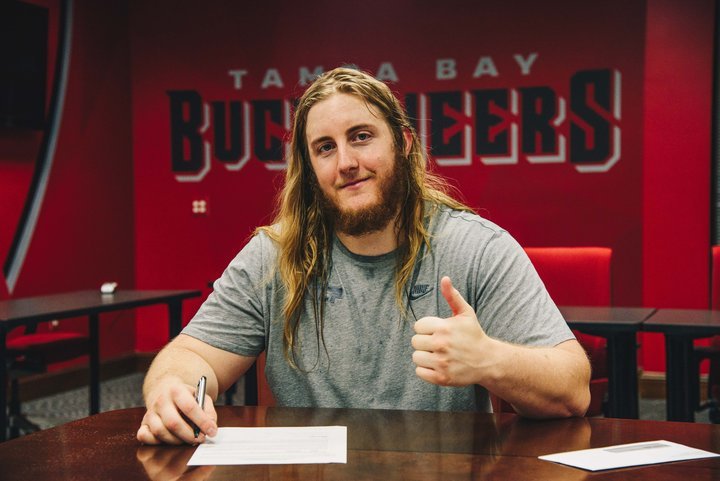 UPDATE, 4:15 p.m.:
Despite leading all NFC guards in fan voting, Alex Cappa was not selected to play in the 2021 Pro Bowl.
The NFL announced minutes ago that players and coaches opted to select guards Brandon Scherff (Washington Football Team) Elgton Jenkins (Packers) and Andrus Peat (Saints) instead.
Cappa might still have a chance to make the Pro Bowl if one of these players reaches the Super Bowl, is injured, or opts out of the game. But as it stands, Cappa has been snubbed from his first NFL Pro Bowl appearance.
###

Former Lumberjack turned Tampa Bay Buccaneer Alex Cappa officially received more fan votes for the NFL Pro Bowl than any other guard in the National Football Conference this year with 95,058 votes.

The NFL announced its final fan voting results today after online polls closed on Thursday. While fan voting is a crucial part of the Pro Bowl selection process, Cappa will still need nominations from his NFL peers to make the final roster.
"Roster selections are determined by the consensus votes of fans, players and coaches," the NFL stated. "Each group's vote counts one-third toward determining the 88 All-Star players.
Cappa received support from his former Lumberjack teammate Ja'Quan Gardner on Twitter last month. Gardner Tweeted that Cappa was the greatest of all time when the NFL initially announced that Cappa was leading fan voting in November.
CAPPA IS THE GOAAAAATTTTTTTT!!!!!!!!!!! https://t.co/4OcKOZqcHw

— Ja'Quan Gardner (@_JGWentworth_32) November 26, 2020
Cappa fans won't have to wait long to find out if he makes the cut. The NFL will announce the final Pro Bowl rosters live this evening at 4 p.m. on the NFL Network.