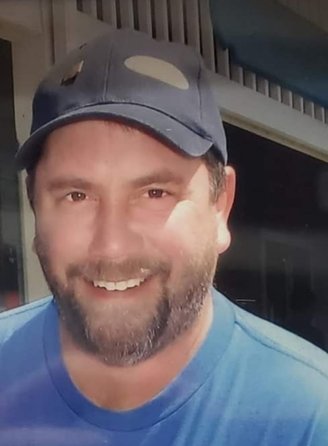 Kevin Andrew Masters
April 16, 1965 - Nov. 6, 2020
In the early hours on November 6th, 2020 Kevin Andrew Masters took his last breath with his mother Honey by his side.
Kevin was born April 16, 1965 in San Francisco to Thomas and Honey Masters. He grew up in Half Moon Bay and Daly City before moving to McKinleyville when Kevin was 14 after his dad was diagnosed with multiple sclerosis. Kevin was fortunate enough to move to a neighborhood full of kids his own age. He quickly made friends with Allen, Paul and Chris Freitas, Tyrone Barham, Kevin Voorhees and John Sieger. Once starting high school at McKinleyville High School he also made friends with Mike, Rob, Troy and Alex. His group of friends made moving from the big city to a small town much easier.
While Kevin was attending high school, he worked part time at the City of Arcata on a work program in the drafting department. After graduating in 1983, he worked at Rocket gas station before landing a full-time position at the City of Arcata. He was employed with them for 20 years, eventually becoming a lead man in the streets department. He made a lot of friends during those 20 years and really enjoyed working there.
In 1984, Kevin started dating the girl next door Mary Sieger. Kevin & Mary got engaged quickly but decided on a long engagement while he turned his parents three-car garage into a studio apartment to help care for his dad. They married on May 28, 1990 in Reno, Nevada with friends Tyrone Barham and Kevin Voorhees there.
In June of 1992, Kevin's dad passed away which was hard on him.
In March of 1998, Kevin and Mary welcomed a two-and-a-half pound baby boy they named Andrew Thomas. Andy spent the first 28 days of his life in the NICU before they brought him home still only weighing 3 lbs, 12oz. Kevin was so afraid to handle him at first, but soon was scooping him up as soon as he got home from work. Kevin was an only child, but Mary had sisters Lynda, Jaime and brother John close by. When Andy was young Kevin and Mary often hosted family gatherings, so all the nephews would have good memories of holidays growing up together. Kevin and John did their yearly trips to the snow with the boys, and often bringing truck loads back to put in the front yard. Kevin was always willing to help family and friends with projects. In 2008, Kevin and Mary separated and divorced seven months later.
Now disabled, Kevin spent his days walking through the woods, and tinkering with automotive projects. He really enjoyed when Andy, Andy's cousin Tyler and Evan were at the house. Kevin had several attempts at sobriety during those times, but always seemed to fall back to drinking. As Kevin's alcoholism became out of control, his liver began to fail. Kevin was sober the last year of his life.
Kevin joins his dad Thomas, brother in law John Sieger, and good friend Allen Freitas. He is survived by his son & pal Andy Masters (Kali), his mother Honey Masters, cousins, and nephews James, Tyler, Michael, Robert, and Trever.
A special thank you to Joe, Frankie and Paul Freitas, as well as Lonnie and Bonnie Tamboury for helping Honey look after Kevin the past few years.
Rest in Peace, Dad. You taught me a lot. You will always be loved and missed.
###
The obituary above was submitted on behalf of Kevin Masters' loved ones. The Lost Coast Outpost runs obituaries of Humboldt County residents at no charge. See guidelines here.