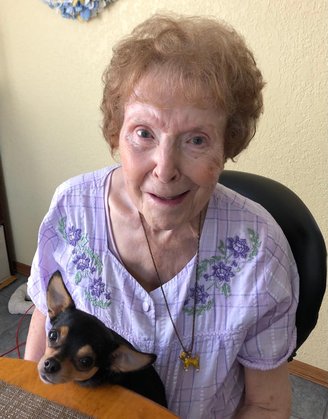 Thelma Lee (Coons) Stutchman, lovingly known as "Grammie," passed away at home, with her daughter by her side, on November 21, 2020, after a long battle with Parkinson's Disease.

Thelma was born on November 14, 1927, in Reno to William and Alta Coons. She enjoyed a happy childhood, despite the family moving many times, while her father tried homesteading and farming, eventually settling in Ferndale. Her older brother, Ernest, was her best buddy and co-conspirator in many childhood adventures.

Thelma was an excellent student, and graduated from Fortuna High School when she was 16 years old. A year later her father passed away, and Thelma helped her mother and brother close down the farm, and move to Eureka.

One fateful day in 1945, Thelma's brother suggested they go roller skating at the Municipal Auditorium, to cheer themselves up. It was there that Thelma met the love of her life, Marshall Stutchman. They fell completely in love and were married November 30, 1947. After their wedding, the young Stutchmans established their home in Eureka, and, in 1950, and, 1952, added their children Andrea, and, Gregg to complete their family. Thelma and Marshall remained best friends, and, soulmates, for the 54 years they were married, until Marshall's death in 2002.
Being a mother was Thelma's joy, and she did it with her whole heart. She loved totally, and unconditionally. The Stutchman home was a safe, warm, inviting place, full of love. All the neighborhood kids wanted to be there, and often were. Marshall worked hard so that Thelma was able to be a stay-at-home mother. She made it look easy and the Stutchman children enjoyed a magical childhood full of fun and adventures.
When her children started leaving the nest, Thelma entered the next chapter of her life. She went to work at the Humboldt County Department of Welfare, and worked for 22 years as the supervisor of the budget unit. She retired in 1989, so then she and Marshall could spend more time together.
The other focus of Thelma's joy was her grandchildren, and great grandchildren. Thelma loved spending time with them. She taught her grandchildren to cook; and always let them help her in the kitchen, whether it be making breakfast, creamed peas or pie crust crackers. Grammie was happy to let the grandchildren cut her prized roses from the bushes in her backyard for Sabbath lunch table flowers. Later on, she established great grandchildren traditions of hand washing, and polishing her paperweight collection, and creating art with her mouse stamp collection. Of course, Grammie saved every piece of artwork, proudly displaying them on her refrigerator door.
Thelma became a Seventh-Day Adventist Christian when she was 12 years old, and was active in her church for many years, until her health declined. She was a prayer warrior, and dearly loved her God, and her Lord, Jesus, until her final breath.
Thelma was preceded in death by her parents William and Alta Coons, her brother Ernest Coons, and her loving husband Marshall Stutchman.
She is survived by her children Andrea (Andie) Pfaff of Eureka, and Gregg Stutchman of Napa, grandchildren Kellie and Mark Braithwaite of Rochester, Minn., Jason and Randalyn Young of Burbank, Amber Stutchman of Napa, John Stutchman of Calistoga and Jonathan and Francesca Lucchesi-Stutchman of St. Helena. She is also survived by her great-grandchildren, Kacie and Scott Homen of Eureka, Kami Chattin and Rylan Braithwaite of Rochester, Minn., Allison Young and Dylan Young of Burbank and Alessandro Lucchesi-Stutchman of St. Helena.
Due to the the pandemic, a memorial to honor Thelma will be held at a later date that is to be determined.
###
The obituary above was submitted on behalf of Thelma Stutchman's loved ones. The Lost Coast Outpost runs obituaries of Humboldt County residents at no charge. See guidelines here.