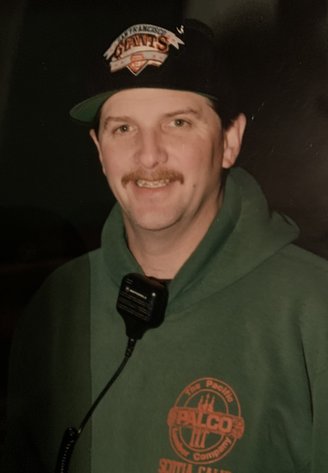 Roland Harvey Stone went to be with his Lord and Savior on February 16, 2020 with his children by his side.

Roland was born September 13th, 1954 to Harvey and Ruth Stone in Scotia. He grew up in Rio Dell, attending Rio Dell Elementary and graduated from Fortuna Union High School in 1972. The youngest of three, Roland had an older sister Teryl and brother Randall. To friends and family Roland and Randall were known as "Rock and Roll Stone."
Roland was an athlete growing up excelling in multiple sports, none more than pole vaulting. Roland set a pole vaulting record of 13'7" in 1972 at Fortuna High and held that record for many years. He went on to compete at North Coast Sections and State Championships, ending his high school track and field career with a full ride scholarship to BYU. Instead of taking the scholarship Roland went to work laying carpet. He eventually followed in his father and brother's footsteps and went to work for The Pacific Lumber Company where he worked for 30 years as a Forklift operator. After leaving PL, Roland went to work at Les Schwab Tire Center as an alignment technician before retiring in 2016. Life slowed down for Roland after retirement which left him missing the workforce. That's when he went to work part time for O'Reilly's as a delivery driver.
Roland and his first wife Jackie Robertson had two children together, Ashley and Tyson. He loved his kids and enjoyed watching them grow and start families of their own. They were his greatest joy. Roland later remarried to Debra Lee, and they were together for 30 years before his passing.
Roland loved his time with his friends bowling, playing softball and pheasant hunting. He enjoyed camping and being outdoors with his wife Debbie. Roland always had a great head of hair, keeping a comb in his back pocket just in case he needed it. He was very witty, keeping us laughing no matter the situation. Roland was a lifelong fan of both the Oakland Raiders and San Francisco Giants. He owned an original 1978 Black Pearl Datsun 280z, which was his baby. We have so many great memories riding around, laying in the back window of that car growing up. Roland couldn't wait to work on it and get it restored. Unfortunately he never got that chance.
In December of 2017 Roland had a massive heart attack that unfortunately led to numerous health problems. After a double bypass, his doctors found a tumor that led to the removal of his colon. During this time, he was on a ventilator three different times, damaging his vocal chords. He lost circulation in his feet leading to half foot amputation of both feet. After 58 days at UC Davis Medical, on February 16th 2018, Roland was finally able to go home. He was in heart failure, on a feeding tube, with a colostomy bag and now an amputee among other things but he was home! Roland beat all odds that were stacked against him and became closer than ever with his children. He came home and lived two years to the day of his release from the hospital. He learned to walk again, had a reversal on his colostomy bag getting rid of it and was truly a living, walking miracle. He never once lost hope, keeping a positive outlook and never losing his hilarious sense of humor. The nurses loved him, always keeping them on their toes and constantly laughing. They loved his name and repeatedly sang the song "Papa was a Rolling Stone" which he got a kick out of. No doubt, our dad was the strongest most positive man that has walked this earth.
These past two years have not all been hardships and heartaches for Roland. Roland became ordained last year and in August 2019 performed a marriage ceremony for his son Tyson and his bride. He looked forward to that day all year and did an amazing job, with a smile on his face the entire night. On January 5th, 2020 Roland welcomed his 4th grandchild, Brooks.
Roland is preceded in death by his parents Harvey and Ruth Stone.
Roland is survived by his wife, Debra. His daughter Ashley (Frank) Florvilus and son Tyson (Michelle) Stone. Grandchildren Laila, Maliya and Trae Florvilus and Brooks Stone.
Sister Teryl (Lowell) Wallace; Brother Randall (Carol) Stone. Nieces Kristi (Rhett) Imperiale and their children Peyton and Gage. Karen Wilson and her children Chandler and Courtney Wilson. Nephews Scott (Kelly) Wallace and their daughters Lucy and Rylee and nephew Landon Stone.
A graveside service will be held on Friday February 28th at 11:00 a.m. at Fortuna Sunrise Cemetery. A Celebration Of Life will be held on Sunday, March 1st at 2:00 p.m. at the Veterans Hall in Fortuna.
We would like to give thanks for all the love and support we've received over the last couple of years from family, friends and even strangers. Thank you to the staff at Redwood Memorial Hospital, UC Davis Medical Center and Regional Medical Hospital in San Jose. A special thanks to Dr. Victor Rodriguez, Dr. Wissam J. Halabi and their teams at UC Davis Medical. Dr. Olkin, Dr. Swenson and team and Dr. Cassandra Kennedy at Redwood Memorial Hospital. Also, the wonderful staff at Greens Pharmacy. We're sure we've missed many important people as it's impossible to name everyone. Please know we are eternally grateful for you all.
###
The obituary above was submitted on behalf of Roland Stone's loved ones. The Lost Coast Outpost runs obituaries of Humboldt County residents at no charge. See guidelines here.