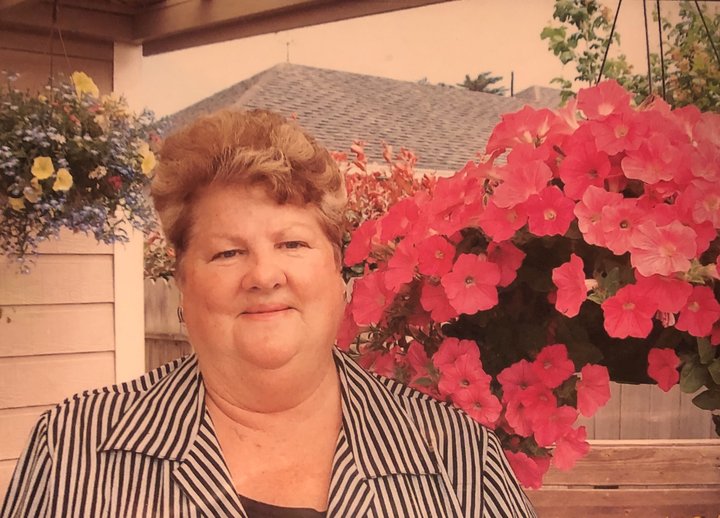 ###
Deanna was born on January 28, 1942 in Scotia to Vernon & Bernice Holmes. She unexpectedly passed away on December 25, 2019 just a month short from celebrating what would have been her 78th birthday. This is a hard loss for us, losing the heart that tied our family together.
In 1960 Deanna graduated from Fortuna Union High School. She married Wayne Pullen in 1961 and had three children — Kevin, Kyle and Kamala (Hunt). Throughout her life she worked as a cook at the Hydesville Elementary School, retired as "Big Mama" from Safeway Deli after 17 years of service and then during her retirement babysat for numerous families. She was always a grandma to everyone.
She enjoyed going to her grandkids ball games as they grew up, going camping at Trinity Lake every summer and she loved watching her favorite TV shows: the Bates, Duggars & the Waltons. She was also a big Shaquille O'Neal fan but later loved watching Steph Curry and the Golden State Warriors. There was always a possibility that when you stopped by for a quick visit she would get you sucked into watching a Hallmark movie and having a bite to eat or a cup of coffee.
Deanna loved to cook and bake. She was always trying to feed everyone who walked through her front door. She was constantly finding and trying out new recipes she found from either one of the cooking shows she just watched or from one of her thousands of cookbooks she owned. Some of our best family memories are from all of our big family dinners and gathering we would always have at her house. She loved nothing more then spending time with her family and getting to watch all of the new little ones grow.
She was the one person that all of us would call for anything. Whether it was for a recipe, advice, a quick opinion or just to catch up and see how everyone else in the family was doing. More often then not, she would usually get most of her stories or info correct-ish when repeating it back. Yet no matter what she was always a phone call away and would always listen.
Deanna is proceeded in death by both parents Vernon and Bernice Holmes; her Uncle Donald and Aunt Evelyn Chism; and her grandson Kole "Bubba" Pullen.
She left behind her sister Patti and husband Bob Harris and family; her oldest son Kevin amd wife Angie Pullen: granddaughter Shaylee and husband Nick Gaudenzi, with two great-grandsons Ryder and Carson; grandson Kody Pullen; granddaughter Lillie McGuire-Pullen and step-granddaughter Daniela Medina & fiancé Steven Escobedo; her middle son, Kyle Pullen; grandson Dustin and wife Lacy Sylvies with three great-grandchildren — Braxton, Aiden and Areana; grandson Lane Pullen; granddaughter Nichole and husband Ross Huber with two great-grandchildren, Hadley Mae and Oliver; her daughter, Kamala, and husband Kevin Hunt; grandson Lance and wife Amber Hunt with great-granddaughter Logann and grandson Bryce Hunt and girlfriend Lesley Roudebush.
We want to say a special thank you to Betty Jane and the Chism family, Margie Pullen and all family and friends who stopped by to check in on her and those who helped take care of her.
Since she loved to cook and always feed everyone, Deanna's Celebration of Life will be a potluck style so please bring your favorite dish: Saturday February 1st from 1-3 p.m. at the Fortuna Fire Hall on 320 South Fortuna Blvd. Those of you who knew her, please come and join us so we can all eat while enjoying our favorite stories of the one we all loved so much and who will forever be missed.
###
The obituary above was submitted on behalf of Deanna Pullen's loved ones. The Lost Coast Outpost runs obituaries of Humboldt County residents at no charge. See guidelines here.