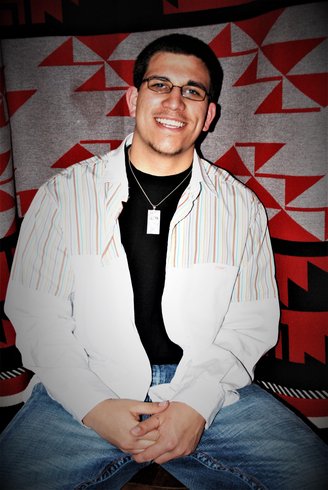 It is with our deepest sorrow that we announce the tragic and sudden passing of Wilfred M.A. Raymond to natural causes on January 12, 2020, at age 28. From his birth on May 22, 1991, he was a joy to be around. He had a wonderful sense of humor, loved life, and valued time with family. Willie often expressed he was honored to be from both the Hoopa and Yurok tribes and felt a deep sense of connection to his ancestral land and his cultural teachings. He especially was grateful for the mentoring he received from his grandfather, whom he was named after. Outdoors in nature is where he felt his most comfortable and where he thrived. From early on he was extremely social and insisted on having a diverse range of friends. Being above average in physical stature and with a protective personality, he gravitated toward team athletics. From football all four years in high school (lineman on both sides of the ball) to as many as three different basketball teams in a season (AAU traveling, city leagues, school, and Native tournaments) he excelled and was diligent in his training. Willie loved the competition and mostly the camaraderie that the sport ensued. He truly loved his family, friends, his teams, coaches, and basketball with his very being.

After graduating from Eureka High School, he enrolled at College of the Redwoods (CR), but was unclear on the direction he wanted to study and decided to work. He worked for several contractors as an independent gardener and maintenance assistant. His true dream was to be a crane operator. He spent many trips, stopping to watch construction operations using heavy equipment. Recently he registered for CR and was determined to tackle his educational goals. He completed orientation and was scheduled to begin classes next week.
Willie was most proud of his 8 year old daughter, Aniyah. She kept him on his toes and provided him the incentive to keep pursuing his goals. He had been preparing her for her first year of basketball starting this month. This past year, Willie moved back to Hoopa to live with his grandmother, Patricia. According to him, it was one of the best decisions he had made, because she kept him focused, made him "take care of his business", and reminded him to pray daily. Plus, he said, it felt so good to be home with his "people". Often he commented that he felt blessed to have the best sisters on earth. He loved them with his whole heart and soul. He also loved his "brothers" Oscar Colegrove, Shahn Colegrove, Monte Jarnaghan, Nikowa Hostler, and Del Allen. He was blessed with numerous great friends including Greg Allen, Uriah Easily, and Casey Nova.
We will all miss that vibrant optimistic smile, strong hugs, and our loyal protector. Willie was proceeded in death by his great grandparents Millie and Bruno Isaacson, grandparents Alvin and Maxine Lewis-Raymond, grandfather Wilfred Colegrove, great aunts Adrienne Drake and Esther Colegrove, great uncles Joe Lewis, David Hostler, Sr. and Francis Colegrove.
He is survived by grandmother Patricia Colegrove, parents Roland and Adrienne Colegrove Raymond, mom Cindy Sylvia, sisters Kristen Rose and Sasheen Shailee Raymond, and Amber Baker, his daughter Aniyah Tsisna, great aunts and uncles: Marylyn Hostler, Everett and Marjorie Colegrove Sr., Dave Drake Sr., Gloria Vigil, Gaylord Lewis, Franklin Lewis, aunts Laura Hostler, Julie Hostler, Francene Colegrove, Nancy Colegrove, Melva Hurn, Tawny Colegrove, Deirdre Colegrove, Joelle Colegrove, Farrah Pratt, Lelanette James, Candi Hostler, Kayla Aultman, Jeanine Grant Resendez, Lily Pimentel Carlock, Shawna Crockett, Kelly Bellegante, Christina Taylor, Audra Latimer, Nadine Russ and Doreen Thompson, uncles Arnold Raymond, Dale Raymond, Joe Russ, Everett Muss Colegrove Jr., Rick Hall, Sr., Jesse James, and David Frankie Hostler, and uncle Kent Aultman who always seemed to have the best final word whenever he and Willie embarked upon many discussions and passed witticisms during family gatherings. In addition, Willie had many close cousins and friends too numerous to be named.
Pall bearers: Oscar Colegrove, Shahn Colegrove, Monte Jarnaghan II, Nikowah Hostler, Rick Hall II, Bradley Hostler, Sonny Hostler, David Sonners Hostler, Frankie Hostler II, Curtis Hostler, Louis George, Bronc Colegrove, Sonny Hescock, Gary Coo Lewis Jr., Jackson Surber, Joseph Surber, Thomas Perry, Tim Perry, Leo Quail Carpenter III, and Brent Aultman.
Honorary: Everett Colegrove Sr., Everett Colegrove Jr., David Drake Sr., Rick Hall Sr., Jesse James, Frankie Hostler, George Pordie Blake, Jake Blake, Peter Blake, Robert Blake, Nolan Colegrove Sr., Nolan Owee Colegrove, Billy Colegrove, Alphonso Colegrove, Gary Colegrove Sr., Gary Colegrove Jr., Mike Ferris, Arnold Ferris, Boyd Ferris, Leonard Ferris, Lonnie Ferris, Leo Carpenter Jr., Clyde Moon, Phillip Beanie Vigil, Walt Lara Sr., Loren Colegrove, Damon Cross, Del Allen, Greg Allen, Jr., Richie Carpenter, John Kime, Jim Sands, Derrick Smith, Steve Crockett, Kent Battle, Jodi Goldman, Leo Resendez, Jacob Resendez, Levi Jones, and Mervyn Jones.
Special thanks to the Hoopa Tribal Council & staff and Kimaw team for their assistance.
Viewing Thursday, January 16, at Paul's Chapel 1-2 p.m. in Arcata, CA, Visitation at Patricia Colegrove residence in Hoopa, 7 p.m. Services will be held Friday, January 17, at 11 a.m. at the Hoopa Tribal Office followed by burial at the Tish Tang Colegrove Cemetery and dinner at the Hoopa Fire House.
###
The obituary above was submitted on behalf of Willie Raymond's loved ones. The Lost Coast Outpost runs obituaries of Humboldt County residents at no charge. See guidelines here.