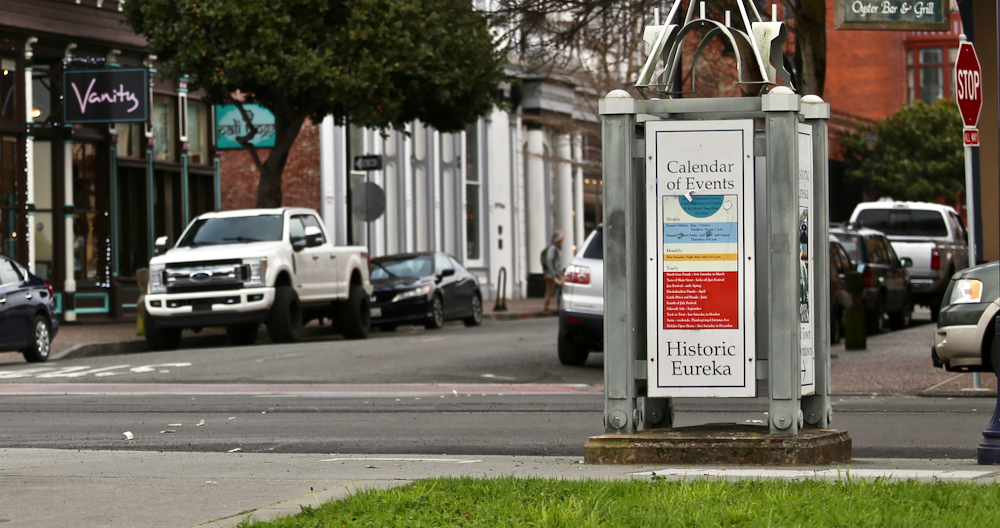 Eureka is home to many interesting and lively events: the Eureka Street Art Festival, the Friday Night markets, Old Town's famous Cattle Drive and annual Mardi Gras Parade. Not familiar with those last two? That's probably because they don't exist. But you wouldn't know it if you were depending on the kiosk signs near the waterfront for your information.

There are several information kiosks dotted around the Old Town area, each intended to provide tourists with information about Eureka. Two signs — one on the corner of First and F streets and the other on First and C — provide Eureka visitors with a calendar of weekly, monthly and yearly events. Some of these events are current, like the Rhododendron Parade and the Kinetic Sculpture Race, while others no longer happen or seem to have never happened at all.

Honestly, who remembers there ever being a Mardi Gras parade in Old Town?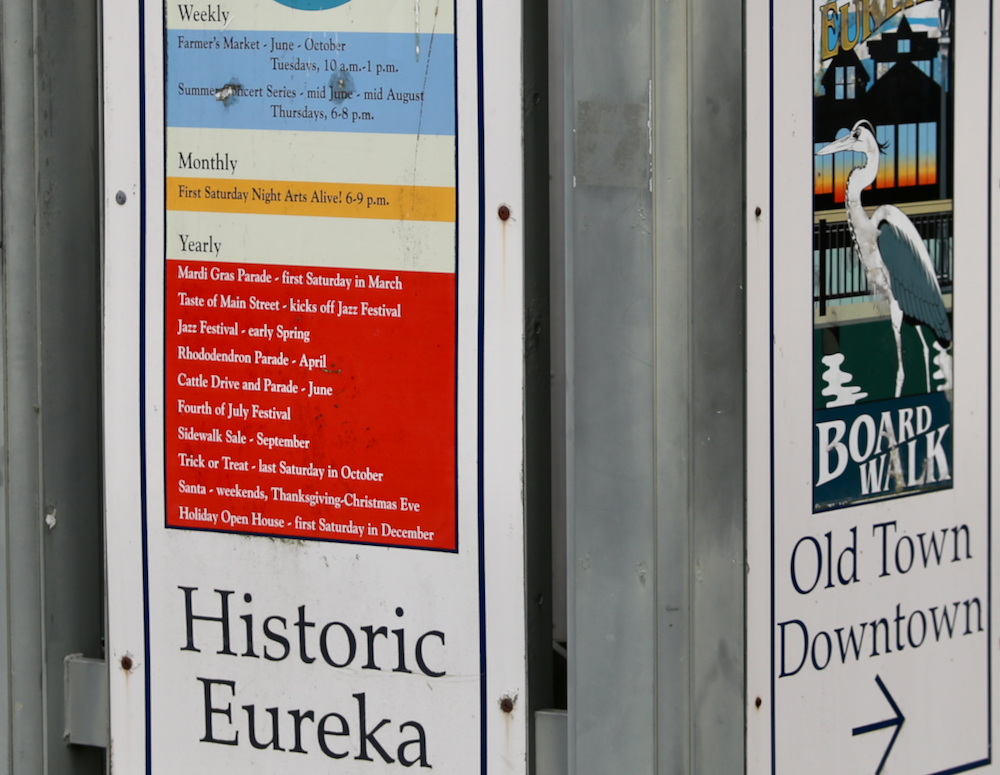 Eureka Main Street Executive Director Charlotte McDonald was able to give the Outpost some answers. Though the city was responsible for the installation and maintenance of the kiosks, Main Street provided the content, she said.
The kiosks were installed around 1997 or 1998, McDonald told the Outpost, and funding came from the city's Redevelopment Agency, which no longer exists. As far as the listed events go, McDonald agreed that they are embarrassingly out of date. But at the time the signs were installed, most of them were, in fact, a thing.

McDonald said a cattle drive did go down Second Street in Old Town long ago. Back in the 1800s, when the town was very different, it was a regular occurrence. As a novelty and part of the Redwood Acres Fair, a cattle drive went through Old Town for a couple of years. The last time this happened, as far as McDonald could recall, was around 1998.
But a Mardi Gras parade? Nope. That didn't ever happen. Around the time the kiosks went in, there was some planning and excitement surrounding a Mardi Gras parade in Old Town, McDonald said. But for whatever reason, nobody ever really got behind it.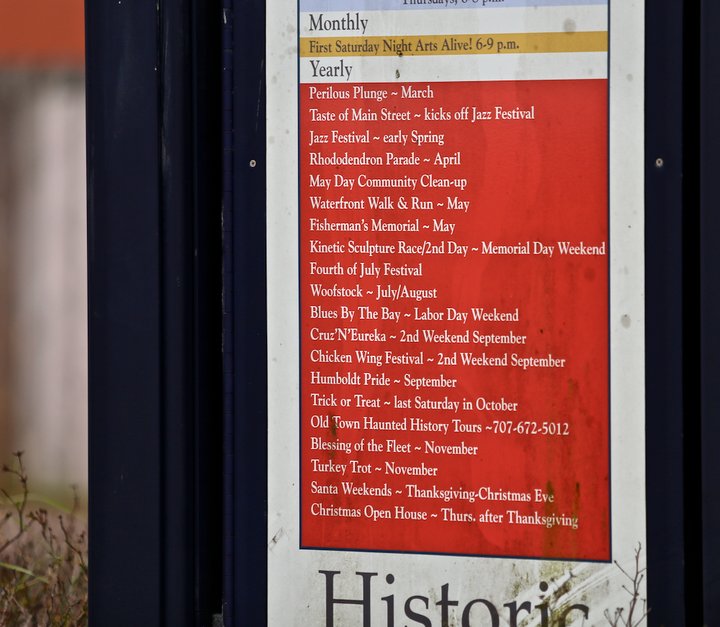 Some other events on the calendar, such as the Chicken Wing Festival and Blues By the Bay, have also been discontinued. And the Fisherman's Memorial? There is the statue near Woodley Island. But was there ever an event? Maybe some LoCO readers recall.

Suffice to say, these lists are probably in need of an update. After all, Eureka would not want to be lying to its tourists. And McDonald certainly agreed that the signs could use not only an update, but also some love.

"They [the kiosks] are blight. They don't look good at all," McDonald said.

McDonald said that with so much happening in the city, this project has not exactly been a top priority, which is why the signs haven't been changed already. But McDonald says she now plans to bring up the issue at the next Eureka Main Street board meeting and then hopes to work with city staff to figure out how to move forward.

"We are all partners when it comes to the success of Eureka," McDonald said.