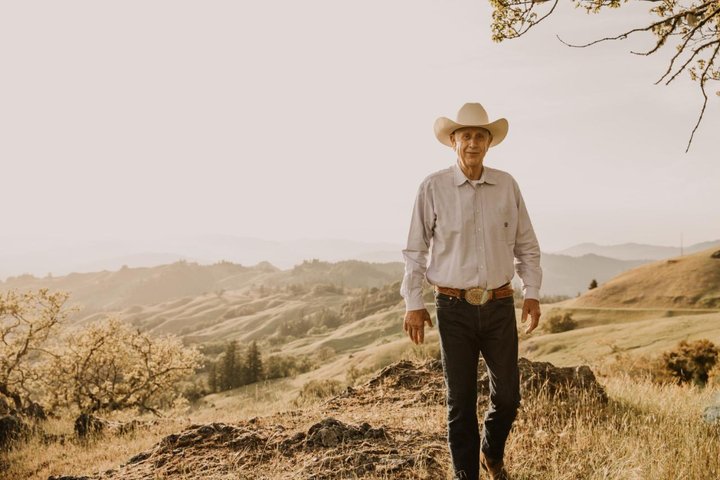 Robert "Bob" Satterlee passed away peacefully in his home, surrounded by family and friends, on June 29, 2020 after a long battle with pancreatic cancer.
Bob was born May 15, 1945 in Garberville to Guy and Peggy Satterlee and lived the majority of his life on his family's cattle ranch in Fort Seward. As the middle child, Bob seemed to make a memory and leave a lasting impression even from an early age. One Halloween night, after trick or treating at the bar, a local pulled off his devil tail. His brother Norm said he was ready to fight, in spite of being about seven years old! In High School he and Norman would win the school rodeos on livestock that they provided (they practiced ahead of time!). His sister Peggy remembers loving to squirrel hunt with him, even though that meant he shot and she retrieved.
After high school Bob went to Vietnam, where he served courageously as a Spec 4 Squad member of the Long Range Reconnaissance Patrol (LRRP) for the 101st Airborne. It was during this time that he met lifelong friends in Dave Kranig and "The Fox Boys." This crew hunted and made memories all over the country, but he especially liked it when they all came over to the ranch.
In 1977 he married Judy Ghera and had Megan and Blake. He was an amazing father who rarely missed a sporting event and was always his children and grandchildren's biggest fan. He loved riding horses, taking drives and teaching them to shoot and fish. They adored their Papa.
Bob started each day with a cup of coffee with his brother Norman and, more often than not, with his nephew Bret. He always had a dog or two by his side. His childhood friend, Calvin Stewart, was a regular presence, and his buddy Dave was always ready with a cigar. He ended each day by calling both of his children to talk and always ended each call with "talk to you tomorrow, love you, bye!" He will be greatly missed.
Bob is survived by his brother Norman, his sister Peggy, his wife Judy and their children Megan (and spouse Sukhy) and Blake (and spouse Melanie), his grandchildren Madeline, Alexis, Easton, Landon, Guido and Gabriella and his numerous nieces and nephews, as well as great nieces and nephews.
Special thanks would like to be given to Dr. Hardy and the St. Joseph's medical staff, Stanford oncology team, his niece Roxanne, his caregivers Leslie and Betsy and the many others who offered to help and kept him in their prayers. Dad had an impact on many lives and the outpouring of help and support was amazing. In Bob's own words, "He gone."
###
The obituary above was submitted on behalf of Bob Satterlee's family. The Lost Coast Outpost runs obituaries of Humboldt County residents at no charge. See guidelines here.