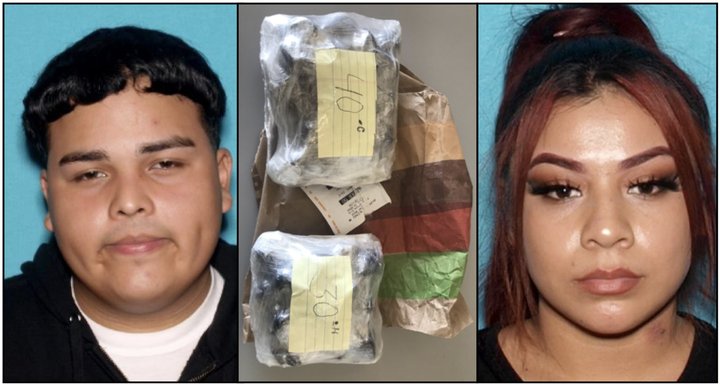 Humboldt County Drug Task Force press release:

On July 1st, 2020, at approximately 7 p.m., special agents with the Humboldt County Drug Task Force (HCDTF), with the assistance of the Fortuna Police Department, contacted two subjects at a business located in the 600 block of South Fortuna Boulevard, Fortuna. Through their investigation, agents received information that Juan Navejarm (age 19) and Marysol Renteria (age 20), both from Los Angeles, were in Fortuna with a substantial amount of heroin.

Upon police contact, Navejarm attempted to conceal a paper bag containing a large amount of suspected heroin. Navejarm and Renteria were both detained pending further investigation. Both subjects were cooperative and explained to agents they had just travelled from Los Angeles to deliver narcotics.

In total, agents seized nearly 4.5 pounds of suspected heroin packed for sales. For officer and community safety concerns regarding COVID-19, agents elected to release Navejarm and Renteria and will forward their report to the Humboldt County District Attorney's Office for prosecution.

Anyone with information related to this investigation or other narcotics related crimes are encouraged to call the Humboldt County Drug Task Force at 707-267-9976 or the Humboldt County Sheriff's Office Tip Line at 707-268-2539.