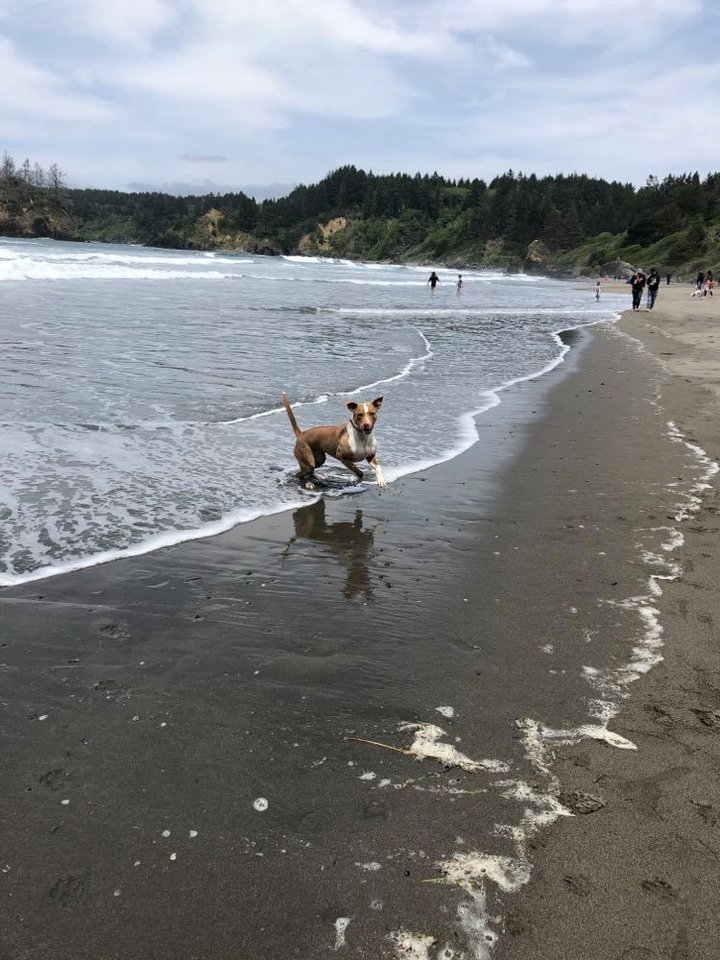 A vacationing woman's trip to the Humboldt coast for a relaxing Fourth of July weekend with her beloved pitbull-Labrador mix "Bella" turned into a month-long misadventure filled with panic, hopeless wandering and unbelievable luck after her dog got loose near the Trinidad seashore.

The Redding woman, who asked to only be identified as Kim, said that it all started when Bella took off near the Trinidad lookout on July 1.
"We were on vacation for just a few days and it turned into my worst nightmare the moment I got there," Kim said. "I usually snap her leash on and she doesn't jump out of the car, but a couple of other little doggies ran up to her and she just bolted toward the ocean embankment down there. We chased after her but she's so fast."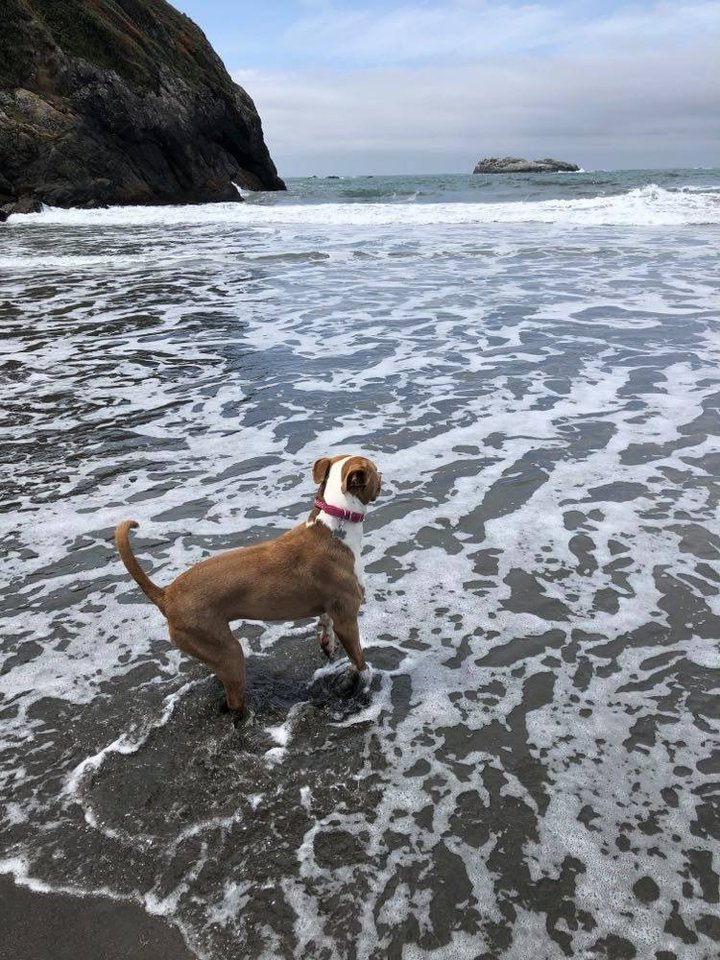 Kim was unable to keep up with the 2-year old pooch as she zig-zagged through the streets of Trinidad, and lost sight of her in a heavily-wooded area at the end of Edwards Street. But Kim was determined to find her missing friend and decided to remain in Humboldt County as long as she could. It was the beginning of a tenacious dog-hunt that would last 26 days.
"It was killing me," she said. "The motel costs and looking for her and everything, it was so hard. I kept praying that someone would send me a lead, that something would come out of it."
Unable to find Bella on foot, Kim put out the word on Humboldt Paws Cause and began posting fliers all over the greater Humboldt Bay area. She was soon flooded with Bella sightings from Trinidad to Eureka and everywhere in between.
Humboldters reported seeing the missing pooch on Highway 101 in Westhaven, at the Bevmo parking lot in Eureka, near the California Redwood Coast-Humboldt County Airport, at the Arcata Transit Station and walking across Samoa Bridge with a transient. Kim followed up on as many leads as she could, but they all seemed to be dead ends.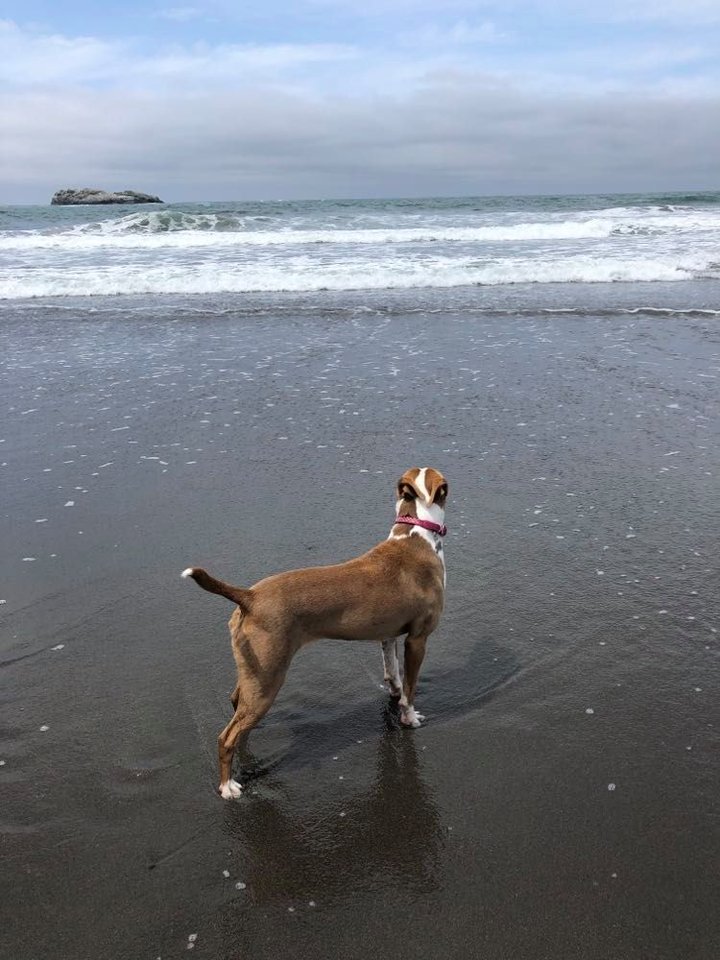 "I spoke with every single homeless person in Eureka. They all know me now," she said. "I was so stressed and it made me mentally and physically ill for her, all of those days and feeling like I was never getting anywhere. It was so hard because I would search one area and then run to another. It felt like I was never going to find her."
Emotionally defeated, Kim returned to Redding on July 25 with one less passenger. The very next day, she got the big big break she was looking for.
"A gentleman by the name of Danny Thomas was in Trinidad taking a walk along the ocean where the old lighthouse used to be and he said he heard some rustling going on down the mountainside," Kim said. "He had just seen one of my fliers and wondered if it was her. He said he started calling her and she popped her head up through the tall brush."
Desperate and hoping for a miracle, Kim made the trek back to Humboldt and arrived at the coast around 2 a.m.
"I grabbed my friend Wesley Winters and we ran over that night," she said. "We walked around calling her for about an hour."
Worried that she was waking up the neighborhood at 3 a.m., Kim was ready to turn in for the night and pick up the search tomorrow. But when Winters took an early-morning phone call along the southern edge of the lookout, he heard rustling coming from the cliffside. It was Bella.
"He said: 'Oh my god, I hear something down there!'" Kim said. "I started calling her and she finally started barking. It was amazing."
Winters crept down the embankment on the southern end of the lookout with food and water to comfort the dog, who appeared to be stranded on a small patch of the bluff. Then he walked her up the hill and into Kim's waiting arms.
"She came running and pretty much tackled me at the top of the cliff," she said. "We just laid on the ground and hugged each other. She was very, very skinny but I did rush her straight to emergency as soon as I got her and the vet said what a miracle it was."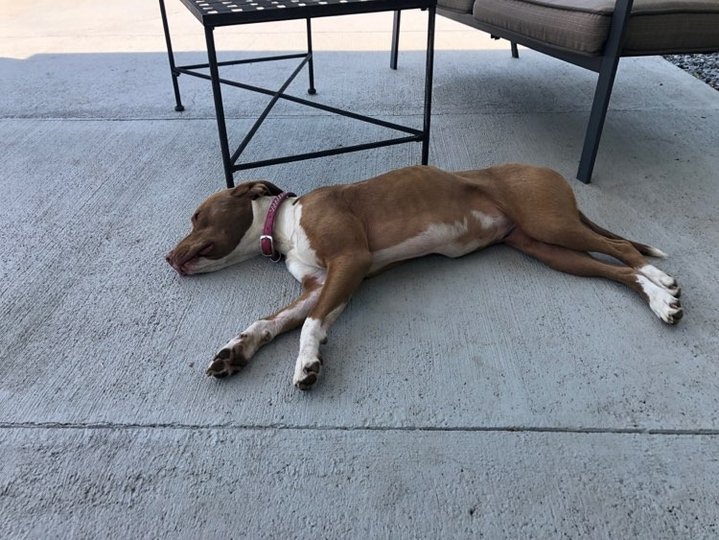 After running numerous tests, Kim said the vet was shocked to find that, besides the weight loss, Bella was suffering from no other serious health problems. The vet also discovered how Bella was able to survive on the hillside for more than 26 days.
"She was full of berries," Kim said. "So they flushed her out."
Three days later, Bella is back in Redding, sunbathing and snoozing on Kim's bed — with the addition of a brand new GPS tracker attached to her collar.
"She's laying here on my bed resting and doing very well now," she said. "The great thing was that Humboldt was awesome. Everybody was so caring and helpful. You don't even know how relieved I am."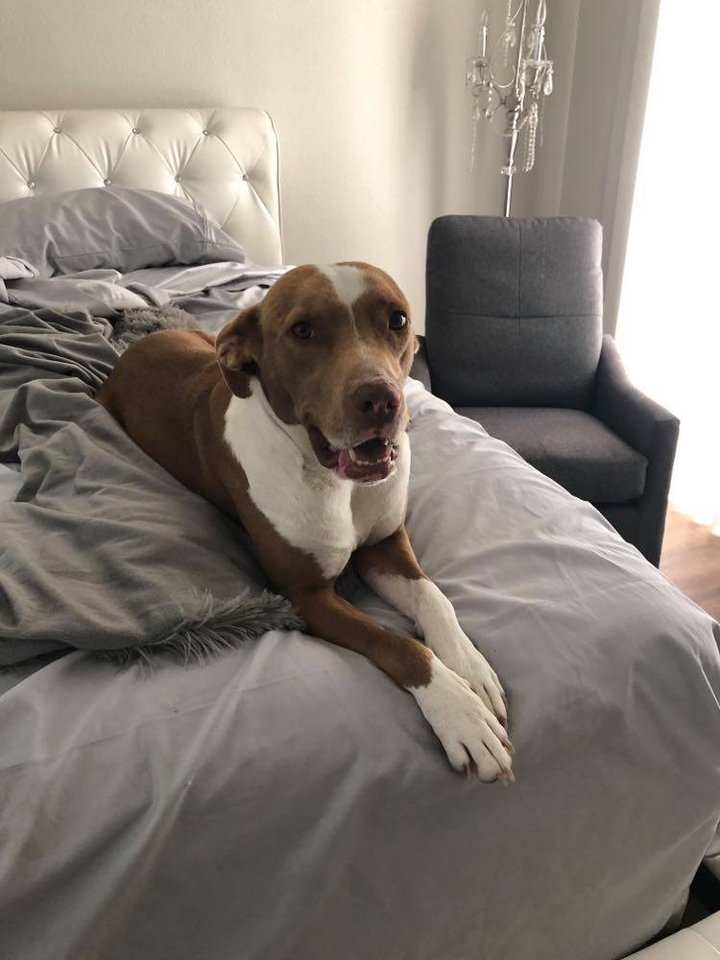 Home.