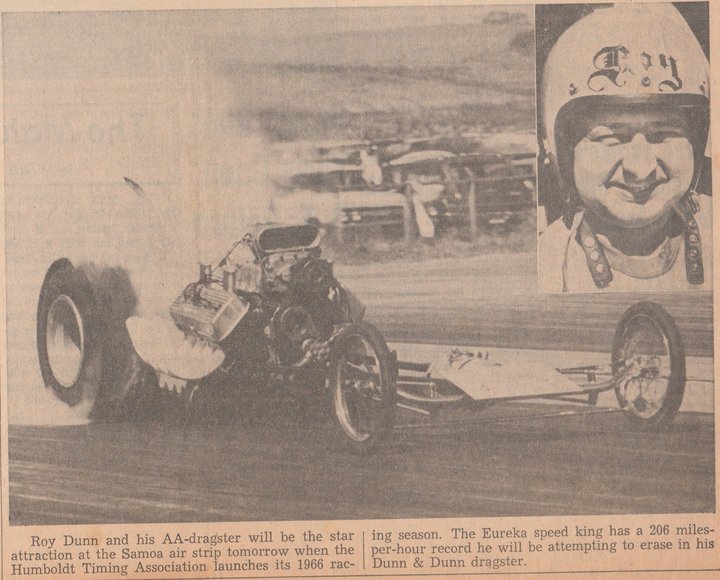 On June 23, 2020 in Eureka, surrounded and supported by loving family, Roy Glenn Dunn peacefully passed on to his next adventure after 83 full and eventful years. Roy was born October 24, 1936 in Birch Tree, Missouri. When he was an infant, his family migrated to California and he grew up in the house his father built on Dows Prairie in McKinleyville. He met Marilyn Ericksen at the Sadie Hawkins Dance at Arcata High School in 1953 when he was just 17 and she 15. They married in 1958 and were nearly inseparable for over 61 years, to his very last breath.
Roy started a long career in the lumber industry at age 16, hired by his father the foreman. By age 18, he was the most senior sawyer. When he cleared his first $100 check, he bought Marilyn a beautiful pink blouse to celebrate. He spent 21 years of his career at McNord Lumber (until it went out of business). After working for several other mills, he spent another 21 years with Sierra Pacific Industries. Roy retired in 2000 as a head sawyer, having missed only three days of work. Ever.
Roy was full of pizzazz, talent, and skill. His claim to fame was the time he spent in his 20s as a big time drag racer on the North Coast. Roy set the 1964 National Hot Rod Association speed record of 202 mph in a dragster he built in his garage. Roy and Marilyn were known as "Dunn & Dunn Racing." They went everywhere together and were true partners in everything in life. He was one of the first guys in the 200 MPH Club back in the 60s (he always believed he was the very first to go 200 MPH but at that time, the Samoa track was not sanctioned to make it official). Roy won races and set records at tracks from LA into the state of Washington.
Trophies lined the walls of the house but Roy never became well-known nationally because he and Marilyn could only travel so far every weekend. Family came first for Dunn & Dunn and it was top priority to get back to work in the sawmill by Monday morning. In fact, Roy ultimately retired from racing in 1969, mostly because he didn't want to leave his children fatherless like many of his competitors had done in this high-risk hobby. At that time, he had reached 235 MPH in his home-built Chrysler AA fuel dragster.
But Roy wasn't anywhere near done creating an amazing legacy. Not only was he fast, he was an incredibly skilled and self-taught handyman and artisan woodworker. From adding a family room to the house, designing and building a magnificent woodstove for it, to fixing anything wrong with a car (often forcing his children to watch and learn!), there was nothing this man couldn't fix, figure out, or create (he may have proved duct tape can fix anything). Over the years, Roy carefully and artfully crafted furniture to fill the house. He utilized free wood scraps from the mill, often Redwood or Birdseye, to craft many of those award-winning pieces. An example of his skill and attention to detail was when he used 484 individual pieces of wood to create four completely identical barstools (121 pieces in each!). When he ran out of room for furniture, he continued to design and create things to put on them: bowls, candlesticks, frames. He continued to create unique and useful art throughout his entire life from rocking chairs, tables, jewelry, jewelry boxes, rolling pins, toy cars, trains, Christmas ornaments, pill boxes, you name it. He could make just about anything out of just about any kind of wood and he sold these items locally in Eureka stores and by word of mouth. He even started donating toys and jewelry boxes to children at Christmas. No matter his battle with Parkinson's and his declining health, Roy was always in his shop creating, trying new things and building. His last moments were in that shop at home and that is where he collapsed from illness.
It cannot be disregarded that Roy also loved animals and the Dunn home took in many dogs and cats over the years—almost always strays and cast-offs, and often those that had been dumped at the mill. From Brandy, the runt of a litter (he and Marilyn's first beloved dog together), to Izzy, his last cat inherited from his brother that loved Roy most and passed a month prior, Roy accepted them all. Even though he dubbed the house "Crazy Marilyn's Kennel," Roy could never refuse a wayward animal and he was the same with his fellow human. It wasn't uncommon to have a friend over for Thanksgiving dinner. Roy had a heart of gold.
Roy loved his kids with all his heart and supported every one of their interests with enthusiasm. His kids all agree they had the best childhood a kid could possibly have and it was often referred to as "like living at Beaver Cleaver's, but better." Though he never played an instrument, his children were given musical instruments and lessons and always made to feel that they were outstanding. In '79, he took his sons (the eldest who played guitar), to a KISS concert. Roy often referred back to this as "the worst experience of my life." He also took his kids to many Giants baseball games, which he couldn't care less about, but his kids loved. Roy bought his son Trevor his first bass in '81, which sparked his career as a successful musician, and in '90 he nudged his daughter up on the stage at the Moose Lodge, which resulted in a long and happy hobby of singing in bands. Roy was at every game and show he could make, and he reveled in the successes, talents, and hobbies of each of his children and grandchildren. If you ever talked to Roy, you got a full update on each and every one of them and Roy would talk to anyone. He was probably one of the friendliest men you would ever meet.
Roy's personality was big and he was an avid pool player and a proud member of the Elks, Moose, and Eagle Lodges. Next to tinkering in the garage, he loved nothing better in retirement than shooting pool and drinking cocktails with his wife and friends. At a young age the kids were taught the rules and respect for the game. He even had a small post- retirement hobby of selling pool sticks around town under the name RD Cues.
A great man, a wonderful husband, a loving father, a good friend to many, kind and welcoming to all, and a strong role model just about sums him up.
Roy was proceeded in death by his parents, Ralph and Dee Etta Dunn, and brothers, Doyle, Norman, and Danny Dunn.
Roy is survived by his beloved wife, Marilyn Dunn, his adored sons, Troy Dunn and Trevor Dunn and his baby girl, Leah Christie and her spouse, Travis Christie. He also lives on through his cherished grandchildren: Angelica Dunn and her spouse, Charley Arents, and Scarlett and Greyson Christie. He is also survived by his sister, Shirley Saxony, seven loved nieces, Gaynol, Cinnamon, Skye, Sammie, Donna, Carlene and Shirley and his cousin, Roxie. He will also be missed by his wife's family, who were always just as much his family: cousins Bill and Joan Briggs and their children, Nick Briggs and Erin Smith, and nephew, Ron Ericksen, and niece, Kirstin Deschler.
No services are currently scheduled for Roy because of the situation, but the family asks in all seriousness, that you call your family and tell them right now, how much you love them in his honor. In lieu of flowers, donations can be made to Rock Steady Boxing, a Parkinson's support service.
###
The obituary above was submitted on behalf of Roy Dunn's family. The Lost Coast Outpost runs obituaries of Humboldt County residents at no charge. See guidelines here.