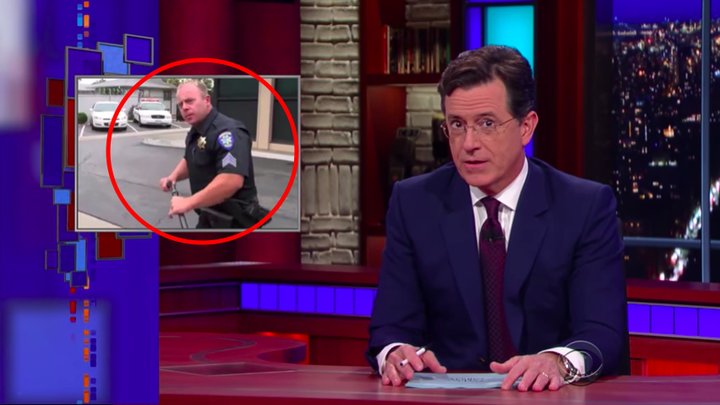 ###
Casey Day, Fortuna's newest chief of police, has at least one thing in common with both Bruce Lee and Michelangelo, the Teenage Mutant Ninja Turtle: He is fully trained to use nunchaku, aka nunchucks, a traditional martial arts weapon from the island of Okinawa.
Back in 2015, the Anderson Police Department in Shasta County made headlines across the country — from the Washington Post to the L.A. Times, CNN and more — when news broke that it planned to arm its officers with nunchucks.
Day himself, a sergeant at the time, wound up being department's nunchuck-instructor, which effectively made him the ninja-cop poster boy — the officer sent to demonstrate his nunchuck skills on numerous TV news segments.
Day demonstrating his technique. | via GIPHY
In one such segment, Day told a CNN correspondent that he was initially skeptical of the weapon but quickly came to view them as an effective "restraining tool."
As the Outpost reported at the time, the man who brought nunchucks to the Anderson Police Department, Chief Michael Johnson, is a former Eureka police officer who was nearly hired to head up the EPD in 2013. He was one of several officers involved in the fatal shooting of Cheri Lyn Moore, a mentally ill woman, in 2006.
Johnson told CNN that the weapon, which consists of two batons linked by a cord or chain, is "more of a grappling tool" to be used "kind of like chop-sticks" — except to "apply pain" rather than pick up sushi.
Much of the media coverage at the time, including The Late Show with Stephen Colbert (see clip below), highlighted the comedic angle of cops using a weapon typically associated with teenage boys and cartoon turtles.
But some outlets cast a bit of a skeptical eye at the weapon's use by peace officers. Nunchucks are illegal for citizens to own in California, but police officers can be certified to use them by taking a 16-hour training course.
In the wake of the killing of George Floyd by Minneapolis police officers, Americans are in the midst of re-examining police use-of-force policies and practices. However, Chief Johnson said in 2015 that the strained relationship between police officers and Black communities in cities such as Ferguson and Baltimore is exactly what inspired him to consider the nunchucks.
"It doesn't hurt to add another weapon to your arsenal which is more compassionate and safer and causes less injury," he told CNN.
Day, meanwhile, told Redding-based ABC affiliate KRCR News, "They work really good as an impact weapon, but we try to emphasis a control tool over impact."
The Outpost left a message with a lieutenant at the Anderson Police Department, hoping to find out whether they still train officers in nunchucks. We'll update if and when we hear back.
In the meantime, here's the Colbert segment featuring Day: