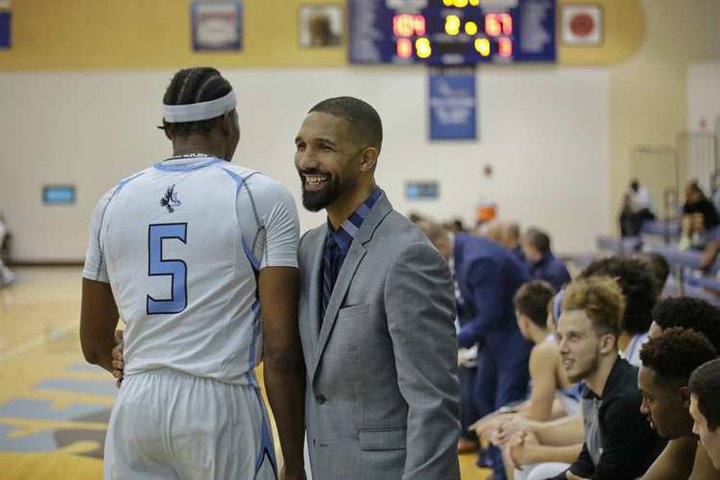 An up-and-coming coach from Keiser University in Fort Lauderdale, Florida has been hired as the new head coach of the HSU men's basketball team.

Coach Tae Norwood takes over for longtime HSU coach Steve Kinder, who has transitioned into an administrative role within the university's Athletics Department.
"It's beautiful up here in Northern California," Norwood told the Outpost. "I'm excited about getting my family moved in."
The 41-year-old joins the Lumberjacks after his first-ever season as a head coach with the Keiser University Seahawks, where his fast-paced transition-style play turned the program around from a 15-14 record to 22-8 and a co-conference championship. Norwood now plans to bring his brand of transition basketball to HSU.
"There's some room for flexibility, but the meat of it is, we're going to be a transition basketball team," he said.
When reduced to its simplest terms, Norwood's fast-paced style of play is designed to get his players more shot opportunities than the opposing team, which, in theory, will translate to more points.
"We won't let teams run plays, they've got to make plays," he said. "It's about playing hard with passion, energy and having a great motor."
While Norwood has already started designing his new team, the fallout from COVID-19 has made the process challenging, as he has yet to meet any of his players face-to-face.
"I've spoken to every single one of them and some of their families on the phone and through FaceTime," he said. "I'm looking forward to meeting them come fall."
The ongoing pandemic has also affected his recruitment process, as college basketball was canceled all across the country this season.
"We've got some commitments. We've got some great pieces so far," Norwood said. "But we're not really able to identify guys as much as I'd like. When I look at the numbers, we lost a chunk of scoring coming from those guards last year. Our biggest need is guys who can make shots and produce right away."
The Jacks' top three scorers from 2019 — Leland Green, Jackson Strong and Rob Lewis — were all graduating seniors last year, and HSU's fourth-best scorer, 6-foot 5-inch freshman guard Isaiah Pope, has opted to transfer to HSU's former rival Dixie State, which now competes at the Division I level.
While Norwood said that Pope has his blessing to transfer to Division I, he added that he will be recruiting players who want to finish out their college basketball careers at HSU.
"We want to have guys that are bought into the mission and want to be here at Humboldt State," he said. "Either they're bored in all the way or not at all. We'll get quality student athletes and we're going to win some ball games. We have the resources and the support to be successful, so we'll take care of that."
Aside from winning games, Norwood said that his style of selfless, team basketball will also serve as a tool to provide his players with important life lessons.
"Winning is just a byproduct of recruiting quality student athletes who are selfless and care about their contributions and serving other members of their team," he said. "My job is to be a servant leader. If I'm just teaching them basketball, I'm failing to help them grow and maturate as men."
Norwood's commitment to team basketball stems back to his days as a student athlete at Green Mountain College in Vermont, where he broke the university's all-time assists and steals records, and was later inducted into the school's Hall of Fame in 2016.
Days into his new job, Norwood has already made history as HSU's first African American head coach for the men's basketball program, which he attributes to the university's recent commitment to diversifying its faculty and administration.
"I will say this, the university's commitment to diversity and inclusion was really big for me when this position opened up," he said. "They're doing a good job of trying to diversify holistically. Because of that I wanted to be part of this process."
For now, Norwood will have to wait for his chance to set coaching records at HSU, but he's optimistic that his team can start practicing during the fall semester.
"Whether it's getting on the court in fall or January, the most important thing is the health, safety and well being of the students," he said. "Whatever decision the CCAA and HSU makes, we'll be prepared. We're excited about the program and what the future holds for Humboldt State."
Coach Steve Kinder hangs up his whistle at Humboldt State. | KIEM