SECOND UPDATE, June 10, 4:54 p.m.:
This afternoon the Outpost received a call from Captain Stacy Barr, commander of the California Highway Patrol's Arcata office. She said Sheriff Honsal had asked her to reach out to us and relay that her office did receive information "regarding buses coming down from Oregon."
This information came via the CHP's Northern Division office in Redding, Barr said, and it prompted local CHP personnel to notify the county's Emergency Operations Center.
"[We] shared the information about busses coming out of Redding with screenshots from posts online," Barr told the Outpost.
We have since submitted a request under the California Public Records Act for copies of those screenshots, along with any other communication about alleged antifa buses. We'll update readers when we hear back.
# # #
UPDATE, June 10, 9:50 a.m.:
This morning the Outpost received a callback from Officer Pieter Peruch from the Central Division of the California Highway Patrol. We had left messages on Monday asking for a response to Humboldt County Sheriff William Honsal's statement last week, in which he said, "The California Highway Patrol has confirmed with us that buses associated with Antifa were located in the Central Valley."
Officer Peruch left a voicemail saying that, to his knowledge, that's not true:
I asked around, and I don't know where you got your information from, but none of us here has heard of any antifa buses traveling through the Central Valley.
He allowed that it's a possibility, since people often travel through the Central Valley on their way north from Los Angeles, but his office cannot confirm the presence of antifa buses in the Central Valley.
Here's the voicemail:
# # #
Humboldt County Sheriff William Honsal says the buses were real: Militant antifa protesters packed into mass transit and hit the road, bent on mayhem. Or if the buses weren't real then the reports of the buses definitely were. One or the other — the buses or the reports — was verified by law enforcement.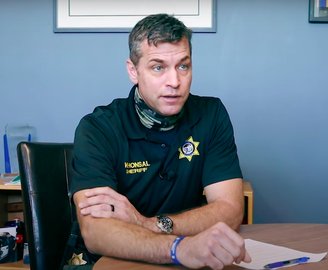 Last week, during one of his regular "media availability" videos, Honsal responded to a question from the Outpost regarding the widely mocked antifa bus rumors by saying they weren't just rumors.

"We did have reports — substantiated, law enforcement reports — that said antifa did have people in buses that were in southern Oregon and in the Central Valley … ," he said. "These aren't unsubstantiated stories. This is the reality, and we have to deal with that."

Honsal is not the only rural county sheriff concerned about this alleged threat. As protests over police brutality spread across the country last week, tensions were amplified by social media reports claiming that bus-loads of armed, highly organized antifa protesters were roaming the highways in search of rural communities upon which to wreak havoc.
Residents raised the alarm in Payette County, Idaho; Toms River, NJ, Sioux Falls, SD, and elsewhere, including Curry County, Ore., just to our north, where Sheriff John Ward took to Facebook to report rumors of "3 buss [sic] loads of ANTIFA protesters" headed their way. "Without asking," he wrote, "I am sure we have a lot of local boys too with guns who will protect our citizens and their property." (The sheriff later insisted this was not a call to arms.)
In all of these cases, including here in Humboldt, the buses never materialized. Many of the rumors were traced to bogus social media accounts, such as the one below, which came from a Twitter account claiming to represent ANTIFA America. It turned out to be the work of white nationalist group Identity Evropa.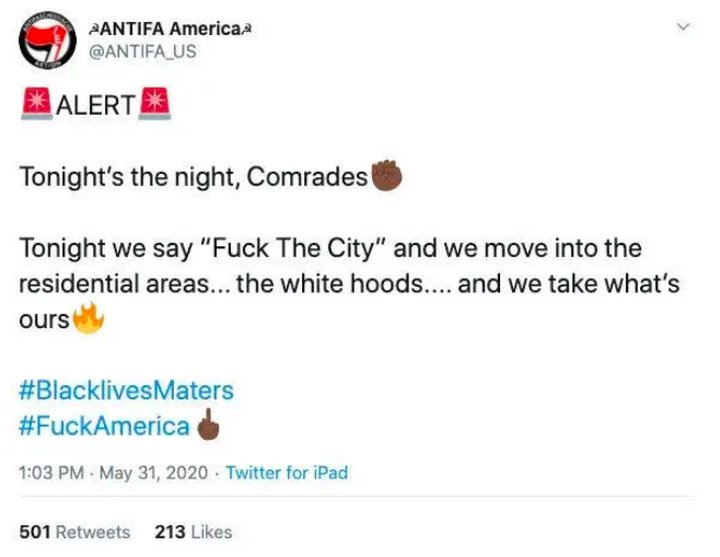 For the uninitiated: Antifa, which stands for "anti-fascist," is less of an actual group with leadership and members than an ideology, though President Trump has in recent weeks been pressing to get it declared a terrorist organization.
Other law enforcement agencies saw through the "antifa bus" rumors and publicly debunked them. Chicago Mayor Lori Lightfoot denounced a "concerted effort out there to misinform" following a wave of false antifa bus reports on the local police scanner. But Honsal is standing firm.
"The California Highway Patrol has confirmed with us that buses associated with Antifa were located in the Central Valley," he said in a statement to the Outpost last week.

We asked for more details. Which CHP office confirmed the buses? When, where and in what form? What about the "substantiated reports" from southern Oregon?
We pressed him for the facts here not only because the veracity of law enforcement is being questioned across the country in the wake of George Floyd's death but also because these antifa bus rumors gave rise to armed vigilante groups patrolling the streets, ready for battle. In Spokane Forks, Wash., for example, a multi-racial family was held hostage and accused of being antifa because they happened to be traveling in a bus.
In response to our questions, Honsal today gave the following statement via email:
Our intelligence networks in law enforcement take information from a lot of different sources. Based on circulating rumors about an Antifa bus in Oregon, local authorities reached out to the California Highway patrol for more information.

The CHP confirmed the reports of a Antifa bus or buses, that was consistent with the reports out of Oregon, in the Siskiyou and Shasta County areas.

I did not receive any credible information about law enforcement contacting those individuals or armed citizens contacting those buses.

Law enforcement will continue to share information on radical groups (right or left) that promote violence in our communities. The Humboldt County Sheriff's Office did not get reports of the buses here in Humboldt County nor did I get reports that people were forming armed militias in Humboldt County to deter Antifa.
This statement varies slightly from those Honsal made last week. Whereas last week he said the CHP confirmed the existence of the buses themselves, here he says the agency "confirmed the reports" of buses. Or perhaps just a single bus.
He also cites reports in southern Oregon as supporting evidence, though the vigilantes who gathered prepared for armed battle in Klamath Falls and Bandon went home disappointed. The buses never arrived.
The Outpost left multiple messages with the California Highway Patrol's Central Division office in Fresno but has not yet heard back. If we get any confirmation of the alleged antifa buses — or if we spot them ourselves — we'll update this post.