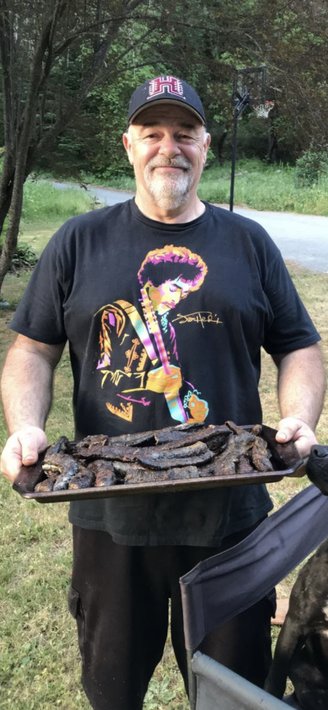 Rodney Thomas Mitchell – "Tinman" – was born on November 12, 1957 in Hoopa and was called to go home by creator on March 6, 2020 at one of the places he loved most, the mouth of the Klamath River. He was a proud member of the Yurok Tribe and a lifelong resident of Hoopa. He was 62.

"Tinman" grew up learning what it meant to work hard from his "old man" Edward Mitchell. He had a very strong work ethic. He spoke often of his days on the family farm working outside building fences, feeding the chickens, horses, rabbits, "slopping the hogs," milking the cows and many other duties much of which were completed in the morning before going to school. He always spoke highly of his mother Veta and her home-cooked meals, her blue ribbon-winning canned goods, homemade Injun bread and pies, just to name a few. He attended Hoopa Elementary and was a part of Hoopa High graduating class of 1975. During his youth he played Babe Ruth Baseball and Pop Warner Football. In high school he wrestled, and played baseball and football. He also was very active in men's softball, playing for the legendary Night Spirits and Red Machine.
After high school Tinman enlisted in the U.S Army. He completed basic training at Fort Jackson in South Carolina and spent years in the service in Germany and Colorado Springs. He received an honorable discharge in July 1981 and was especially proud of receiving the award Outstanding Trainee of the cycle, being one of the few selected out of 929 men. He had many stories of his days in Germany and spoke very highly of his experience. He was proud to be a veteran and proud to serve his country.
He also spent 25+ years in timber industry working as a logger. He worked many years for Hoopa Forest Industries (HFI) as a choker setter/chaser where he bucked logs for his work partners Albert and Walter Gray. He was very skilled with a chainsaw and enjoyed his work, especially with "Junk and Bud." He spent many long days working very hard to provide for his family. He took great pride in all of his work.
Tinman loved to go eeling any chance he had. He was never more alive than when on the beach-hooking eels and would be excited on every trip he took. He would always "have a feeling" they were going to be running. He loved to tell a good story and socialize. He had many other avid hobbies which include cutting wood, gathering tan oak mushrooms, fishing, hunting, playing softball, basketball (playing horse, free throw shooting contests) playing cribbage, gambling, bingo, horse shoes, listening to Rock and Roll, Reggae, and even hip hop and R&B. He liked many artists and genres all across the board and could tell you the name of each song, year it was made, and who the artist was. He loved all sorts of food, especially his lady Dods' home cooking. He loved animals, cutting kindling and building a nice fire. He was an avid sports fanatic and loved to watch football, basketball, baseball and golf. Some of his favorite teams and athletes included the SF 49ers, SF Giants, Michael Jordan, Joe Montana, Jerry Rice, Barry Bonds, Wille Mays, Lebron James, Kareem Abdul Jabbar, James Worthy, Tiger Woods and many more. He also loved playing fantasy football, watching Hoopa Warrior sports, recording all the sports games, family events and gatherings. He always made it a priority to spend time with his beloved family. He was a family man with a huge heart. He always wanted nothing but the best for his family and always said his biggest accomplishment in his life was raising his kids. Everything he did he did with passion and would protect his family at all costs. He cared for his community, had many friends during his lifetime. He loved to socialize and have good conversations with anyone who crossed his path. He made a significant impact in the lives of many. From older generations all the way to the youth of today, if you knew him it is highly likely he loved you. He left the world a better place and it brings us joy knowing that he will be with so many of his loved ones in his next journey.
We would like to thank all of the family and friends who have shown their support during this difficult time. Your respect, kind words, shared memories, and continued prayers mean everything. The Mitchell/Gray family thanks all of you.
Rodney Thomas Mitchell is survived by the love of his life Dottie Gray, their three children Brandee Gray, Sophia Mitchell and Tyler Mitchell. Grandchildren Ezra Nicholson, Kira Nicholson, and Evan Nicholson. Brother Louie Mitchell, sister Lenaire Alvarez, Father in law and best friend Albert "Junky" Gray and his wife Paula, Mother in law Bonnie Nims. Brother in laws Steven Gray, Neils Holgerson and his wife Charlotte, Jeremiah Schmidt and his wife Amy. Nieces Tammy Mitchell, Dana Rose Colegrove, Jeanie Spare, Tasha McCollough, Aninda Lewis, Teresa Mitchell, Jessica Sheaf. Nephews Ronnie Risling, Lonnie Risling, Michael Risling, Louis "Bay Lou" Mitchell, Edward Mitchell, Ke-wet Mitchell, and many other great nieces and nephews who many of which know as "Uncle Sonny."
He is preceded in death by his mother and father Veta and Edward Mitchell, his brothers Spud Mitchell and Darin Mitchell, sisters Carol Kellar and Marlene Reed, Nephews Damon Mitchell and Pedro Aguilar, nieces Lenaire Kellar and Shanna Mock Aguilar. Close friends Wally Brown, Richard Nixon, George Nixon, Zeke VanPelt, Paul Toe James, Cessie Abbott, Doomey Beck, Ted Cole, Arlen Williams, Ruthie McCurdy, Troy Fletcher, Albert "AT" Gray, Pete Jackson, Tincy Jackson, Byron "Bones" Grant, Eileen "Boo Boo" Grant. Byron "Newt" Grant, Will "Puggy" Gray, hDeanie Davis, Delmer Ferris, Laurie Gray and many others. If we forgot to mention anyone we sincerely apologize. He knew so many people, some that we as a family did not even know about.
A wake will be held Thursday night March 12 at his home on Tish Tand Road. Funeral Services will be on Friday, March 13 at the Mattz Gymnasium at 11 a.m. in Hoopa. He will then be laid to rest at his home. A reception will follow at the Hoopa Fire Hall.
Pallbearers: Louie Mitchell, Louis "Bay Lou" Mitchell, Edward "John Man" Mitchell, Shane McCollough, Lonnie Risling Sr, Lonnie Risling Jr, Ronnie Risling, Michael Risling, Steven Gray, Jeremiah Schmidt, Neils Holgerson.
Honorary casket bearers: Albert "Junky" Gray, Walter "Bud Gray, Walter Gray III, Ezra Nicholson, Evan Nicholson, Rocky Jones, Shane Nixon, Talbert Alvarado, Quentin Matilton, Romeo McCovey, Rick Osban, Owee Colegrove, Nolan Colegrove Sr, Chaygee Sylvia, William Sylvia, Turk Sylvia, Tony Risling, Sling Lewis, Norman Lewis, Ronnie Robbins, Stevie Bogus, Tim Casey, Big Guy Hunsucker, Ronnie Reed Sr, Bobby Campbell Jr, Bobby Campbell III, Tristan Campbell, Lane Campbell, Adam Allen, Aaron Williams, Talon Williams, Junior Davis, Rico Tello, Martin Cervantes, Sylvester Brown, Freddy Brown, Doug Brown, Doug McCloud, Toons Colegrove, Rowdy Robbins, Mike Obie, Jeremy Trimble, Quincy Masten, Buck McCovey, Boyd Ferris, Logan Ferris, Brandon Colegrove, Tis-Mil Ashley, Arthur Jones, Sam Jones, Eric Young, Dennis Young, Tavis Young, Mike McCurdy, Glenn Moore, Tom Van Burgen, Ron Reed, Billy Joe Peters, Kim Conrad, Inker McCovey, Laurence Mitchell, Dukes Mitchell, Mike Ferris, Deacon Ferris, Leroy Sylvia, Jake Blake, Caw-Tep Sylvia, Paul Kuska, Charlie Moon, Kenny Gulley, Rod Gulley, Brian Gulley, Curtis Kane, Joseph Marshall, Hailey Chokai, Cheyenne Norton, Larry Stanich, Tahn Blake, Gary "G" Juan, Roger Sanderson, Jeff Hodge Sr, Jeff Hodge Jr, Thomas Joseph Jr, Doobins Clark, Terry Williamson, Derek Smith, Clay Ramone, Hank Alameda Sr, Hank Alameda Jr, Derek Risling, Buck Risling, Brendan Crews, Harry O Campbell, Warrior Sanchez, Willie Simms, Travis Simms, Dennis Jackson, BJ Jackson, Gary Jury, Curtis Dempewolf, Mike Roberts, Mike Lee, Henry McCollough.
###
The obituary above was submitted on behalf of Tinman Mitchell's loved ones. The Lost Coast Outpost runs obituaries of Humboldt County residents at no charge. See guidelines here.