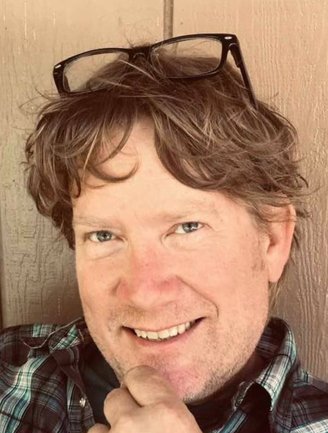 Victor Lloyd Kibbe
October 11,1970-November 27, 2019
No words can convey all that he was, and was to us. As his wife I will do my best to share with you.
I watched him go from a teen boy to a full-grown man, and a loving and devoted father and husband. He was born in New Mexico, and grew up in Los Angeles with his parents, both classical musicians, and his younger brother. He took ballet for 5 years and played the lead in the Nutcracker. As a young man of 18, when we met, he had long wavy hair, He wore a tie-dye, but rarely shoes, and was never far from his acoustic.
He became a man of many skills, and could build a house from the ground up and make the fine cabinetry. He was a skilled recording engineer and producer, recording for over 30 years, and owning Trainrecords Studio for 7 of it.
He was highly intelligent and very well-read. He once entertained friends who quizzed him mercilessly on black holes, quasars, and the mysteries of the Universe, which he answered with ease. He was irreverent and had a deliciously dark sense of humor at times. He kept me laughing through good and bad. He knew all of the words to Bravely Bold Sir Robin from Monty Python and the Holy Grail — this attracted me to him and led to our union of 30 years.
We shared a great love of nature, which brought us to Humboldt County from Los Angeles in 1992. He was friendly and knew all the cashiers' names wherever we went. He was generous and would help out anyone. He was a hugger and genuinely liked people, if not always society and the establishment. He could rant about the government with the best of em'. He was truly honest and kind. He loved animals. He would often wear Nox The Cat on his shoulders around the house. He was creative and crazy-talented in all artistic media that he tried: music, painting, drawing tie-dyeing, batik, mask making, calligraphy, rope-tying, ceramics, sewing, screen printing, and more. He was full of original ideas for art and for stories and screenplays.
He loved to daydream. His favorite artist was Salvador Dali.He loved to read sci-fi and other genres, and had a current obsession with H.P. Lovecraft. Film Noir, scary movies, and silly ones, like Lost Skeleton Returns Again always made for a perfect cozy evening in. He taught himself to brew beer and throw knives. Camping was always on the calendar for summertime. It felt like a reset. Simple pleasures. He enjoyed barbecuing, and would often do it rain or shine. He really liked cooking, made delicious fresh bread and often challenged himself with new recipes.
We shared a love of storms and rain, which worked out well living in Humboldt. We would often sit outside under an umbrella to welcome the first fall rains, where we once witnessed our trampoline take flight on a sudden gust of wind and fly UFO-like over the trees and fence. He loved playing music and jamming with his friends. He played everything from blues to punk over the years. He wrote and sang funny and also poignant songs. Guitar was his instrument of choice, but he dabbled with many. He loved goofing around with his two kids, playing video games, cooking pancake Sundays, and teaching his son how to do many practical things; including working with him at the Eureka Symphony.
He wanted his little girl to be exposed to "strong female characters" and to feel empowered to do anything she wants.

He was a sweet and supportive husband. The best anyone could ask for. He was a devoted son, brother and friend.

He was a good man who made the world better for being in it. Victor Lloyd Kibbe was loved beyond measure.

He is survived by his wife DeVon Dragon; son, Damian Dragon Kibbe; daughter, Liliana Dragon Kibbe; father, Michael Kibbe; mother, Vanessa Kibbe; and brother, Peter Kibbe.
###
The obituary above was submitted on behalf of Victor Kibbe's loved ones. The Lost Coast Outpost runs obituaries of Humboldt County residents at no charge. See guidelines here.