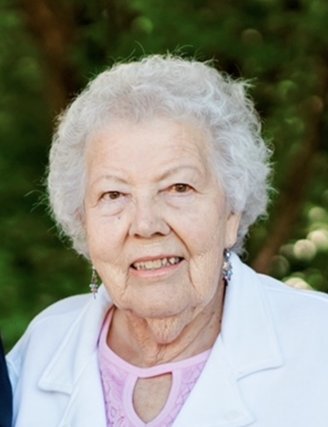 On March 25, 2020, Colleen Machado Foster passed away in her home surrounded by her family. Colleen was born in Hydesville on Nov 2, 1929 to Jennie and Melvin Swain. She lived in Carlotta, Ferndale and Fortuna her whole life.

She grew up in Carlotta. When she was young she worked on the family farm weeding beets and carrots for 25 cents a day. She graduated from Fortuna High where she played the flute in the high school band. After high school, she moved to Fortuna and worked at the telephone office as a switch board operator. On her way to Carlotta to see her parents on the weekends she rode the mail truck and put the mail in the mailboxes along the way. On her way home, she had to wait for the mail truck at the end of the day to give her a ride home.
She married Joe Machado in 1948. Together they had a dairy in Ferndale and later in Alton. They lived through the 1964 flood. Our family barely escaped with the clothes on our backs and the dairy cows. We found out the next day that our house had washed away.
In 1966, her husband, Joe passed away leaving her to raise her four girls on her own. She sold the dairy business and moved to Carlotta. She then worked at Robbin's Grocery Store, then landed a job at the Carlotta Post Office where she eventually became post master. She retired from there in 1990.
She loved to take Deany and Shawna camping in the back of her Chevy Luv. The old truck could barely make it up the hills when shifting down to about 10 mph, but they sure had a lot of fun!
Colleen was famous for her prize-winning begonias at the Humboldt County Fair. For many years, she won best of show for her flowers. Her favorite things to do were bowling, dancing at Bridgeville Dance Club, ceramics, sewing, gardening, and riding on the bus to Reno with the Fortuna Firemen. She was famous for her strawberry and raspberry jams. She was the coordinator for the meals on wheels for many years. She loved going to the casino and spending only $20 on the penny machines. At 80, she ran the Foggy Bottoms Milk Run. She loved to play games with the family and did the crossword puzzle every morning.
She was a lifelong fan off the S.F. Giants and later a Warriors fan. She went to her first live Giants game at the age of 80. She loved going to her grandkids many sporting events - whether baseball, football, basketball, volleyball, gymnastics, or track - she was there.
Her favorite family tradition for the last 45 years was cooking Christmas breakfast for the entire family. She loved having the whole family together.
She is survived by her four daughters Joyce Barnett (Mike), Debby Williams (Jim), Kathy Machado, Deany Rothlin (Brad).
Grandkids: Joey Church, Shawna Hurst, Jennifer Carrow, J.J. Williams, Cade Harland, Brooke O'Neil, Dan Harland, Trent Rothlin, Chad Rothlin and 22 great grandchildren and 2 great-great grandkids.
She was preceded in death by her father Melvin Swain, mother Jennie Corbett. spouse Joe Machado, sister Freda Grubbs, brother Farrell Swain, and her granddaughter Kari Lynn Harland Higley and her special friend Fred Nelson.
At her request, there will only be a private graveside service. A celebration of life will be at a later date.
The family would like to thank Dr. Dittmer and her staff, Hospice, Green's Pharmacy, and a very special "thank you" to her granddaughter Shawna Hurst.
In lieu of flowers she has requested donations be made to Hospice or Fortuna Volunteer Fire Department.
###
The obituary above was submitted on behalf of Colleen Foster's loved ones. The Lost Coast Outpost runs obituaries of Humboldt County residents at no charge. See guidelines here.