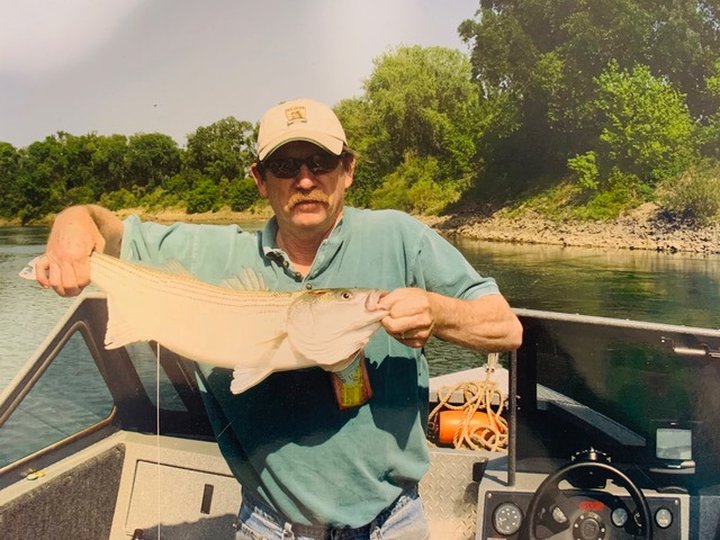 Richard Dale "Dick" Schirmann passed away on March 19, 2020 in Eureka from complications of cancer. He was 68 years old.

Dick was born on January 9, 1952 to Joyce and Glenn Schirmann of Orick. The second of three kids, Dick spent his early days enjoying all that a small town offered a young boy. He developed a passion for fishing early in life and when he was only seven, he was caught by the game warden running salmon onto the bank with his beloved dog, Prince, and taking them home in his little red wagon. When Dick wanted to play basketball, his dad teamed up with families from Trinidad so there would be enough kids for a full team. It was the beginning of his love of all sports and of lifelong friendships with Dale Cole, Danny Cox, Larry Dimmick, Jeff Hagen, Greg Johnson, Jack Kolshinki, Marshall Sundberg, along with many others.
Dick attended McKinleyville High School and excelled in athletics. He was the quarterback of the Big 5 Conference Championship winning team of 1969, an All-League selection of the track team, and he co-captained the Varsity basketball team. Dick was famous for bringing all the Orick kids home for dinner without notice, often forcing his parents to grab dinner at Maggie's for themselves after he had shared the family meal with his teammates. Dick graduated from McKinleyville High School in 1970. He went on to play basketball at the College of the Redwoods for two years, where he earned honorable mention in the Golden Valley Conference as a sophomore. He graduated from College of the Redwoods in 1972 with an associate degree in business administration. In 2001 he was inducted into the McKinleyville High School Athletic Hall of Fame.
Dick worked for the family business, Schirmann Logging Company, for 50 years. Beginning in the summers when he was just 14 years old and moving to a full-time role once he completed school. Dick could run any piece of equipment in their yard and could and would work wherever needed—as a chaser, faller, choker-setter. After their father retired, Dick and his brother, Bill ran the company for many years. He was active in the logging community, he served as the Association of California Loggers local chapter President, and he enjoyed events such as the Redwood Regional Logging Conference.
Dick married Jackie Mason on November 22, 1984. Dick and Jackie met at a wedding and spent their years together playing golf in Hawaii, Mexico, and all over the Western US, they shared a love of good food and passion for cooking. In 1986, they welcomed their only child, Emily. Dick was a dedicated family man and lived to make Jackie and Emily happy. Dick came home each night from working in the woods and played his keyboard, recreating jingles by ear to entertain Emily. He took Emily hiking all over Humboldt County, on road trips in the family motorhome, and enjoyed watching all of her sports and activities. In 2013, Dick and Jackie were so proud to host Emily's wedding rehearsal at their log cabin in Hawkins Bar.
The seasonal nature of logging allowed for Dick to pursue many hobbies and activities throughout the years in the off-season. He was an avid hunter and fisherman from the time he was a small boy; in fact, he was out fishing the Mad River just three weeks before he passed with long-time friend, Russel Dirkson. He spent a lot of time at their ranch in Vale, Oregon hunting for chukar, pheasant and ducks with family and friends. As a child he learned to water ski on Clear Lake and as an adult spent many summers on Trinity Lake. Winters he was skiing the slopes at Snowbird, teaching his daughter as a small child to love the sport as much as he did. Dick ran the big equipment needed to build the back 9 at Beau Pre Golf Course, and he spent many days golfing there and enjoying friendships made in the clubhouse. Dick also had a love for motor sports, he raced enduros in his twenties and more recently enjoyed taking his street bike for long rides with his buddy, Dale Cole.
In 2015 he was diagnosed with stage 3 renal cell carcinoma, just two months prior to welcoming his first grandchild. Throughout the difficult years of treatment and setbacks, Dick excelled in the role of grandfather, known to his beloved grandkids as Bop. In his final days, Dick told his sister that he could not have survived so long without his wife Jackie, who supported and cared for him through it all.
Dick is survived by his wife of 36 years, Jackie, of McKinleyville; his daughter Emily Valadao and son-in-law, dane, his three grandchildren Jack, Blake and George Valadao; his father-in-law Jack Mason; his sister Barbara Giannini and brother-in-law, Chuck; his brother Bill Schirmann and sister-in-law, Barbara; his sister-in-law Donna Corning and Brother-in-Law Delbert; his sister-in-law Diane Mason-Della; and his brother-in-law John Mason and sister-in-law Karin; as well as numerous nieces and nephews. He is preceded in death by his parents, Glenn and Joyce Schirmann and his mother-in-law Helen Wymore Mason.
A celebration of life for Dick will be held at a later date, when we are able to safely gather again.
###
The obituary above was submitted on behalf of Dick Schirmann's loved ones. The Lost Coast Outpost runs obituaries of Humboldt County residents at no charge. See guidelines here.