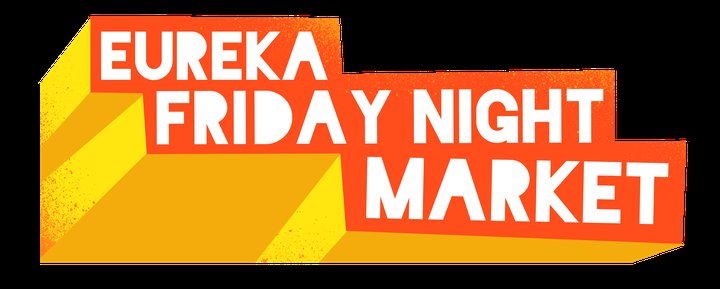 Yes, we know COVID-19 has thrown quite the wrench into the churning gears of the economy, and some of our favorite events have been canceled. You may even be a little bummed about missing out on the Friday Night Markets in Old Town Eureka, yeah?

Well, fear no more! Humboldt Made has plans to bring you some of the fun — digitally. Starting on June 7, the public will be able to log onto eurekafridaynightmarket.com — it's not quite ready yet — where it will be able to peruse everything from local wines and chocolates to cheeses, oysters, flowers and locally made art and jewelry.
"This site is a celebration of all things Eureka and Humboldt, providing a one-stop shop for the community to support small businesses when they need it the most," a press release from Humboldt Made reads. There will also be a number of menus listed, encouraging shoppers to get some takeout to enjoy at home.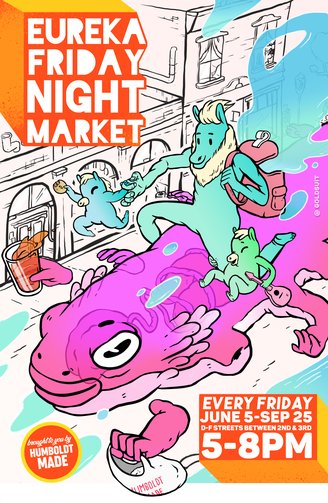 Alanna Powell, executive director of Humboldt Made, said they have been featuring "couch concerts" on their social media sites, mainly highlighting solo acts because of the need for musicians to socially distance themselves, as a way to highlight local musicians as well.
"We will also have a Soundcloud extension on our site with a wide collection of local music for folks to enjoy," Powell told the Outpost.
The website will be open to purchases Saturday through Tuesday to allow the vendors the time needed to stock up and drop off supplies to the Humboldt Made folks for them to feature it on the website.
So, okay cool: I know where to go if I wanna buy something, but what do I have to do if I wanna sell something?
In the press release sent to the Outpost, Humboldt Made lists six steps for vendors to follow.
Here's how it works:

1. Submit up to five products at retail price via our google form.

2. Products will be uploaded to our virtual market — www.eurekafridaynightmarket.com

3. Each week vendors will be emailed a sales report.

4. All product sold will be dropped off at the Eureka Visitor Center (240 E St. in Eureka) on a set day by each vendor.

5. Our staff will box up each order and distribute them every Friday.

6. Payments will be processed and sent via check or direct deposit. Zero onboarding fees. Processing fee of 15% per order.

If you are a maker - Simply submit your products.

If you are a restaurant - We are listing the restaurant name, linking a full menu, and providing a telephone number. There is no charge to be listed. Criteria - You must be locally owned and source some local ingredients/products. Contact us directly.

If you are a retailer - We will be offering curated packages put together by local retailers. For example - A retail shop that sells kitchenware would create a kitchen box. We are open to any curated package ideas. Contact us directly.

If you are a high-end artist - Submit your art to be featured in our virtual art gallery.
Boom! Not so bad when it comes to submitting your stuff, huh? Now you may be wondering, "Well what about the Farmers' Market, those guys are allowed to operate. What gives?"
"The Farmers' Market is allowed to remain open because they are food-based, which is essential," Powell said. "The FNM is not limited to food but includes the arts as well. We are excited we're able to pivot given the circumstances and we'll be patient to host a public event until the city, county, and state deem it safe. Until then, we'll be virtual."
If there are any questions about how to submit your products for the Friday Night Markets, then reach out to Humboldt Made at 707-440-9350 or info@humboldtmade.com.