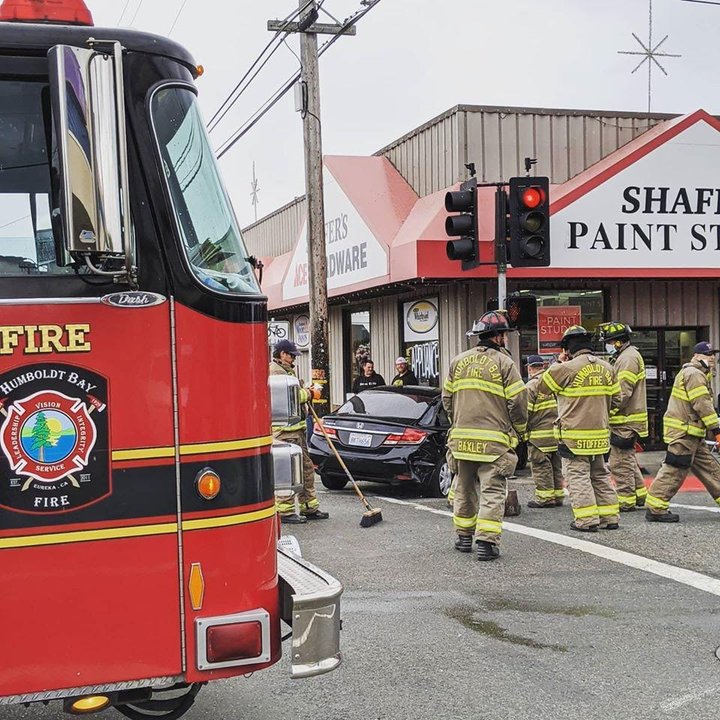 Humboldt Bay Fire press release:

On Monday, May 18, at 3:11 p.m. Humboldt Bay Fire crews responded to a call for an extrication at the corner of E and Henderson streets after two vehicles collided, sending one into the corner of a nearby business.

Humboldt Bay Fire crews were able to extricate the drivers and one passenger quickly. One driver was transported to the hospital by City Ambulance with minor treatment. The other driver and passenger denied the need for treatment and transport.

This is the second traffic collision requiring extrication that Humboldt Bay Fire has responded to today.

We cannot stress enough the need for drivers to slow down and drive defensively under rainy conditions.

Intermittent downpours today limited visibility and caused the roads to be slicker and more dangerous.

Please follow these safety tips when driving in rainy conditions:

Slow down and turn your headlights on.
Be extra cautious around turns and take time to replace your windshield wipers, if needed.
Maintain a safe following distance and give yourself more time to get where you need to go.

Thank you to Eureka Police Department and City Ambulance for their assistance on scene.