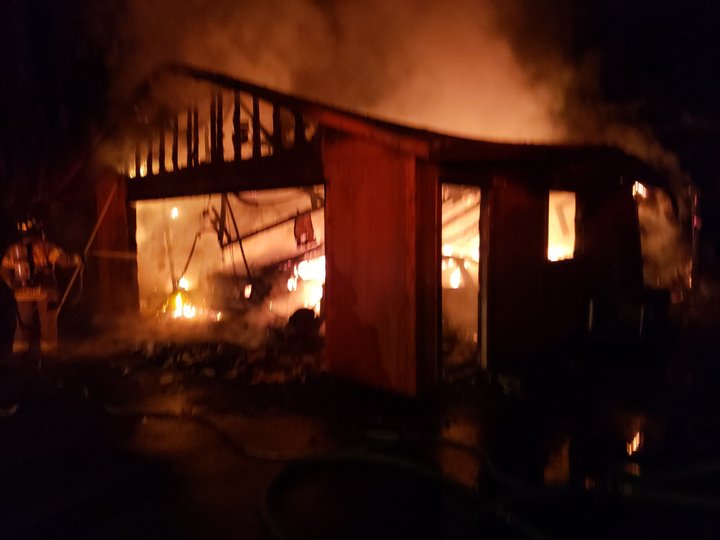 Press release from Humboldt Bay Fire:

On Tuesday, May 19 at 3:46 a.m. Humboldt Bay Fire crews were dispatched to the 100 block of Ole Hansen Road for report of a garage on fire.

As crews approached, they saw smoke and flames from up to two miles away before approaching the long, steep, narrow driveway that stretched 1,200 feet up to the home. This entry hindered access of fire apparatus and complicated water supply.

In addition to the four engines and one truck that make up HBF's typical compliment, the incident commander also ordered for two water tenders to mitigate for the rural water supply issue.

At the top of the drive, crews found a fully involved detached garage with smoke and flames pushing through the ceiling and threatening the home. Crews immediately went into exposure protection mode, blasting the seat of the fire with water and containing it to the garage. Through these efforts the crews were able to save the home valued at over $500,000. Damage is estimated to be approximately $10,000 worth of cosmetic damage.

Unfortunately, there was no saving the garage and its contents which were already fully engulfed in flames upon crews' arrival. The damage to the garage, containing two vehicles and lawn equipment is valued at $300,000.

Thanks to the family dog who was able to alert the owners of the fire, all occupants made it out safely and there were no injuries to the occupants or fire personnel.

At this time, the cause of the fire is undetermined.

Humboldt Bay Fire would like to thank Kneeland Volunteer Fire Department for standing by to assist. This incident serves as a reminder for us all to check our smoke detectors and fire alarms, as well as evaluate our homes for unique areas like detached garages that may call for early warning systems.