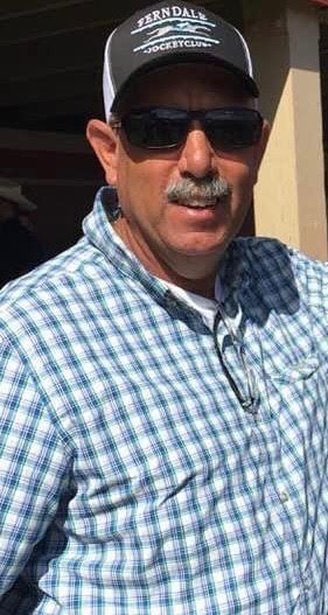 James Norman Senestraro passed away peacefully in the early evening of May 14, 2020 in Eureka.
Jim was born September 9, 1963 in Fortuna to Hector and Alyce (Dusina) Senestraro. He grew up on the family dairy ranch in Alton where he learned how to put in a day's work – up early to milk and late evenings working beside his family. Jim attended school in Fortuna, as a proud Fortuna High School graduate of the Class of 1981 where "We raise he**, we have fun, we're the class of '81!"
During high school Jim started working for Del and Elsie Westman at Del's Liquors and then eventually Hoby's in Scotia where he ended his career in retail and moved on to work at The Pacific Lumber Company. In 2003 he left Pacific Lumber to join the team at the Humboldt County Correctional facility where he remained until his retirement early this year. Jim was not one to sit around so after his retirement he started working at Humboldt Redwoods where he worked until his health no longer allowed it.
On July 29, 1989 he married his best friend Becci Ponci and she remained his partner and unconditional friend for 35 years. They were blessed by two beautiful daughters, Samantha Lydia in 1991 and Katrina Nicole in 1996. His girls were his light and he enjoyed spending time with them. He was their biggest fan whether it was watching them play sports or encouraging them in their daily endeavors. "No matter where you are his spirit will be beside you. He gave you the greatest gift a Dad could….he believed in both of you."
Jim joined the Fortuna Fire Department in 1990 promoting to Captain of Company 5 and serving in that position from 1997 through 2005. He continued his service with the department as an Engineer, and a very good one, until he retired from the fire service in 2018 after having served for 28 years. Even after retirement, Jim enjoyed being with his fire department family by helping with department fundraisers and events.
He enjoyed the outdoors and would spend time hanging out with family and friends and riding his 3-wheeler at the local beaches.
Jim is survived by his life partner and best friend Becci Senestraro and their two children and partners, Samantha Lydia (John) and Katrina Nicole (Blake) as well as his namesake, his grandson, Konner James. He is survived by his two sisters and their families, Susie & Gary Huber of Fortuna and Kathy & Dan Brattain of Brookings, OR. Jim is survived by his in-laws, Larry & Dorothy Ann Ponci, his brother and sister in laws and their families, Laurence & Lisa Hindley and Brad and Dana Ponci both of Fortuna. Jim was so blessed by the love of his numerous nieces, nephews as well as his many other relatives.
He was preceded in death and welcomed to heaven by his parents, Hector and Alyce Senestraro as well as other family members that preceded him.
"There are some who bring a light so great to the world that even after they are gone the light remains." Jim's light was so great that his family is humbled by the outpouring of love to his family from his numerous lifelong friends as well as his Fortuna Fire Department and Humboldt County Sheriff family. His family deeply appreciates each of you that have reached out to us whether it be via a phone call, visit or social media. Your memories, love and support are what is getting us through this difficult time. Thank you to each and every one of you.
The family would like to send a special thanks to the staff at St Joseph Hospital, Timber Ridge and Hospice of Humboldt for their exemplary care of Jim. We are truly thankful for the warm, loving and thoughtful medical care they gave Jim in his final days.
Due to present conditions a memorial celebration of Jim's life will be held when gatherings are once again allowed.
If you would like to honor Jim's memory, please consider these two wonderful programs that were close to Jim's heart and benefit our community. Fortuna Fire Department, 320 South Fortuna Blvd, Fortuna, CA 95540 and Shop with a Cop c/o Eureka Police Foundation, 604 C Street, Eureka, CA 95501.
###
The obituary above was submitted on behalf of Jim's family. The Lost Coast Outpost runs obituaries of Humboldt County residents at no charge. See guidelines here.