Nora Wynne began her career as a teacher in Guatemala, and she was sometimes bestowed with massive banana bunches in appreciation of her work.

"It was a total gift, very, very much out of respect and to offer what they had," Wynne said of the fruitful gesture. "It was just completely touching and overwhelming."
Just a couple of weeks ago, though, Wynne — now a Spanish teacher at McKinleyville Middle School — got another honor. She was named by the California Department of Education one of only five teachers statewide to be named a "Teacher of the Year" for 2021, a rare and distinguished award that only three Humboldt County educators have received, most recently in 1996.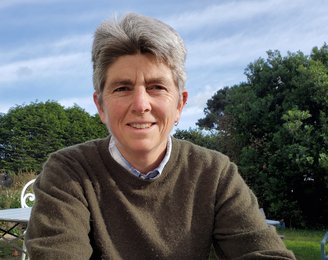 Rooted in her early experiences with teaching in Guatemala, Wynne's instinct is to embrace and value all students, which are qualities that make her a natural teacher and important role model, her students and colleagues say. Though her subject is Spanish, Wynne offers much more than language lessons to the sixth- through eighth-graders enrolled in her classes. She gently addresses bias for both students and teachers, and is open about her own life and experience in a professional way that compliments her subject and position. Wynne didn't always know she was suited for education, and is someone who sort of unintentionally stumbled upon teaching, but Humboldt County — and now California — is thankful that she did.
Armed with an environmental biology degree from Humboldt State, Wynne set off to Guatemala as a Peace Corps volunteer in the late '90s to help farmers learn about organic agricultural methods. When she arrived, Wynne didn't have her eye on education, but she ended up teaching environmental education at an elementary school, and returned to California with shifted interest.
Her short experience in Guatemala set Wynne up for decades of teaching in Humboldt.
She started teaching locally in 1999 and completed a Master's Degree in multicultural education, with a focus on racism and homophobia in teacher preparation, in 2008.
Now, Wynne splits her expertise between Mckinleyville Middle and Humboldt State, where she's a lecturer in the School of Education. On top of all that, Wynne is an instructional coach and immersion coordinator for the McKinleyville Union School District.
Laelia Maynor, a former student of Wynne's who is now a freshman at McKinleyville High School enrolled in Spanish 3, took Spanish from Wynne for all three years of middle school. Maynor, who calls Wynne "profe" (short for profesora), described Wynne's class as an immersion experience, and said that it was about Spanish-speaking cultures as much as the language. Given that language-learning is so difficult, Maynor repeatedly cited Wynne's patience as the key to her own success learning Spanish. "It took me a year and a half to really get into learning, and she was patient with me throughout that entire span. [She was] patient with me for an entire three years, which is hard."
Wynne's class is more than language and culture education. Wynne aims to facilitate a learning experience where different backgrounds are valued and represented, and where students engage with each other as much as they do with her. She doesn't shy away from uncomfortable topics.
"Profe is incredibly inclusive," Maynor said. "If she hears any sort of negative talk about someone for something they can't control it's not just like, 'Oh, you shouldn't say that.' It's like, 'Why do you think that? Why are you saying that?' [She's] not only condemning negativity in her space, [she's] trying to get to the root of why there's negativity."
Schools pose a unique opportunity to expose students to others like and unlike themselves, and Wynne has integrated that into her teaching. "I feel like schools are a really important democratic institution and, you know, after we get out of school we're allowed to go completely into our bubble away from people who aren't like us," Wynne told the Outpost recently. "And in school, we're forced to be with everybody, and we can learn from everybody and we can bounce ideas back and forth."
Inclusivity is a main quality Wynne is known for among her colleagues. When Wynne was named Humboldt Teacher of the Year in July, McKinleyville Union School District Superintendent Heidi Moore-Guynup commented that Wynne "has worked relentlessly to assist her colleagues and others to recognize the imperative need to lift all students up regardless of their life circumstances" in a press release from the Humboldt County Office of Education. She was praised for the same qualities more recently by McKinleyville High Principal Elwira Salata, also in a press release from HCOE in announcement of Wynne's award. Wynne "strives to know and see each student separate and apart from the stereotypes that contextualizes their existence," Salata said.
Wynne is a loyal advocate of representation in schools. She is open about being a member of the queer community in honor of that philosophy. "Queer people don't really get to have role models of queer adults in their lives," she said, adding that teachers have been historically fired for being openly queer. "I never had teachers that were openly queer. I couldn't even be one when I started, 20 years ago."
Wynne is trying to help break the systemic marginalization of queer people, and she believes that equal representation benefits everyone. "When we don't represent people, they don't feel like they can see themselves growing into being an important person in our society, and then we are robbed of their brilliance," she said. "If we squash them, and we tell them it's wrong and it's bad and they should hide away, then we don't get to have their brilliance in our world."
Maynor said she benefited from Wynne's openness in middle school. "Being a queer student, and seeing a queer adult, just living life and being a person — I feel like that's really important. And that's what profe did for me." It was not an integral part of the experience in Wynne's class, which "is what made it so valuable, just seeing a normal person being a queer adult and living life," Maynor said.
Wynne is a person who cares deeply about each student, and remote teaching has enunciated that quality. In normal times, teachers assess students' well-being in-person, but checking in can be almost impossible online. "It's really challenging. When I feel like a student isn't doing okay, I'm stressed out," Wynne said. "I'm trying to call home, I'm trying to reach them through the Zoom, you know, trying to get them to turn the camera on so I can see how they look."
Spanish is what Wynne teaches, but it's not the reason she's a teacher. She believes in encouraging young people via education, by making sure everyone has equal access to the curriculum and creating a safe learning environment where the personal experiences of students are valued.
"Learning is messy and loud and we shouldn't just expect kids to come and sit and be robots and take down what we say and bring it back out to us on some standardized test," she said. "I want my students to be active, I want them to be questioning, I want them to grow up and become important valuable people in our community, and I want them to have a deep understanding of whatever the content is. I hope they feel seen and heard and valued in my class."
Her acceptance of the award has highlighted Wynne's clear humility. She has said more than once that all teachers deserve recognition.