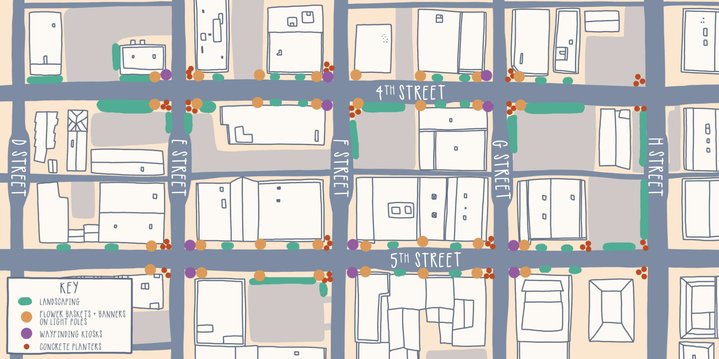 Project Eureka release:
Imagine driving along the 101 through Downtown Eureka and seeing beautiful planter baskets and colorful banners hanging from the lamp posts. You notice well-kept landscaping and green spaces along both sides of the street and bright, well-designed wayfinding signage. All of the storefronts are occupied by vibrant businesses, and the sidewalks are full of residents and visitors, taking in the sights. This beautiful corridor makes you slow down and want to explore the city more. This is the goal of Project Eureka - a community-driven, volunteer-powered beautification effort, working to improve the look and feel of the City of Eureka, one block at a time.

The first Project Eureka will focus on one of the most-traveled sections of our city: the 101 corridor through Downtown Eureka (4th and 5th streets between D and H Streets). For many people, this is the only part of our city that they see, and we want to make our best first impression. Fun fact: over 30,000 vehicles pass through this section of our town each day.

We will beautify this corridor by implementing the following projects: hanging lights in the street trees, landscaping green spaces, hanging banners and planter baskets on light poles, replacing worn out trash cans, updating wayfinding kiosks with paint and new signage, refinishing the benches and adding more, cleaning the painted utility boxes, applying window decals with beautiful images to vacant properties, adding new concrete planters, and more.

Why focus on something as superficial as beautification with all of the issues facing our area right now? In fact, beautification has a wide array of benefits that improve cities and the lives of the people who live there. City beautification projects have been proven to build neighborhood pride and ownership, and serve as a base for revitalization. Beautification also improves the well-being of residents, encourages more tourism, increases property values, and attracts new businesses.

We have grand plans for this city, and we need your help! We are now accepting individual and business donations, as well as volunteer sign-ups on our website: www.projecteurekaca.com. Please follow us on Instagram for updates @project.eureka.

This project is coordinated by Jenna Catsos (of Pen+Pine and the Eureka Street Art Festival), and Alanna Powell (of the Eureka Visitor Center, Eureka Friday Night Market, and Humboldt Made). Both coordinators are coordinating as private citizens, not under any organization or the City of Eureka. The mission of Project Eureka is to improve the look and feel of the City of Eureka through community-driven beautification and clean-up projects that enhance the visual experience for visitors and residents alike.