UPDATE, NOV. 22:
Justin Dearwester, the suspect identified in the press release below, wrote to the Outpost to dispute the allegations. His statement:
First, nobody was arrested and I was not in possession of the MDMA. They delivered it to me and [it] was only in the house maybe an hour which was put away in a box that is not easy to open on top of a tall dress behind a bigger box. Also the room has a child lock on the door handle to keep children out.

There were no children just sleeping in the room. I was laying down with my daughter for a nap (the [press release] says 2 children) when I heard my oldest daughter scream and came to check on her and then she pointed to the door so I opened it and was forced out of the house and cuffed but never read my rights or any or that.

As far as the gun I had no knowledge of it being in the house but it was unloaded, hidden on a shelf and nowhere near close to a clip. They thought there was some kind of lab or something which wasn't true and they have been going through my mail for almost a year now because they said we get too many packages and too many people which doesn't seem right and was no reason for it. That [press release] is complete slander.
The Outpost has corrected the headline to reflect that Dearwester was detained rather than arrested.
###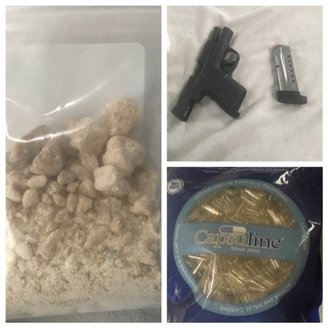 Press release from the Humboldt County Drug Task Force:

On November 17th, 2020 special agents with the Humboldt County Drug Task Force (HCDTF), with the assistance of Drug Enforcement Administration (DEA), Homeland Security Investigators (HSI), and the Fortuna Police Department (FOPD) served a search warrant in the 1600 block of Willow Dr. in Fortuna. This search warrant was the result of Customs Agents seizing packages of MDMA being shipped to this residence from the Netherlands.

Agents detained four adults and located five children under 4 years of age inside the house. A search of the residence was conducted and agents located the following evidence. On top of a dresser, directly next to where two children were sleeping, agents located ¼ pound of MDMA. There was a package of empty plastic capsules next to the MDMA. These capsules are commonly used for packing individual doses of MDMA. A quarter pound of MDMA can produce approx. 1500 individual doses.

Agents also located a Smith & Wesson 9mm handgun on a shelf in the garage. There was a loaded magazine next to the gun. The suspect in the MDMA investigation, Justin Dearwester (32 years old), is a convicted felon and is not allowed to possess firearms.

Child Welfare Services (CWS) was contacted and initiated an investigation into the safety of the children. Agents will forward their investigation to the Humboldt County District Attorney's Office and request the following charges be filed against Dearwester:

H&S 11378 Possession of MDMA for sale

PC 29800(a)(1) Felon in possession of a firearm

PC 273(a) Child Endangerment

HCDTF would like to thank FOPD, HSI, & DEA for their assistance with this investigation. Anyone with information related to this investigation or other narcotics related crimes are encouraged to call the Humboldt County Drug Task Force at 707-267-9976.