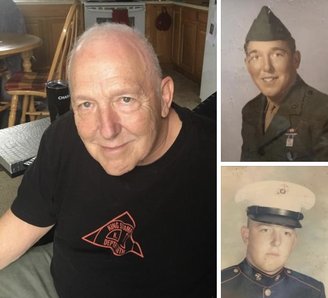 Jesse William Dalrymple of Willow Creek died of lung cancer on November 11, 2020. He was born September 23, 1952 in Dunkirk, N.Y. to Bill and Betty Dalrymple. He grew up in Fredonia, NY with his two sisters Arlene and Darlene.

Jesse joined the Marine Corps in 1969 honorably serving four years stationed in North Carolina. It is fitting that he passed on Veteran's Day as he was honored and proud to have served his country. After his time in service, he married Lynne Cronk and moved to Fresno to pursue a degree in forest management. Upon completion of his degree, he moved to Somes Bar, working with the forest service for several years.
His career at the forest service was cut short due to a back injury. He remained in the Orleans/Somes Bar area for 15 years doing odd jobs. It was at this time that he fell in love with the mountains and rivers. In particular, he loved rock hunting, gold panning, fishing and mushrooming.
In 1995, after his divorce from Lynne, he relocated to Willow Creek area with the love of his life, Carol Davis. He continued to be an outdoors man and avid mushroomer. His passion for mushroom hunting led him to be locally known as the Mushroom King, a title he help proudly.
He is survived by his two sisters, Arlene and Darlene, four children, Aja Dalrymple, Lucy Szostkiewicz, Kyle Dalrymple, Carly Dalrymple, and two step children, Becky Davis and James Davis. He was preceded in death by his parents Bill and Betty Darlymple.
###
The obituary above was submitted on behalf of Jesse Dalrymple's loved ones. The Lost Coast Outpost runs obituaries of Humboldt County residents at no charge. See guidelines here.