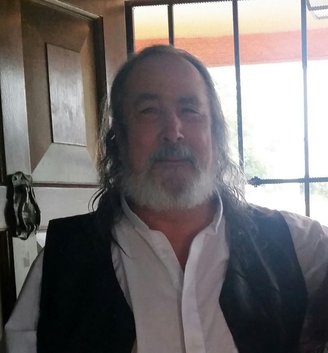 James Anthony Wood passed into forever on September 24, 2020, at the age of 63 from an extremely aggressive cancer, that had not yet been formally diagnosed, which had metastasized to his brain.

A native of the Los Angeles area, Jim and the Wood family moved to Woodland before finally settling in Santa Rosa in 1971 when Jim was 14 years of age.
At an early age, Jim developed a love of music and wanted to become a trumpet player like Herb Alpert. It was perhaps due to an unexpected Christmas gift that made his "go to" instrument the guitar. He greatly appreciated and was influenced by the music of Bob Dylan and the Grateful Dead. While still living in Santa Rosa, Jim performed solo at open mic nights in a little bar in Sebastopol on a regular basis and wrote several songs with a longtime friend. Although he referred to himself as a folk artist, and played that in that style whenever he performed, Jim's record collection was quite eclectic; he just appreciated good music.
In high school, Jim was an accomplished member of the Montgomery High wrestling team, earning several medals in multiple weight classes and even making it to State competition. After graduating high school, Jim joined the Navy and spent time stationed in Hawaii while assigned to the Marines as a Navy Corpsman. Upon completion of his 4 years with the military, Jim's direction in life became a bit unguided and one day he took off for Europe where he spent an adventurous year living in Germany. Upon returning home, Jim resumed his academic career and attended several institutions of higher learning.
In the summer of 1985, at the age of 28, Jim happened to mention to a co-worker that he was looking to meet a "nice girl." Turns out the co-worker had an unattached sister who could be described as such. During Labor Day weekend, the two met in the parking lot of the Carl's Jr where he worked for quick introductions and in 1989 the two were married. As if getting married wasn't enough, Jim became a father in July 1990 to a daughter. Two more children, boys born in 1995 and 1998, would complete his family.
Feeling that he was now grounded, with a family and home of his own, Jim returned to college to pursue and earn a degree; a student ID depicts a smiling student on the day of registration along with the top of his baby daughter's head. Jim earned a BS degree in Computer Science from Sonoma State University in 1994. Degree in hand, he pursued his career as a Software Developer/Engineer working for such companies as Fair Isaac in Marin County and Motion Analysis in Sonoma County. In May of 2003, tired of the population size and heat of Sonoma County, Jim and his young family relocated to Humboldt County where he took up residence in the Recorders Office as their Department Programmer/Analyst.
After 8 years in the Recorders Office, Jim retired in the summer of 2011 and, like most retirees, didn't quite know what to do with his time; having lost some feeling in his left forearm and fingers, he had stopped working on his music some years before. Luckily, he met a man who wasn't going to let his arm numbness get in the way of learning to play guitar and that gave Jim the gentle nudge he needed to pick it up once again. Thanks Bruce!
In addition to his music, Jim spent time working on his house and yards. He created a little paradise out of one side yard that, with its citrus trees and flowers, he referred to as "Hawaii"; in the back, a patch near his shop and greenhouse was dubbed "Mexico". A favorite phrase used as he worked on nearly every one of his projects, adopted as the family motto, was "it's temporary".
Thanks to the COVID pandemic, Jim also began spending quality time in the kitchen. Unfortunately, that meant he needed to purchase all kinds of "necessary" equipment to be able to bake pizzas, pork buns, Dutch babies, crepes and various loaves of breads. As much as Jim might deny it, he was a shopaholic; always looking for that something new or realizing that he needed just one more piece of equipment before he could move a project forward.
Jim was a work in progress and a restless spirit.
Jim is survived by his wife of 31 years, Sandra, and his three children Jayme, James (not a Jr.) and Jonathan. He is also survived by his mother, Elvina Wood, three sisters, Annette Neal (Ron), Helen Frater (Bill), and Mary Wood, and his brother, Steven Wood (Veronica), several nieces, nephews, aunts, uncles and cousins. Jim was preceded in death by his father, William Wood, and his sister Geri Van Emmerick (Otto).
Per Jim's wishes, no funeral services were held.
###
The obituary above was submitted on behalf of Jim Wood's loved ones. The Lost Coast Outpost runs obituaries of Humboldt County residents at no charge. See guidelines here.