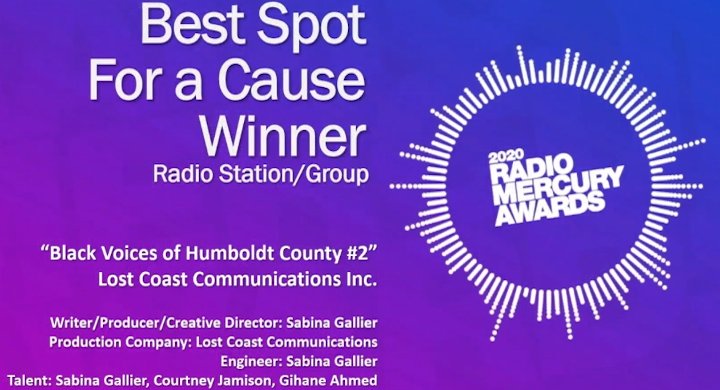 ###
PREVIOUSLY:
###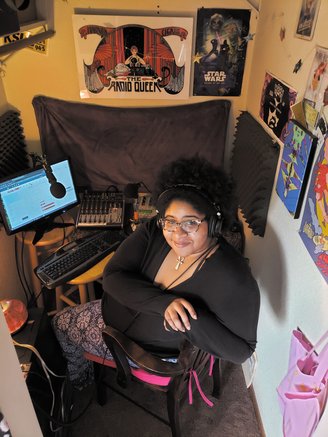 The Lost Coast Outpost sends its heartiest congratulations to Sabina Gallier, program director of our sister station KSLG-FM, who last night brought home a prestigious national award for the second installment of her "Black Voices of Humboldt County" series of public service announcements, which ran on all Lost Coast Communications radio stations over the summer.
Gallier's work was recognized in the "Best Spot for a Cause: Radio Station/Group" category of the annual Radio Mercury Awards. She was up against eight other worthy finalists from across the country, who produced public service spots on COVID, the Census, HIV and racial equity.
"This year will be known as another time in history when humanity found itself challenged, not only in the face of a pandemic but also by social change," said Radio Mercury judge John Matejczyk, chief creative officer of the advertising firm MUH-TAY-ZIK / HOF-FER, in introducing Gallier's work during last night's awards ceremony. "Radio has shown what it does best during these unprecedented times by connecting and informing us, and by allowing our communities to be heard. Our winning radio station used their platform to amplify voices may not always be heard."
Reached at her home studio this morning, Gallier told the Outpost that she hopes the win might inspire other people in media — especially large conglomerates — to "push the envelope" a little bit more, and to not shy away from what some audiences might think of as "controversial" issues.
"What I'd love to see is other people inspired to do the same thing — to take their platforms that reach so many people and start talking about these issues," she said.
Want to see the big moment? You can watch the awards ceremony at this link, and you can fast-forward to about the 19-minute mark if you're there for Sabina in particular.
More importantly, do give a listen — or another listen — to Gallier's series in the players below.
Again: Congratulations, Sabina!
"Black Voices," first public service announcement.
"Black Voices," second public service announcement.