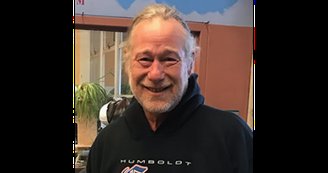 The world has lost one of its brightest lights. Jayson Arthur Mohatt died from a sudden heart attack on July 26, 2020, at home in Dows Prairie, in the middle of working on a project. He sat to rest in one of his favorite places, on the tailgate of his truck, one last time - drill, ruler and exacto knife at the ready, cup of coffee beside him.

Jayson was born in Joplin, Missouri to Phyllis and Lawrence Mohatt on June 26, 1957. He grew up in Salina, Kansas, on his family's small farm and spent his free time hunting, fishing with his brother, riding his horse, camping with his mom and siblings and working the farm with his grandfather. Jayson graduated from Bennington High School in 1975. He earned a BS in Psychology from Kansas State University in Manhattan KS in 1980.
After graduating from Kansas State, Jayson went to work as a theater instructor at Cypress College in Southern Californa. It was there that he met and married his first wife, Victoria Bennington. They came to Humboldt in 1985 for graduate school and he earned his MFA in Technical Theater in 1990, with a 2-year stint from 1987-1989 spent in Kansas driving a truck with his brother. His son, Joshua, was also born in Kansas during that time.
Jayson worked for CenterArts at HSU as a graduate student, and then stayed on for 16 years as their Technical Director. That was where he met and fell in love with Star Fishel. They got to spend 27 years enjoying life together – traveling, riding horses, cooking and gardening, laughing together - always laughing, and creating a home. They were married in 2000 and welcomed son Maxwell in 2004.
In 2005 Jayson became the Technical Director for the HSU Theater Department, where he oversaw the technical aspects of many productions and mentored numerous students over the years. He had just signed papers for the Early Exit program a few weeks before his death, although he had plans to return to work on select shows because working on productions and helping students discover those "aha" moments for themselves were some of his greatest joys. He also worked for the Humboldt Light Opera company on just about every summer show as either Lighting or Set designer or both, and Technical Director, for the past 30 years. He was also involved over the past 3 decades with productions at a number of local theaters or theatre groups, including Dell Arte, Redwood Curtain, North Coast Repertory Theater and the NPA student productions.
Jayson had a larger-than-life personality and he made an impression on everyone he met. He was generous and witty and lived with a great zest for life and the ability to always see the humor in it. Many will remember his colorful "Jaysonisms" – turns of phrase that peppered his language and brought humor to many conversations, such as "lower than a worm's belly in a wagon rut" or "colder than a well-digger's bottom" or " tighter than a bull's butt in fly season" and countless others that he recited with that slight drawl he had that made you wonder where he was from.
Jayson was always grateful for what he had and felt like the luckiest man in the world for his family, home, job he loved and living in Humboldt County. He loved the Northcoast – climate, people and all its bounty, but always said he was more of a gatherer than a hunter: He loved walking the beaches to pick up sand dollars, crabbing and clamming, mushrooming and berry picking, and he was a gardener extraordinaire. Nothing made him happier than sharing the bounty with others and you couldn't visit him without going home with an armload of whatever was ripe from his garden, or what he might have just gathered from woods or sea.
He was so proud of both of his sons and where they are in their lives and the men they have become (Josh) or are becoming (Max). He loved nothing more than when he could work alongside them on a project, go horseback riding or boating with one of them or share in their successes.
Although not a religious man, he was a man of great spirit and the belief in the power of good. If a friend needed help with anything, he would be there and he was always "paying it forward": stopping to help pull a stranger's truck out of the mud, driving to San Francisco to help the stranded husband of a co-worker, picking someone up at the airport or fixing something just because he knew how and had the right tools. He did things because they were the right thing to do, not with any expectation of return or recognition. Jayson was unique in that he could look at a problem and figure out a solution when many others couldn't. In trying to make sense of the "why" of Jayson's sudden death, his brother Clarence said, "Maybe the good Lord just needed something done".
Jayson is survived by his darling bride, Star, sons Joshua Mohatt (Rachael), and Maxwell Mohatt, grandson William Mohatt, his twin siblings, Clarence Mohatt of Salina, KS (Debi) and Christine Finney of Beloit, KS (Dwight), nephews Matthew Mohatt (Becky), John Finney (Kim), Dwight Finney (Sonia), nieces Minnie Finney, Andrea Jordan (Brian), Amanda Solt (Jake), Esther, (Blake ) Eva Farrukh (Shomari), cousins Roger Watkins (Michelle) of Michigan and Everett Mohatt (Marla) of Cheyenne WY, and in-laws, Laurie and Kurt Lingemann, Star's brothers, Jesse (April) and Ben (Leia) of Junction City, and Star's sisters Deva Lingemann of Phoenix and Irisa Irvine (Scott) of Mt. Shasta, and so many friends and colleagues who became family that they are too numerous to count here.
A viewing was held August 3 at Ayres Family Cremation, and on August 4 Jayson's ashes were taken for one last ride in Humboldt Bay on his beloved sailboat, accompanied by a small flotilla of friends and family on canoes, kayaks, a motorboat and a fishing boat. We plan to have a memorial and celebration of life in June 2021 on his birthday, when it is safe for people to travel and gather, so we can share stories of this remarkable man who is loved and missed by so many.
###
The obituary above was submitted on behalf of Jayson Mohatt's loved ones. The Lost Coast Outpost runs obituaries of Humboldt County residents at no charge. See guidelines here.