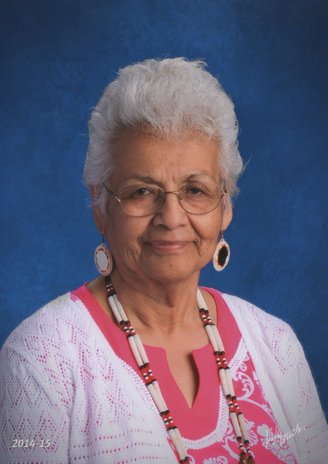 Kathleen M. Vigil
August 17, 1943-September 5, 2020.
On September 5, 2020, 'aawok Kathleen Mae Vigil started her journey to heaven to be with her savior at age 77. Kathleen was born on August 17, 1943 to 'aawok Raymond and Aileen (Pilgrim) Figueroa of Trinidad California, and sheis the granddaughter of 'aawok Henry and Maggie (Jones) Pilgrim. In 1987, Kathleen married her husband of 33 years Rodney E. Vigil Sr. Together they served the Lord faithfully as members of the 1910 Indian Shaker Church where they helped minister and pray for numerous people from California to Canada and all the places in between. She was an ordained Traveling Missionary, Third State Elder for CA as well as the California State Secretary for the 1910 Indian Shaker Church of WA. Kathleen was very passionate about the word of God and was not afraid to share testimonies, messages, and guidance to those in her presence.Many people can still hear her say her most famous words "Get over it", meaning don't dwell on things just move forward.
In addition to her faith in God, Kathleen also was a proud member of the Yurok tribe and a fluent speaker/teacher of the Yurok language. Kathleen learned her native language from her mother who was a fluent Yurok speaker, teacher, singer, and basket maker. Kathleen was devoted to the preservation of the Yurok language and was inspired by her mother's dedication to teach the people. Together Kathleen and her mother completed nine years in the master apprentice program. After her mother's passing, Kathleen felt that the torch was handed down to her from not only her mother but the rest of the elders that also contributed to her knowledge. Kathleen spent the last 15 years teaching Yurok language throughout Humboldt and Del Norte communities. She shared her knowledge with theyouth at Morris, Big Lagoon, and Hoopa Elementary schools. Although she loved teaching the youth, she really loved working with the young adults at the McKinleyville High School.
Kathleen is survived by her husband Rodney E. Vigil Sr., her nephew Dominic Figueroa, her stepchildren Sean (Shawna) Vigil, Shelly (James) Ammon, Angel (Shawn) Korb, Danielle (Frank) Masten Jr., Rodney Vigil Jr. (Alisa McCovey), grandchildren Jacob, and Q'ay-liwh Ammon, Darrel (Paula) Aubrey, Crystal, Michael (Amber), Dennis, and Sarah Korb, Emily and Xander Masten, Stephen, Rodney III, David, and Ashton Vigil, great grandchildren Michael III, Evelyn, and Kai-Yi Korb, and many more friends and loved ones that she cherished like family. Kathleen is preceded in death by her parents, Raymond and Aileen Figueroa, her brother Raymond Figueroa II and adopted brother Albert, nephews Floyd and Raymond Figueroa III, Duane Carpenter, and granddaughter Kayla Ann Vigil.
A visitation will be held Friday, September 11, 2020 from 4 p.m. to 7 p.m. at Paul's Chapel in Arcata, with graveside services being held Saturday, September 12, 2020 at 1 p.m. at the Trinidad cemetery. Both services will be safety compliant with CDC recommendations. Flower arrangements may be sent to Paul's Chapel in Arcata, please make sure they are delivered by 1 p.m. on Friday.
###
The obituary above was submitted on behalf of LKathleen Vigil's loved ones. The Lost Coast Outpost runs obituaries of Humboldt County residents at no charge. See guidelines here.