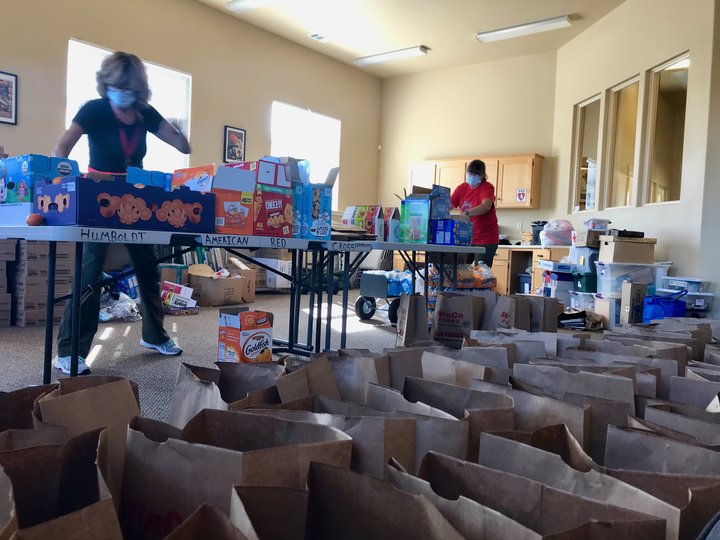 ###
As you might imagine, the American Red Cross is stretched a bit thin these days. Andrew Bogar, the organization's disaster program manager for Humboldt, Del Norte and Trinity counties, told the Outpost via phone this morning that typically, in less chaotic times, there are more volunteers available — that is, "when there's not hurricanes in the Gulf, fires in Oregon and elsewhere — and COVID!" he said.
Thankfully, the Salvation Army Eureka, Cooperation Humboldt and a host of local volunteers have stepped up over the last few weeks to help the Red Cross deliver meals and services to people who've been forced to evacuate wildfires in Trinity County, Siskiyou County and Oregon.
"That's kinda how Humboldt rolls," Bogar said. "The worst brings out the best in people."

The Red Cross is currently serving close to 90 evacuees staying in hotels in the region. At the height of evacuation orders, Bogar said, there were close to 200 hotel rooms booked for evacuees between Del Norte and Humboldt.
That logistical scenario is yet another wrinkle brought on by COVID: While the county did establish a regional evacuation center at the Humboldt County Fairgrounds, the coronavirus outbreak meant that evacuees couldn't be housed as they otherwise might — in a big communal area, sleeping on cots. Instead, officials implemented a non-congregate outdoor shelter — "basically camping," Bogar explained — before lining up hotel rooms.
Faced with this more complicated scenario, the Red Cross enlisted help from the Salvation Army, whose volunteers have been preparing meals for distribution, and Cooperation Humboldt, a local nonprofit that recruited more volunteers to serve as delivery drivers.
"I jokingly refer to it as 'Disaster Uber Eats,'" Bogar said.
One of the local volunteers, Cutten resident Robert Pitts Jr., said he completed an online training course after being included in an email blast from the Humboldt County Democrats calling for help.
"Last week the meals were being cooked and packaged at the Salvation Army on Tydd Street [in Eureka]," Pitts said. "We'd show up and they had everything packaged." Volunteer delivery drivers were given a list of hotels in Eureka, Arcata, Fortuna and Ferndale along with a name from each evacuated family and the number of people staying in each room.
"The idea is to just check in with them, say 'hi' and see how things are going," Pitts said. "Most of the time they're quiet and grateful for a meal."
The Red Cross offers drivers personal protective equipment (PPE) to guard against COVID-19 transmission.
Bogar said coastal Humboldt County is a popular destination in times of crisis: People come here to escape the heat and smoke that's more prevalent inland. Add in the emergency evacuations and resources get scarce. Bogar said he's typically at the helm of emergency operations in 72-hour shifts, but at the outset of this emergency he had to hold it down for a week, "which is really unheard of."
A relative newcomer himself, Bogar took over the position of local disaster program manager about six months ago, and he said volunteer recruiting at the local office began in earnest only about two months ago. When the wildfire evacuation crisis hit, the crew was put to the test.
"Many have only been in the Red Cross for days or weeks," Bogar said, adding, "They did great. I couldn't have asked for a better team."
Local restaurants and grocery stores have also stepped up to donate food, and the local efforts have been duplicated up in Del Norte County. New "Red Crossers" recently arrived from Indiana, Colorado and Los Angeles to lead the operation, but Bogar said there's still a need for more help.
"We need volunteers, that's for sure," he said, "especially since wildfire season isn't over yet." And the need for help won't end with fire season. "Once we hit winter and get rain again, we're concerned that mudslides will be an issue," Bogar explained. "While our numbers have swelled during this disaster because people see it, five months from now when it's no longer flashing in the news, will still need volunteers."
He estimated that 98 percent of the work Red Cross does is helping in everyday emergencies, such as house fires. The organization will be conducting trainings at the Humboldt County Fairgrounds this weekend for new volunteers, in classes of 10 to 15. People who are interested in joining — and also any evacuees with unmet needs — are invited to contact Bogar via email at andrew.bogar@redcross.org or via phone at 707-273-8481.
"That's what the Red Cross is built on," Bogar said, "neighbors rolling up their sleeves and responding in a crisis."