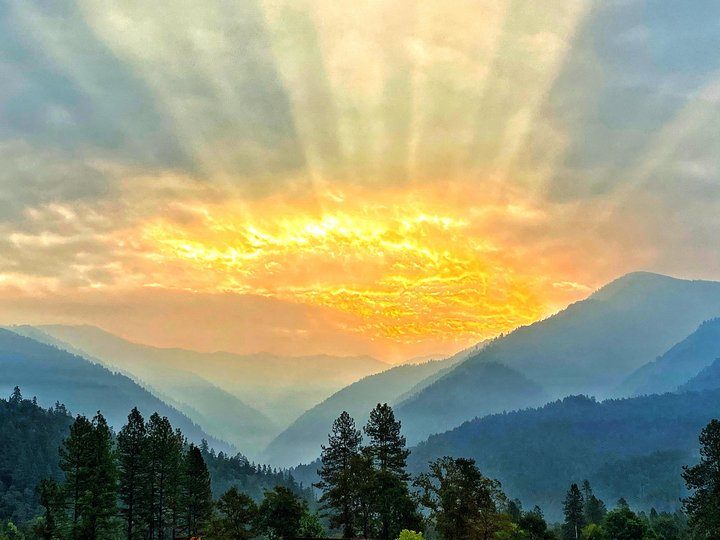 Press release from Northwest Incident Management Team 10:
Weather:

Red Flag Warning: Hot, dry, and breezy weather begins today, with warming and drying expected through the week. Breezy northeast winds may result in improved burning conditions, with increased fire behavior expected along the southeast flank of the fire. Throughout the fire area, interior islands may burn and fire will continue backing down slopes. This is likely to produce more smoke accumulation in several local communities.

Activities:

Last night: the fire has spread toward the northeast (Knownothing Creek) and southwest (Horse Linto Creek) resulting in a slight increase in fire perimeter.
Today: Crews are preparing for anticipated changes in weather conditions. In the north and northeast area of the fire, they are assessing strategies to prevent spread toward Salmon River Road. If conditions permit, firefighters will use defensive burning to keep fire from entering NcNeal Creek. On the east and southeast flanks firefighters are providing structure protection along the Salmon River Road and E Fork of New River corridors. On the southwest and west flanks, crews are securing control lines along the Tish Tang Ridge to Box Camp. They may conduct defensive burning operations along Lone Pine Ridge and Horse Linto Creek if conditions permit. Due to expected weather conditions, additional crews have been repositioned along the south and south east flanks to protect the Hoopa Valley Reservation, Willow Creek, Hawkins Bar, and adjacent communities.

Evacuation Information: Evacuation Warning for Forks of Salmon remains in place. All residents and visitors should be prepared to evacuate. Visit www.ready.gov for further information.

Closures and Restrictions: The Klamath and Six Rivers National Forests are closed to all public use until further notice. Some Shasta-Trinity National Forest lands east of the Red Salmon Fire Complex are open for public use but use campfires, gas stoves, smoking, and outdoor barbecue grills on houseboats are prohibited. More closure information is available on the Red Salmon Complex InciWeb page.

A Temporary Flight Restriction (TFR) was recently expanded and is now in place over the entire Red Salmon fire area. A TFR prohibits most aircraft (including drones) from operating over the fire protect firefighters and allow air tankers and helicopters to do their mission. If drones are seen flying over a fire all firefighting aircraft are grounded.

For up to date fire information on the Red Salmon Complex and other fires visit https://inciweb.nwcg.gov/ or use the QRcode to view the links with your mobile device.