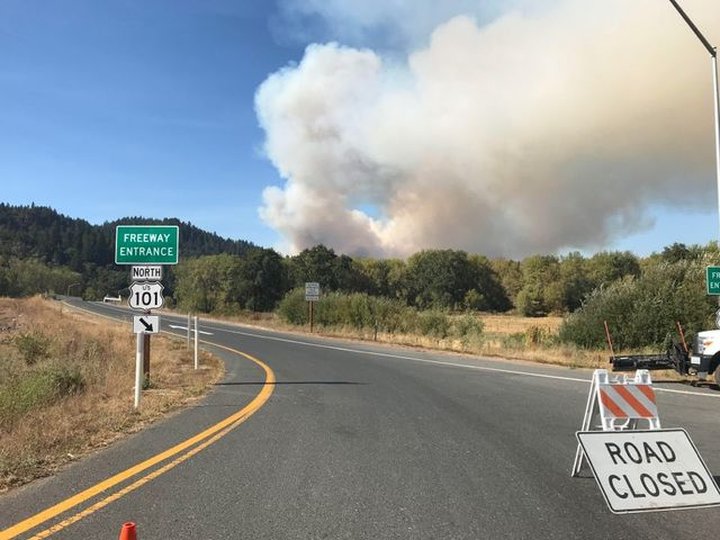 Mandatory evacuation orders have been issued for thousands of Mendocino County residents in the Brooktrails area due to a 1,000-acre wildfire actively burning west of Highway 101.

The Mendocino County Sheriff's Office reports that evacuations have been issued for residents along Big John Road, Skyview Road, First Gate Road, Schow Road up to Ryan Creek and north and east of Big John Road.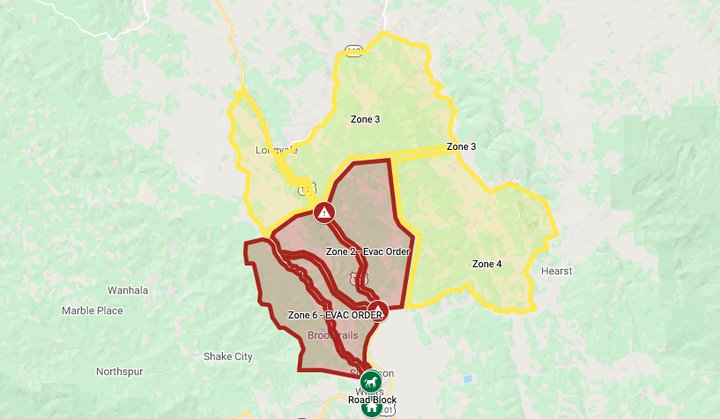 The fire, named the Oak Fire, has also caused Highway 101 to be shut down between the communities of Arnold and DeCamp, according to the MCSO.
The Oak Fire was first reported at approximately 1:26 p.m. and numerous ground and air resources are actively working to establish containment lines and protect homes in the area. Calfire reports that the flames are being fueled by grass, brush, oak trees, pine trees and erratic winds.
Calfire spokesperson Tricia Austin told the Outpost minutes ago that the fire is 0 percent contained and that approximately 37 residential structures are threatened at this time.
State Senator Mike McGuire Tweeted this afternoon that the fire is actively burning at a high rate of spread.
"The Oak Fire north of Willits/Brooktrails in Mendocino County should be considered dangerous," McGuire Stated. "The blaze has a high rate of spread. Air attack will continue. If you receive an evacuation order, please go quickly and calmly. Neighbors near the fire should have go-bags at the ready."
We will update when we know more.
An interview with Sheriff Kendall. | Mendocino Voice
#OakFire (Willits area)

Photos taken at Third Gate and Big John Road by Sheriff Kendall pic.twitter.com/TaiXvxYWMv

— Mendocino Sheriff (@MendoSheriff) September 7, 2020
#OakFire as viewed from my friend's ranch in Brooktrails right now. pic.twitter.com/GAgqfYMlGw

— Sarah Stierch (@Sarah_Stierch) September 7, 2020
#oakfire north of Willits. Evacuations taking place. @NorthBayNews pic.twitter.com/ywdH7sPYsT

— Kent Porter (@kentphotos) September 7, 2020