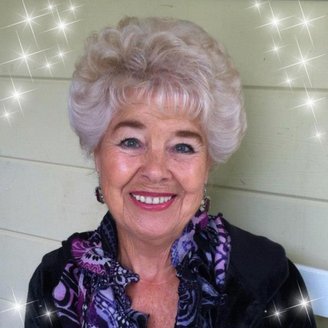 Jacquelynn "Jackie" Helberg Schenck was born July 19, 1933 to Gladys V. and Vernon Leroy Hough. March 23, 2021, at 87 years of age, she passed on to be with her Lord and Savior. We are certain she is celebrating with her family and friends who passed on before her.

Jackie was born in Sanger, Calif. In 1939 her dad packed a huge truck, along with his wife and six children, and drove over 500 miles to Orleans, Calif. to live and work at a gold mine. "Quite a switch from the city life! No paved roads, no electricity, no running water or indoor plumbing…" In 1942 the family moved to Scotia, and in 1945 they moved to Eureka. Jackie graduated from Eureka High School.
In 1951, she married her high school sweetheart, Richard "Dick" Helberg. Together they raised four children, helped build and faithfully attended Calvary Lutheran Church, owned a business (United Radio and TV Sales & Repair), built their dream house, and owned a few rentals and properties. In 1962, when Dick became seriously ill, Jackie went to work for Safeway. In 1972, she was injured on the job and was not able to return to Safeway, so she began selling Avon. In 1985, Dick passed away after years of battling numerous health issues.
In 1988, she met Jerry Schenck at the Eureka Bridge Club and they were married in 1989. They enjoyed playing bridge and going to tournaments (she was a Silver Life Master with the American Contract Bridge League). They also enjoyed dancing, meeting friends at the Friendship Circle, and traveling to timeshares around the world.
"Celebrate what's most important—family, food and the Lord." Jackie worked hard to give her family the best, she gave very generously, and she always had time for a party. Christmas, birthdays, and other holidays were always well celebrated. She loved camping, picnicking, playing basketball or volleyball, and inviting friends over for pinochle or bridge. Music made her smile from the heart. She seized every opportunity to sing and was a coveted soloist for special events.
Jackie was the sparkle in the room! She loved people, always had time to talk over tea, and wanted the best for everyone. "The best makeup is a smile." You couldn't miss her friendly smile, meticulous appearance, and genuine beauty (inside and out). We rarely went anywhere without someone telling her how beautiful she was — even in her last days.
Jackie was preceded in death by her husband, Richard Helberg, her father, Vernon Hough, her mother, Gladys Hough, her husband, Jerry Schenck, her sisters, Laurine Williams and Gladys Gantt, and her brothers, Ivan Tourville and Martin Hough.
Jackie is survived by her daughter Laura Swanson, granddaughter Carli (Ben) Forsythe and great-grandchildren Kylie, Jonah, Bella, Tessa, and Haiden; her daughter Susan Jones, granddaughter Amy (Pete) Sims and great-grandson Charlie, and grandson Daniel Jones (Nora Mounce) and great-grandson Leroy; son Tom Helberg and granddaughter Katie; and son Jeff (Raema) Helberg, granddaughter Heidi (Troy) Brown and great-grandchildren Hayden, Jordyn, and Teagan, and grandson Sam Helberg and great-grandchildren David and Aubree. She is also survived by her brother Douglas Hough (Ruth), and many nieces and nephews and wonderful friends.
We love her and will miss her greatly.
Thank you to all who have sent heartfelt condolences. It truly helps during this time to know people remember her. Due to COVID restrictions, the family is not planning an open gathering at this time. Please continue to celebrate Jackie's life by remembering to smile and sing and care about one another. Memorial gifts in honor of Jackie Schenck may be directed to the American Heart Association (click here for the AHA website).
Thank you to St. Joseph's medical team and the kind and helpful staff at Timber Ridge.
###
The obituary above was submitted on behalf of Jackie Schenck's loved ones. The Lost Coast Outpost runs obituaries of Humboldt County residents at no charge. See guidelines here.